Meet our team
Our team are ready and willing to connect with you.
Services during COVID-19
During the COVID-19 pandemic and University shutdown, you can still access our Spiritual Wellbeing Advisors (previously Chaplains) virtually by Zoom, or by phone.
To talk to a spiritual wellbeing advisor or to find out more about multifaith and spirituality services across all our campuses. Please complete our request a call form.
Bendigo Campus
Born in Zimbabwe, Patricia moved to Australia when she was young. She holds several post-graduate qualifications in Theology and Pastoral Care. Patricia is currently involved with the Victorian Council of Churches Emergency Services. She enjoys camping in the outback, as well as music, gardening, and badminton. Patricia enjoys interacting with people from all walks of life, and assisting people who have been through loss or grief.
Email Patricia Blanks at: p.blanks@latrobe.edu.au.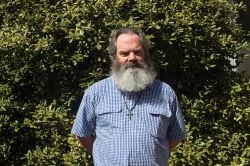 After completing his schooling in Laverton, Howard went on to study at Newcastle University, and a Christian organisation called Cornerstone. He completed a Bachelor of Theology and Graduate Diploma in Ministry at Luther Seminary. Since then Howard has held the position of Pastor in various parishes, including the last two years as Pastor at Bendigo Lutheran Parish.
Email Howard Beard at: h.beard@latrobe.edu.au.
Holding a Bachelor of Divinity at Moore Theological College, Steve is a Christian chaplain who works with the Bendigo Christian Union. He loves to help people see and understand the greatness of Jesus as revealed in the Bible. Steve is married to Laura and has three great children – Josie, Harry and Georgia. He enjoys all things motorbikes, farming and coffee.
Email Steve Blyth at: s.blyth@latrobe.edu.au.
Born in Melbourne and baptised at St Andrew's Church of England in Clifton Hill, John made his first commitment to Christ at his confirmation when he was 18 years old. Married at St Luke's Anglican Church in White Hills, he now has two children, a son and a daughter. Currently a communicant member of the Parish of Christ's True Light Church in East Bendigo, John is also a member of the Gideon's International, Prison Fellowship Victoria and the Victorian Council of Churches Emergency Ministry
Email John Bovaird at: j.bovaird@latrobe.edu.au.
My passion is to find meaning and value in life and this world will be a better place… a simple passion for a fulfilling life.
"I have seen all the things that are done under the sun; all of them are meaningless, a chasing after the wind." (Eccl. 1:14)
Email Simon Chan at: K.Chan2@latrobe.edu.au.
A
A retired engineer, Brian has enjoyed a career in both industry and academia, focussing on the interaction between energy generation and the environment. Renewable energy systems are his current interest. Brian also holds a Bachelor of Divinity
Email Brian Stanmore at: b.stanmore@latrobe.edu.au.
Holding a Bachelor of Arts, two Graduate Diplomas and a PhD, Sandra has retired from a career as a psychology lecturer. Sandy has also worked in private practice with those attempting to resolve relationship concerns, including parents, carers and those with disabilities. She currently facilitates a women's group exploring self-esteem and confidence. Sandy enjoys reading and discussing both light and challenging literature. She loves cooking and enjoys nothing more than addressing 'real' issues with honest and humorous discussion.
Email Sandra Tunley at: s.tunleycooper@latrobe.edu.au.
Melbourne (Bundoora) Campus
Peter is a Christian, he is married to Rosie and he enjoys talking about our search for meaning and significance. Peter is supported as a Chaplain by the Presbyterian church. He is on campus Monday - Friday.
Rev Peter Leslie
Presbyterian Chaplain
HU3 | 424, Melbourne
Office Hours: Monday - Friday 9:00am - 5:00pm
Vikram was born in India to a Hindu family. After being raised in a school run by Christian missionaries Vikram gave his life to Jesus. The spiritual seed sown here continued to mature until he was baptised many years later in Melbourne, Australia. Vikram graduated from Melbourne University with a degree
in Commerce and I.S. and has worked with Linfox Australia. Since then he completed a Masters of Divinity from Andrews University. Today Vikram serves as a church planter for the Seventh-day Adventist Church. His passion is his family and leading people to Jesus.
Vikram Panchal
HU3 | 418, Melbourne
Mobile: 0469 145 156
Office Hours: Tuesday and Wednesday 9:00am -5:00pm
Rabbi Mendy was born and raised in Melbourne and undertook Jewish studies in Israel, Canada and USA. After receiving his Rabbinical ordination in Miami, Florida, Rabbi Mendy served as an assistant Rabbi in Cambodia, China and Vietnam.
In 2010 Rabbi Mendy and Lifshy married. They were appointed as the Rabbi and co-directors of Chabad of Lantau where they served the Jewish communities of Discovery Bay and Tung Chung on Lantau Island, Hong Kong for 6 years.
In 2017 they were appointed the co-directors of Chabad Campus based in Melbourne which serves Jewish tertiary students across Victoria on and off campus. Rabbi Mendy is the Jewish chaplain at La Trobe University as well as Monash, Melbourne and Deakin universities.
Rabbi Mendy and Lifshy are proud parents of four beautiful children.
Email: M.Ajzenszmidt@latrobe.edu.au
Mahir was Born in Iraq, fled during the gulf war, arrived in Australia in 1992. Graduated from Catholic Theological College in 2017 with a Bachelor's degree in Theology and Philosophy. He is a Catholic Chaplain who ministers and actively works with young people at La Trobe University. Mahir has been doing Youth Ministry for over 10 years and has extensive experience.
Mahir is on campus Monday – Wednesday
Mr. Mahir Murad T: (03) 9479 3989
HU3 | 420, Melbourne
Office Hours: Monday – Wednesday 9:00am - 5:00pm