Student ID cards
Your student ID card is used in the library, for printing and photocopying, for building access and as ID during exams.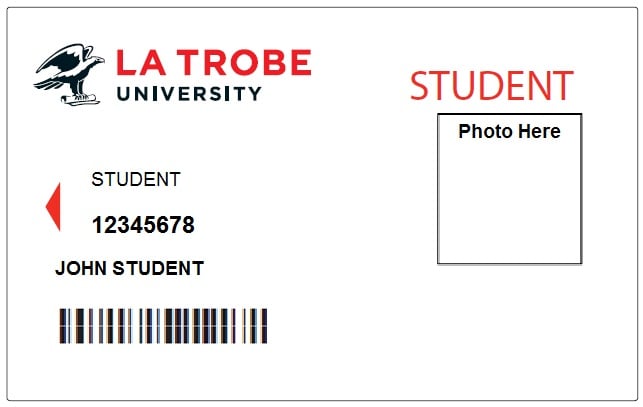 Ordering your card
If you're a new student, you can order your student ID card online the day after you enrol in one or more subjects at La Trobe.
After you place your order, you'll receive a confirmation email to your student email address. You'll receive another email a few days later (this can be up to a week at peak times) to tell you if your submitted photo has been approved or not.
Please note: If you need proof of your enrolment, you can also use your Statement of Account.
Collecting your card
Please allow 3 working days for your ID card to be ready for collection at Bendigo and Bundoora campuses, and 5 to 7 working days on all other campuses (as cards are posted to city and regional campuses). Please bring a government-issued photo ID like a passport or a drivers licence. If your photo is rejected, you will need to use the link above again and submit a new photo.
If you have a question about your card please email us at studentcards@latrobe.edu.au
You must order your ID card before coming to collect it from the ASK La Trobe Help Zone at your campus.
Please note: Student ID cards on the Bundoora Campus can be collected from the Infrastructure and Operations office in the Agora (located next to the IGA).
Distance education and online students
If you are a distance education or online student, please complete the online form below to have your ID card mailed to you.
Please note, students studying single subjects via La Trobe or OUA Open Access are not eligible to receive a student ID card.

Do not use this order form if you are an on-campus student.
Distance education or online students – order your student ID card
Lost, stolen and expired cards
If your card has been lost or stolen, email cardaccess@latrobe.edu.au with your full name and student ID number to cancel the card. You can then order a replacement.
More information
Search the ASK La Trobe FAQs, visit an ASK La Trobe Help Zone or contact us via phone or online.
Privacy
La Trobe University respects the privacy of your personal information. We will collect and record personal information about you for identification purposes (e.g. issuing your ID card, class lists and providing access to LTU buildings). The personal information collected will only be used for the outlined purpose and may be disclosed to authorised contracted service providers who provide these services or as authorised by law. If your personal information is not provided to us then we may not be able to provide the product or service to you. You may have the right to access the personal information we hold about you subject to any exemptions in relevant laws, by contacting ASK La Trobe.
For more information about privacy visit Student information and privacy.