Library collection
Discover La Trobe's wide range of material on Asia including books, interviews, policy documents and much more.
Introduction
The La Trobe University Library is a gateway to rich and varied primary and secondary source materials in print and digital formats for Asia and in particular, India. The collection is strongest in the Humanities and Social Sciences and for the countries of India and South Asia, with smaller collections for China, Japan, Malaysia, Vietnam, and Indonesia. While the strength of La Trobe University's Library collection is post 1966 material, an effort has been made to acquire antiquarian titles especially in digital format. There are also long back runs of journal titles and government publications.
Pratik Kanjilal has written in the Hindustani Times:
"…the city also has one of the best collections of Indian documents in the world. From the Sixties, Melbourne's La Trobe University has been collecting Sanskrit, Pali and Tamil texts, colonial documents, modern Hindi literature and contemporary Indian media. For instance, it is on La Trobe's server that you'll find the first Indian census report (1871), not on our Census Commissioner's website…."
The University's commitment to the study of India, along with the interest and participation of academics, has ensured that the Library acquired a unique and distinctive collection for this area. An important recent donation added 685 books, some early and 'rare', which complement the 20th century holdings.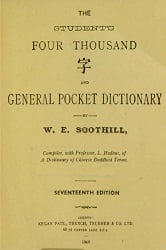 Items of interest include:
Indian official and census statistics, encyclopaedic gazetteers
Digital Colonial Documents (India)
Asiatic annual register: or, A view of the history of Hindustan, and of the politics, commerce and literature of Asia...
Philippine Collection Bibliography
Discover more about the Philippines through the materials and books found in the Philippine Collection at La Trobe University's Borchardt library. Explore the collection's bibliography with over 600 books and more here [PDF 1.3MB].
Access the Library's Collection strengths website

Digital collections for Asia
La Trobe University Collection Treasures
The Library has converted over 400 out of copyright titles to high quality online versions. A sample of titles below:
A pageant of Asia : a study of three civilizations
The Hindî manual : comprising a grammar of the Hindî language both literary and provincial
Most of the world : the peoples of Africa, Latin America and the East today
The student's four thousand tzu and general pocket dictionary
Through Asia by Sven Hedin, with nearly three hundred illustrations from sketches and photographs by the author.

Online collections for use by La Trobe staff and students only
Archives and Newspapers
Databases
Online Streamed video
The Library also has over hundreds of online streamed videos from Kanopy and Alexander Street Press covering Asian business, history, education, social science, science and sustainability, languages and linguistics, media and cinema and more.
For Alumni and Community members