We look forward to welcoming students onto our Victorian campuses in Semester 2 in line with Government directions.
We are planning to offer face-to-face classes in Semester 2, 2021 in many subjects across our campuses, though some classes will continue to be delivered online (particularly lectures). As always, we are prioritising student and staff safety and working within the guidelines provided by the Victorian Government Department of Health and Human Services.
Some of your classes (particularly lectures) may continue to be delivered online for the following reasons:
providing classes for students unable to return to Australia
accessibility for students and teaching staff with vulnerable health conditions or those restricted from attending campus in person
the subject is offered in fully online mode only.
Student support services are available in face-to-face operations on our Victorian campuses, and we will continue to provide online access to these services in recognition of the improved access for students this has provided.
The health, safety and wellbeing of our students, staff and community remains La Trobe's top priority and we will continue to ensure University operations comply with the Government's public health directions.
For more information, please check the COVID-19 Student FAQs.
Domestic students
We now have more start dates than ever. Book a consultation, or call us for further information.
International students
Currently outside Australia? You can begin studying online now and be ready to join us on campus once borders reopen.
Currently in Australia? Learn more about how you can apply to study at La Trobe University.
Why study education and teaching at La Trobe?
Industry-connected
Gain valuable industry insights, with courses designed in partnership with schools and communities around Victoria.
Top 250 globally
Local work placements
Make connections and experience what it's like to help a child overcome a difficult maths problem or inspire a teen to follow their passion in placements with our industry partners.
Make an informed choice
Our one-on-one consultations are designed to hone your objectives and provide practical guidance about your study options
What could your future hold?
Be a teacher who can educate and inspire any student, with technology and data on your side. With La Trobe's network of diverse school placements, discover how to create learning spaces that are safe, diverse and passionate wherever you are.
Discover education and teaching at La Trobe
Browse all courses in education and teaching
Meet one of our graduates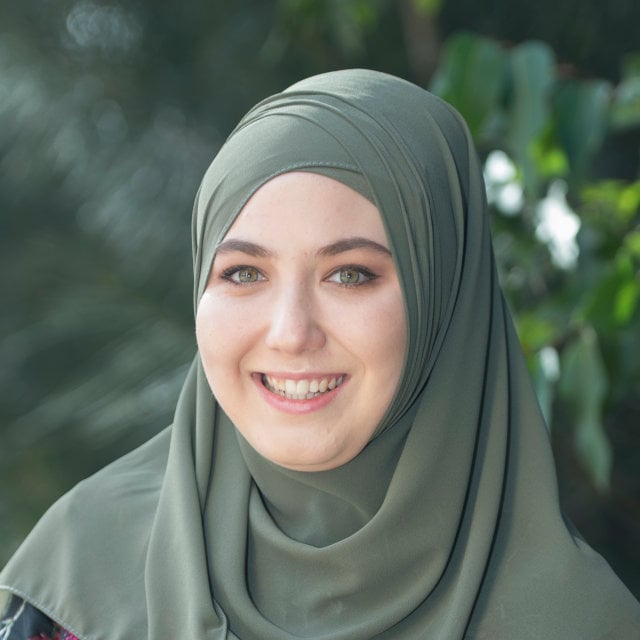 'I chose education at La Trobe because of my passion for being around young, bright individuals, and for teaching them to become the best version of themselves.'

'With the level of support we receive from our teaching staff and the networking opportunities available, I truly believe we'll all have great teaching careers.'
Saliha Zeyneb Gurdag
Bachelor of Education (Secondary) graduate
Become a confident and effective teacher
Become an expert in the many ways humans learn. The latest science is embedded in our curriculum and student experience. You'll have access to expert knowledge and applied theory, evidence and data interpretation. You'll understand why and how people learn, so you'll be prepared for any teaching challenge.
Practical experience in the classroom
We've all had that one teacher we'll never forget. The one that made any subject seem interesting, or always had time to help us. A good teacher is someone who teaches the entire class but who can also reach every individual. With an education degree at La Trobe, you'll build your classroom skills in challenging and diverse placements in schools and communities around Victoria.
Diverse and flexible degrees
Explore different ways to be an educator. Early learning. Primary or secondary teaching. Outdoor recreation. Community or technical education. Leadership. Here or overseas.
Paid to study rural teaching
Get paid to teach the students who need you most. Low socio-economic urban, rural and regional schools need talented and passionate teachers. The NEXUS program supports you with a salary, as well as access to mentoring and professional development.
Want to study with us? Enquire here.