Electric Vehicle Chargers
We've installed electric vehicle (EV) chargers on our Melbourne (Bundoora), Bendigo and Albury Wodonga campuses as part of our Net Zero journey.
Charge your EV on campus
EV charging is available for staff, students, visitors and the general public to use.
We're making the switch to electric vehicles across our campuses, replacing our entire passenger fleet over the next few years. We'll eliminate 200,000 kilograms of CO2 each year once we've transitioned to a fully electric passenger fleet.
Charging stations are ready to use at the Melbourne (Bundoora), Bendigo and Albury Wodonga campuses. We'll be installing chargers at our Mildura and Shepparton campuses into 2024, in line with our works programs.
Where are the chargers located?
Melbourne (Bundoora) – CP1, CP3, CP6 (Fleet), CP7A, LTSS
Bendigo – CP1, CP7A, CP10 (Fleet)
Albury-Wodonga – CP2 (next to the football fields)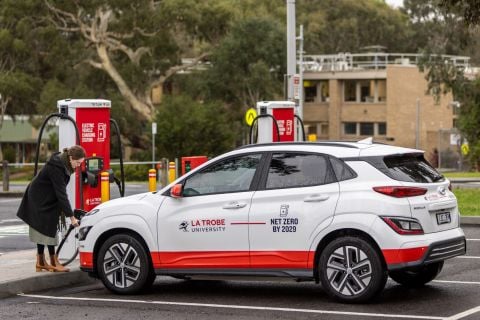 FAQs for EV chargers
Charging on campus will be initially offered at no cost, but you will need to pay for parking.
Yes, you will need to pay for parking while using the EV chargers between 8am to 5pm. Parking outside these hours is free. You can book parking here.
If you're using a La Trobe fleet vehicle, you won't need to download the app.
All other users will need to download the free Chargefox app to use the public chargers. You can download the app here.
Yes, access to EV chargers on campus is 24 hours.
Yes, you can lock your car and leave it charging. The charger can't be removed while the car is locked and can't be driven while plugged in.
Our Level 2 chargers available for public use provide around 40km of charge per hour and typically take 2 hours or more to fully charge a vehicle.
There are multiple ways to check your vehicle is charging
In the Chargefox app
On the vehicles dashboard
On the charging station screen (fast chargers only)
Parking in the EV charging bays is limited to a maximum of 4 hours. A parking infringement may be issued if you overstay. If you need to park longer, you'll need to move to a regular bay and ensure you have a valid ticket.
No, charging stations operate on a first come first served basis.
All modern electric vehicles with CCS2 or CHAdeMO plugs can charge at our sites. Tesla drivers can use a CHAdeMO adapter to charge their vehicles.
If you need help with charging or the station isn't working, contact Chargefox on 1300 518 038 or visit chargefox.com.
We have 40 passenger fleet vehicles. So far, we have already transitioned 20% of our fleet.
The newly installed chargers are not specifically designed for accessibility, however, we are currently monitoring their performance and usage to inform future requirements.
The fast chargers are only available in select carparks and are reserved for La Trobe fleet vehicles only, to enable seamless intercampus travel. Level 2 chargers, which provide around 40km of charge per hour and take roughly 2-5 hours to fully charge a vehicle, are available for public use.