Projects

University City of the Future
Find out more about our ambitious $5 billion plan to transform our Melbourne Campus in Bundoora into a University City of the Future, and the key projects that are part of this plan.
---

Net Zero Program
We will be Victoria's first university to be net zero by 2029.
---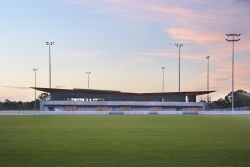 Sports Park Project
Community participation and world-class research
---
Student Accommodation
La Trobe's new $100 million Student Accommodation Project is the largest investment for a single project in the University's history. Comprising 624 beds, the Student Accommodation Project will improve access to high quality accommodation for students on campus.
---
Bendigo Campus Transformation Program
The Bendigo Campus Transformation Program consists of four projects to welcome the community in, transform the Flora Hill Campus, reach out and embrace Bendigo, and connect to the world.
---

Nangak Tamboree Project
This project seeks to maximise the benefit of this corridor to the University and its local community by enabling sustainable environmental and built form development, increasing campus permeability, improving severe weather event resilience, enabling and supporting teaching and research and improving campus amenity.
---
La Trobe Health and Wellbeing Hub Project
La Trobe Health and Wellbeing Hub will meet existing and future population growth, providing an integrated model of health and wellbeing service delivery from the La Trobe University campus.
---
Public Lighting Project
The Public Lighting Upgrade project at Melbourne campus was established in response to survey feedback to improve public lighting around the campus.
---
Teaching Facilities Improvement Project
In 2017 the University identified a need for improvement to centrally bookable Flat Floor Teaching Spaces as a result of feedback received from internal auditing and student surveys. Consequently a Project Steering Group has been established and in liaison with the Colleges, Timetabling, I&O Space Planning and LTLT, they identified a number of spaces across the University to be upgraded.
---
Completed projects