Projects

University City of the Future
Find out more about our ambitious $5 billion plan to transform our Melbourne Campus in Bundoora into a University City of the Future, and the key projects that are part of this plan.
---

Net Zero Program
We will be Victoria's first university to be net zero by 2029.
---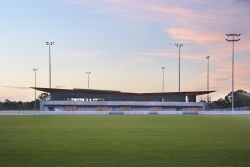 Sports Park Project
Community participation and world-class research.
---

Nangak Tamboree Project
This project seeks to maximise the benefit of this corridor to the University and its local community by enabling sustainable environmental and built form development, increasing campus permeability, improving severe weather event resilience, enabling and supporting teaching and research and improving campus amenity.
---
La Trobe Health and Wellbeing Hub Project
La Trobe Health and Wellbeing Hub will meet existing and future population growth, providing an integrated model of health and wellbeing service delivery from the La Trobe University campus.
---
Completed projects