Helen Just (Eleni Kesaris)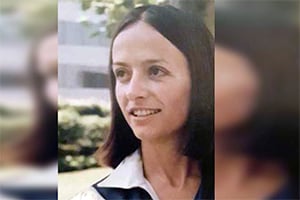 (1951–2009)
Written by Helen's daughter Penny Gleeson
My mother learnt. And then she taught others how to learn.
My mother's name, at her death, was Helen Just. At her birth, it was Eleni Kesaris. She was born in Filiates Hospital, Epirus in the North-West of Greece on 13 May 1951. A beautiful place. A poor place. A region full of history and legends, war and famine. All of this my mother, her parents and sister took with them on the ship 'The Skaugum' to Melbourne in 1955. In large and small ways that journey became part of her life, her children's and those that she taught.
Like many young immigrants, my mother was the first in her house to learn English. To go to the bank with her father as interpreter, to the hospital with her mother. In this new world, learning opened a conversation, a door, an ambition and a life. She revelled in the English language and literature.
In 1969 she enrolled in a Bachelor of Arts at La Trobe University. The first of her family to do so. She graduated in 1972 and went on to complete a Diploma and then Bachelor of Education. After graduating she taught while raising my brother, sister and I. But her engagement with education did not end. In 2002 she graduated with a Master of Applied Linguistics from The University of Melbourne. In 2004 she completed a Bachelor of Letters with first class honours in Chinese.
Her interests in linguistics, cross-cultural communication and Chinese language and society spilled into her working life. Her final professional role was as a Lecturer of English for Academic Purposes at Trinity College, Melbourne University.
She was dedicated to students whose journey in many ways mirrored her own, who saw education as a source of hope and new paths. More than many, she knew that education was a gift that could not be taken lightly. For my siblings and I that gift was understanding that knowledge was a place that could be visited and re-visited for discovery, connection, comfort and sheer joy.
Our mother passed away in December 2009. Months before that, after hearing upsetting medical news, she drove to the University of Melbourne as intended and enrolled in a PhD.
For her, learning was a life force. And we are grateful every day for her, and its, legacy.