Our Research
Our Director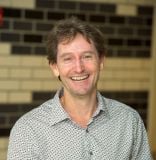 The Holsworth Research Initiative is led by our Director, Professor Michael Kingsley. Michael established the Initiative in 2019. His current research focus includes nutritional and exercise interventions, the influence of exercise and lifestyle interventions on cardiometabolic function in athletes and patients with chronic disease, such as cardiovascular disease, diabetes, and chronic kidney disease, and the use of wearable sensors to monitor exercise intensity and volume.
Our Research Officer
Our stream leads are ably supported by our Research Officer, Dr Blake Collins. Blake completed his PhD at Charles Sturt University in Bathurst. His research focused on cardio-metabolic pathogeneses among shift workers and the prognostic effect of exercise. He looks forward to contributing to our innovative research, and we look forward to him spending lots of time in our exercise physiology labs collecting data.
Our Research Coordinator
Administrative tasks are completed by our Research Coordinator, Dr Courtney Sullivan. Courtney completed her PhD at The University of Technology, Sydney in 2019 investigating the talent selection and career progression of professional Australian Football players. She teaches within the Exercise Science degree at La Trobe Bendigo and contributes to current research being conducted within the Initiative. Courtney looks forward to helping promote and expand the Initiative in the coming years.
Healthy people, families & communities
Our research is aligned to the La Trobe University theme of Healthy People, Families and Communities. Our researchers build clinical capability and policy expertise to enhance individual and community wellbeing, reduce disease, and create equitable health solutions for all.
Our research streams
We focus on improving capability and capacity in exercise, physical activity and rehabilitation using three research streams:
Human Performance
Active Rural Individuals
Active Rural Communities
Human Performance
The human performance stream aims to improve human function in exercise and sports tasks, with a focus on developing interventions that optimise the performance of various populations during physical activity.
The theme draws together La Trobe Rural Health researchers from the departments of Exercise Physiology, Physiotherapy, Podiatry, Paramedicine, Public Health, Dietetics & Human Nutrition, Rural Health, the Violet Vines Marshman Centre for Rural Health Research and the John Richards Centre for Rural Ageing Research, as well as drawing on expertise from other La Trobe disciplines such as Sport Exercise and Rehabilitation.
Research partners include the Bendigo Braves, Bendigo Spirit, AFL Victoria, Bendigo Health, the School of Physical Education of the Brazilian Army, Ibtec-Brazil and Australia Post. The stream is led by Dr Daniel Wundersitz and Dr Rodrigo Bini.
Dr Daniel Wundersitz
Dan always loved sport. Growing up he played football, basketball, netball, cricket and tennis. He dreamed of being a sports scientist with the AFL prescribing training to ensure the footballers were at peak fitness. But the call to research was too strong. Daniel now studies the intensity and duration of exercise on the heart, with a focus on recreational cycling in the Bendigo area. He wants to find the right balance between 'too much' and 'not enough' allowing us to exercise in a way that keeps us healthy.
Dr Rodrigo Bini
Rodrigo was always interested in cycling. When working in Rio de Janeiro he cycled to work and didn't even own a car, because driving in Rio's traffic jammed streets was 'crazy'. Rio is a big city – the population of Melbourne in one third of the space – and challenging to get around. However he and his wife were seeking a quieter city with better quality of life – and definitely less traffic. When he saw a chance to work with HRI and Bendigo Health on studying cycling in Bendigo, Rodrigo jumped at the chance. He and his family are now happily living in Bendigo, reveling in the convenience of life in a rural city. However health, well-being and exercise continue to be at the forefront of Rodrigo's mind. As he says: "Research shows that only 5% of regional and rural people ride a bike regularly. This figure needs to change!"
Our Human Performance stream research is aligned under three research projects.
The contribution of sport participation to physical activity, health, function and wellbeing in regional Victoria
This research aims to review the motivators and barriers to participating in community sport, understand if and how this contributes to overall health and wellbeing profiles, and evaluate the different interventions to promote sport participation. Results from this body of work will form phase one of our plan to improve sports participation in rural and regional areas.
The effect of endurance exercise on cardiovascular function and movement efficiency in community level cycling
This research, in partnership with La Trobe University and Bendigo Health, aims to understand how endurance exercise training impacts the heart function and physical health for participants in community and social cycling in regional Victoria. The team seek to design effective interventions, implement them, and then follow up on the impact of these findings on the health and wellbeing in rural and regional cyclists.
The efficacy of e-bike use for improving health and function
This research aims to determine the effectiveness of e-bikes in improving the physical fitness of inactive people, by comparing e-bike uptake with walking or education-only programs.
Active Rural Individuals
The Active Rural Individuals stream seeks to address the increasing problem of chronic disease and injury in rural and regional areas by researching the best ways to prescribe exercise as medicine to reduce the burden of disease and where possible, prevent illness and injury from occurring.
The theme draws together La Trobe Rural Health researchers from the departments of Exercise Physiology, Physiotherapy, Podiatry, Paramedicine, Public Health, Dietetics & Human Nutrition, Rural Health, the Violet Vines Marshman Centre for Rural Health Research and the John Richards Centre for Rural Ageing Research.
Research partners include Notre Dame University, Auckland University, Bendigo Health, Swinburne University, the University of Queensland, Austin Health and Murdoch University,Sheffield Hallam University (UK) and the University of Northumbria (UK).
Our Active Rural Individuals stream is led by Associate Professor Brett Gordon. Brett researches how to prescribe safe, effective exercise for people with underlying health conditions, like diabetes and pre-diabetes, obesity and cardiac conditions. He wants to develop ways to help people manage their conditions through exercise, safely and effectively. This is a research story all about movement, both metaphorically and literally. For a start, Brett moved a lot when he was young. His father was a bank manager in rural towns, and moved every few years. Brett reckons he had lived in ten small towns before he was eighteen. He moved to the city to study, and then back to the country, because that was where his heart lay. With Bendigo's exercise physiology teaching program, Brett feels La Trobe is building an expert workforce to help take the department's research into the community and improve the health and well-being of regional people.
Our Active Rural Individual stream research is aligned under two research projects.
Multidisciplinary interventions to enhance adherence to exercise and lifestyle behaviours in rural adults with chronic disease
This research aims to identify feasible and effective multidisciplinary strategies to improve exercise prescription and increase adherence to exercise and lifestyle recommendations in rural adults with chronic disease such as diabetes and obesity.
Improving the exercise base for exercise-based cardiac rehabilitation
This research aims to develop methods to assess exercise capacity and prescribe appropriate exercise intensity to improve cardiovascular health outcomes. It aims to enhance compliance and attendance at cardiac rehabilitation, and ongoing healthy behaviours following a cardiac event.
Active Rural Communities
Our Active Rural Communities stream is led by Associate Professor Steve Begg. The Active Rural Communities stream seeks to encourage the adoption of a public health lens through which to view physical inactivity and how this varies across specific populations, with a focus in regional and rural areas. This stream seeks to foster innovative solutions to the problem of suboptimal uptake of physical activity promotion efforts, particularly in high-risk populations such as people with existing chronic disease, marginalized groups, and Indigenous populations. Current partners include Bendigo Health and Geelong Council.
Our Active Rural Communities stream research is aligned under three research projects.
Healthy 4 U2 – The role of regional hospital-clinic based behavior change interventions
In collaboration with Bendigo Health, with Dr Steven Barrett, we are investigating the role of behaviour change interventions in non-admitted secondary hospital care. This work has already demonstrated the efficacy of innovative telephone coaching techniques to increase and maintain moderate to vigorous physical activity in ambulatory care patients. We are currently exploring the role of specialists in helping clinic patients improve their motivation and mindset around exercise with the goal of increasing routine healthy behavior in the patients' daily lives.
Participation in the Loddon Mallee Health Worker COVID study
The Loddon Mallee Health Worker COVID study is funded by the Victorian Government and aims to examine how health care workers cope with the long-term impact of the coronavirus pandemic. It will use a 3-year cohort design to uncover which resilience factors, including patterns of physical activity, help workers cope best.
Barriers and facilitators to active travel in the Bellarine
We are working with Barwon Health to investigate the individual barriers and facilitators to active travel uptake in the Geelong area. Although government investment in schemes to increase participation in active transport are encouraging, population level uptake in active transport is limited, particularly in regional and rural areas of Australia. The findings from this work, along with findings from the 2019 Active Living Census (City of Greater Bendigo), will be explored with potential to better inform and promote uptake of active transport in regional and rural Australia.