The review shows the level of bycatch is of greatest concern for three species: Humboldt and Magellanic penguins, both found in South America, and the endangered New Zealand yellow-eyed penguins.
On New Zealand's South Island, yellow-eyed penguins are down to fewer than 250 nests. Previous population strongholds have declined by more than 75%. Conservative population models predict local extinction of yellow-eyed penguins by 2060, if not earlier.
---
Read more: Shrinking Antarctic glaciers could make Adélie penguins unlikely winners from climate change
---
Penguins are among the world's most iconic and loved birds, despite the fact that many people never get to see one in the wild. Indeed, the opportunities to do so are diminishing, with ten of the 18 penguin species threatened with extinction. After albatrosses, penguins are the most threatened group of seabirds. And, like albatrosses, bycatch is thought to be a serious issue for some species.
On land, many penguins are now well protected, thanks to the efforts of conservation researchers, government agencies, community groups and tourism operators. Where many penguins were once vulnerable to attack from introduced predators, or to habitat loss from farming or development, today the biggest worry for many penguin chicks is how to get more food out of their parents.
But below the waves it's a different story. Over thousands of years, these keen-eyed seabirds have evolved to catch food in the depths, while avoiding natural predators such as seals and sharks. But they cannot see the superfine nylon fishing nets invented in the 1950s which fishers now set in penguin foraging areas.
Little penguins, whose scientific name Eudyptula minor literally means "good little diver", typically forage in the upper 20 metres of the ocean, with each dive lasting about 90 seconds. The larger yellow-eyed penguin – Megadyptes antipodes, the "big diver of the south" – prefers to hunt on the seafloor some 80-90m down, holding their breath for 2-3 minutes before coming up for air. If they do not encounter a fishing net, that is.
Gillnets (also called set nets) in particular are very dangerous for penguins. These nets are set in a stationary position rather than being dragged through the water. They are designed to catch fish around their gills, but can just as easily snare a penguin around its neck.
If it gets tangled in a net, a penguin will panic and drown in minutes. In Tasmania, nets with more than 50 drowned little penguins have been found washed ashore. Other penguins are found on beaches with characteristic bruising from net entanglement around their necks.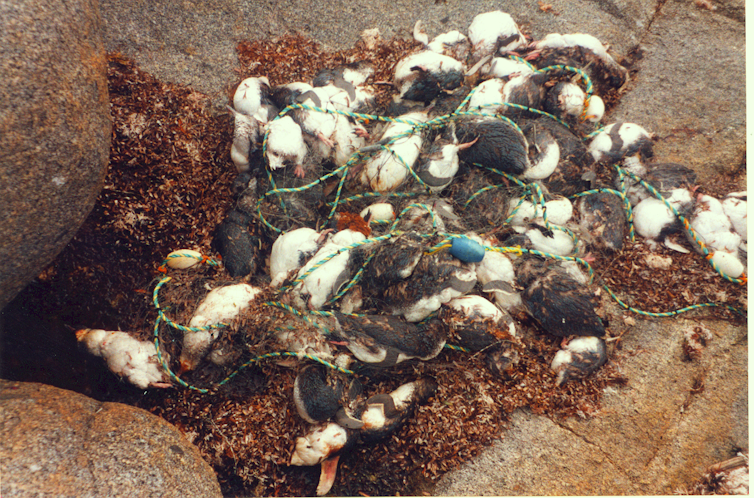 When a penguin is killed at sea, this has knock-on effects back at the nest. The chicks will die of hunger or fledge underweight, with little chance of surviving their first year at sea.
The breeding partner left behind will probably skip a breeding season; some penguins never find another partner after losing their mate. I have seen them calling plaintively from their nest, or even going down to the shore in the evening to look out to sea, before returning to their nest all alone.
Declining numbers
In New Zealand, the endangered yellow-eyed penguin is declining. Current population models predict their extinction on the New Zealand mainland by 2060, or potentially even earlier. Yellow-eyed penguins are facing many threats mostly because they are simply living too close to humans.
Whereas threats on land are reasonably well managed, threats at sea need urgent attention. Marine habitat degradation by industries that damage the seafloor will take decades to recover. Similarly, pressures from climate change will not have a quick enough fix to save yellow-eyed penguins from local extinction.
There is one thing, however, we can change immediately: the needless death of penguins in fishing nets. This will give already struggling penguin populations a bit of a breather and maybe even the resilience required to deal with the many threats they face in their daily fight for survival.
---
Read more: New behaviour leaves Antarctic penguins on the shelf
---
Judging by the number of penguins washed ashore with net injuries, many fishers simply discard penguins' carcasses at sea rather than reporting bycatch or working towards solutions to mitigate it.
Do we really want penguins to drown for our treat of fish and chips? Less destructive fishing methods are available that do not cause penguin bycatch and the death of other protected species.
But these more selective fishing methods would require fishers to change gear, which costs money. Currently, there is very little legal or commercial incentive for fishers to do anything about penguin bycatch.

But there are a couple of things you can do. Please do not just buy any fish with your chips – ask which species it is and how it has been caught. You can use a sustainable seafood guide, such as New Zealand's Best Fish Guide or Australia's Sustainable Seafood Guide. That way you can help the penguins snag a safe fish supper of their own.
Ursula Ellenberg, Honorary Lecturer, La Trobe University
This article was originally published on The Conversation. Read the original article.