Activist and philanthropist Roberta 'Bobbie' Holmes (La Trobe Distinguished Alumni Award, 2020) has some frank advice for the next generation.
'Try to be a good citizen,' she says. 'That's very important.'
Having dedicated her life to promoting social change, Bobbie's achievements are an inspiring example of what active citizenship can accomplish. Among the movements she's founded, convened or co-founded are Women Against Violence, Peace Studies Working Group, National Action Against War Toys, Women for a Humane Refugee Policy, and, most recently, Elders for the Earth.
Through her collective action, Bobbie has helped change behaviour and draw sustained attention to a range of causes.
For example, there's the time she launched the Australian arm of an Irish anti-violence campaign, having read a story in The Age newspaper.
'It was a little paragraph about two women, Mairead Corrigan and Betty Williams, at the time of "the Troubles" in Northern Ireland. They met at the graveside of Mairead's sister who, with her young children, had been killed in an incident in Belfast when a wounded IRA gunman, out of control of his car, drove over the edge of the footpath where her sister was walking with her young family – including a baby in a pram. Only the baby survived,' Bobbie says.
'Determined to do something about the tragedy, Mairead and Betty just "started knocking on doors", the paper said, and their anti-violence movement was born. At the time, when I read that, I couldn't think of anything else. I spoke to everybody I could about it until finally, one woman really responded – and she knew all sorts of people. The following night about eight of us had a meeting at my place. And together, we decided to try to do something.'
Bobbie and the group organised a mass rally in Melbourne for Women Against Violence, with Dame Phyllis Frost as speaker, which was attended by thousands of people. Later, Bobbie linked up with Betty on ABC radio and invited Mairead into her home.
'She came out to spread her message and she stayed with us. The whole family fell in love with her,' Bobbie says.
Then there was the time the Peace Studies Working Group won a government grant in the International Year of the Child, to produce a book for schools called Building Bridges – a play-based resource which sought to engender peace and cooperation in classrooms. And another time, as part of a week-long action, when she persuaded TV stations to not screen anything violent during children's viewing hours.
Where does Bobbie's energy for activism come from? Part of it, she reflects, is temperament.
'As a child I was very adventurous, a risk-taker,' she says. 'I had an older brother and I was a tom-boy. I was always trying to keep up with him.'
Another factor, though, is Bobbie's experience of lifelong learning. Stepping onto La Trobe's Bundoora campus as a mature age student in the late 1970s, she says, sparked a political awakening.
'My arts degree took seven years to finish'
When all her children were at school, Bobbie enrolled in a Bachelor of Arts. She knew it wouldn't be easy; for several years she juggled study with part-time work and the demands of raising a family.
'My arts degree took me seven years to finish, because life was incredibly busy. I'd be up 'til four o'clock in the morning each day writing essays. Then, after a little sleep, I'd be back up cutting lunches, getting breakfast and then heading off to work,' she says.
Bobbie studied sociology, English, archaeology, poetry and art. She was part of a small group of women who were mature age students and keen to challenge the status quo.
'One of the women was asked why she was studying and she said, "I'm sick of being patronised!" which I thought was a great reply,' she says.
'La Trobe helped me enormously, it gave me confidence. I became really politicised, which changed the discussion around the dining room table significantly. I remember holding forth about something in the living room, once, when the whole family was there. And my daughter Katie, who was in her early teens, said, "Oh dear, I feel another cause coming on!"'
It's little wonder that Bobbie's same daughter grew up to become La Trobe's Professor Katie Holmes – a leading environmental historian who now leads the university's Social Change and Equity research theme. Indeed, of all Bobbie's achievements, her children and grandchildren are the most rewarding.
'Overall, my proudest achievement, very much so, is my family,' Bobbie says.
A gift to La Trobe: understanding the challenges of modern parenting
While trying to balance, study, work and motherhood, Bobbie developed a passion for effective parenting. She became aware of – and committed to changing – aspects of her parenting style that she felt were unfavourable.
'As a parent I had so much to learn, and unlearn. I began recognising within myself qualities that I wasn't proud of. And I tried to change them,' she says.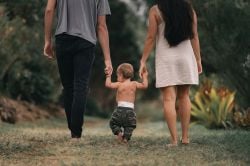 She describes a key moment with a close friend that set her on the path to learning about parenting.
'I had corrected my son, my first child, and my friend saw it. She asked me, "Was your father very authoritarian?' And that made me think very deeply about parenting. I tried to find some help, some guidance, but I had very little success. I couldn't find any information about parenting, except from friends.'
The challenges facing parents today are, Bobbie believes, far greater and more complex than ever before.
'Parenting is one of the most challenging and important roles for which we have absolutely no preparation. And a lot of problems can develop as a consequence of that,' she says. 'You can't parent well if you haven't been parented well, at least by one parent.'
Bobbie's first-hand experiences motivated her to advance parenting knowledge. In 2013, she provided philanthropic support to establish La Trobe's Transition to Contemporary Parenthood research program. The program informs public understanding of the need to prepare people for parenthood and support them to achieve better outcomes for their children and themselves.
Current research includes several major longitudinal studies of children, as well as projects on parenting in the age of social media, strategies to support working parents, and the role of pets in families coping with the COVID-19 pandemic.
'The greatest threat our planet has ever confronted'

Now, aged ninety-two, Bobbie's energy for activism shows no sign of slowing down. As co-founder of Elders for the Earth, she's rallying senior Australians to speak out against climate change, which she believes poses "the greatest threat that life on our planet has ever confronted".
'There have already been five extinctions. And if we don't change in our attitude, we're going to be victims of the sixth. Which is why I co-founded a group called Elders for the Earth,' Bobbie says.
'We were very concerned about our grandchildren and future generations and the world they might or might not inherit. So, we decided to try to do something about it.'
The group meet once a month with placards, demonstrating on the steps of the old GPO Building in Melbourne's busy Bourke Street Mall.
'We get a lot of interest. People come up and talk to us and say, you know, they admire what we're doing, or they sometimes disagree with you. Some of us sit or stand, some of us get down and walk with our placards through the people. We just do what we can according to our age.'
Wherever you are in your life and career, Bobbie believes it's never too late to participate in a political campaign or get involved in your local community.
'Make an effort – and do your best,' she says.