The project, designed by JCB Architects with construction by Multiplex, was among a shortlist of 117 entries across 14 categories and will now progress to compete in the National Architecture Awards program, recognised as the most prestigious and rigorous of its kind.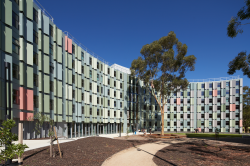 The buildings have a 5 Star Green Star Design & As Built v1.2 certified rating and have been constructed out of 4,100 cubic metres of sustainable and renewable Cross Laminated Timber, making it Victoria's largest mass timber construction project.
Inside, there are single, four, five and six bed apartments as well as 13 purpose-built rooms with accessible features for residents with additional mobility or sensory needs.
The unique, arc-shaped buildings were designed to respond to the existing environment at the campus, with most of the existing trees being preserved in the placement and shape of the buildings.
In addition, the façade colour palette reflects the leafy treescape of the Melbourne Campus in Bundoora, with the whites, silvers and greys of the outer facades representing the colours of the tree trunks, and the greens, pinks, reds and oranges of the inner facades mirroring the colours and finer details of the leaves and bark.
The Apartments provide improved access to high quality accommodation for students on campus and are a major step forward in La Trobe's transformation into a University City of the Future.
The long-term development will transform the 235-hectare campus into a vibrant city in Melbourne's north with world-class sports, research and innovation, education, commercial, retail and residential developments.
The National Architecture Awards program has been running since 1981 and celebrates design excellence and its contribution to communities across Australia and abroad.
The La Trobe Apartments North and South also took out the Multi-Residential award in the Excellence in Timber Applications category at the 21st Australian Timber Design Awards late last year.
Watch as the La Trobe Apartments North and South come to life throughout construction: