Mr Wickham was nominated for the position by Professor Helen Lee, a La Trobe Anthropologist, after their work together on an Australian Research Council Linkage Project.
"Dean was the Partner Investigator on a project titled 'Pacific Islanders in regional Victoria: settlers, visitors, and overstayers'. Throughout the project my research colleague, Dr Makiko Nishitani and I, worked closely with Dean and his input was invaluable for guiding the research process. He has extensive knowledge of the region, the Pacific settlers and seasonal workers, with whom we were working.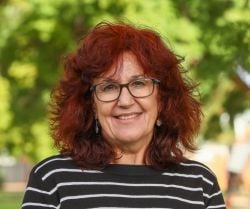 "I nominated Dean as an Adjunct Research Fellow to recognise his contribution and to signal that we would like to continue to work with him. Some of my La Trobe colleagues are now pursuing another project with him. We see Dean as closely connected with La Trobe, so this is a way to acknowledge that," Professor Lee said.
Mr Wickham says the nomination was an honour and he was quite shocked when it was suggested by Professor Lee.
"It's a huge honour. The research was about getting the community involved. When you go about your daily work, you don't think about these things, you're just getting the job done – it's nice to be recognised by the University," says Mr Wickham.
One of the outputs from the project was a piece authored by Dr Nishitani, Professor Lee and Mr Wickham in The Conversation, titled; 'The forgotten people in Australia's regional settlement policy are Pacific Islander residents'. This piece caught the attention of the Scanlon Foundation and resulted in the foundation providing $50,000 worth of funding to establish a Pacific Islander Network. This project aims to bring together Pacific Island groups to build capacity to address, highlight and advocate on issues faced by the group. The work involves a skills audit and development of a website with a range of resources.
"It was also a huge honour to be listed as a co-author to the Conversation piece that came out of the work Helen and Makiko did. For a little organisation such as SMECC, to brought into that academic space, where we're doing work alongside a reputable university such as La Trobe, was fantastic.
"That collaborative work is really important and I hope it signals to the culturally and linguistically diverse (CALD) community that these partnerships can bear really good fruit in terms of highlighting a particular situation," says Mr Wickham.
Mr Wickham says access to higher education is extremely important for Mildura and the CALD community.
"We hear a lot from CALD communities that they value higher education and they want it to be around in the local community. More so than ever due to COVID. I'd like to continue working with La Trobe University exploring how we can get more scope for courses on the ground.
Originally from the Solomon Islands, Mr Wickham says he loves the diversity of his role SMECC and is especially proud of the local team.
"SMECC is a 41 year old organisation that is a representative and advocacy body to and for CALD communities. It initially started out in Mildura, but we have built a profile that has gone far broader and we hold contracts with state, federal and local governments.
"We are a small organisation, but we have a fantastic team and we're quite diverse in house. We speak 35 languages in our small team and it's really a privilege to work alongside the people that we come across. It's great to have such diversity in this rural area and we need to build on that. We hope to work with La Trobe University more in the future."
ENDS
Media enquiries
Ashlee Ryan, Advisor, Marketing & Engagement
T 03 5051 4069 E a.ryan2@latrobe.edu.au