Presented by La Trobe University, Bendigo Writers Festival and Arena Theatre, Looking Forward engaged over 700 students, and prompted 130 live questions for the guest panel, which included illustrator Dub Leffler, author Coral Vass and poet Solli Raphael.
The event is still available for schools to watch on-demand.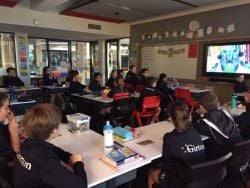 Primary teacher Nicola Matthew tuned in live on the day with her Year Five Girton Grammar School students.
"It was a really a worthwhile experience and well suited for year levels four to six. What an excellent way to kick off Book Week by taking an in-depth look at the process of conceptualising, drafting and editing a book," Ms Matthew said.
La Trobe University Dean of School of Education, Professor Joanna Barbousas, said the event exceeded expectations.
"The students seemed to really enjoy hearing from our talented guests – about how their careers developed, the process of writing a book, and what inspires them on a daily basis," Professor Barbousas said.
"We were also really blown away by the engagement, with so many questions being asked by the students."
"The event is still available for students to watch on-demand, so I encourage teachers to take advantage of this, and plan a class activity around it," Professor Barbousas said.
Acting Manager of Bendigo Venues and Events, producer of the Bendigo Writers Festival, Jacoba Kelly, says engaging students in discussions about books and story-telling has been a priority since the establishment of the Bendigo Writers Festival.
"Our Schools Day, Text Marks the Spot, is always well-supported by Central Victorian schools," Ms Kelly said.
"Thanks to the continued support of La Trobe University, and this year Arena Theatre as well, we are thrilled to see it presented in 2020 to a large online audience, in a creative and engaging way," Ms Kelly said.
To watch the show on-demand, visit Bendigo Writers Festival on-demand.