1. Melissa Cunningham: setting the agenda in journalism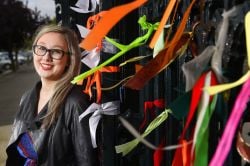 Alumna Melissa Cunningham is an award-winning journalist who's built her media career in roles at Fairfax Media mastheads (Melbourne Times, Melbourne Weekly Magazine, City Weekly, Yarra/Maroondah Weekly) and local Ballarat newspaper The Courier. A passionate social affairs and civil rights reporter, Melissa travelled to Africa in 2012, where she wrote articles on children living in East Africa for UNICEF and volunteered as an English teacher in Zanzibar.
In 2016, Melissa was a finalist in the Walkley Awards' Community and Regional Affairs category. In the same year, she was awarded a NAIDOC Media Award for outstanding coverage of Aboriginal affairs, for exclusively reporting a series of stories on the racial vilification of a three-year-old Ballarat Aboriginal girl. In 2017, she won the coveted Melbourne Press Club Quill Award for excellence in regional journalism for her coverage of the Royal Commission into Institutional Responses to Child Sexual Abuse in Ballarat. Melissa is currently health reporter for The Age where she deep dives into exclusive medical and public health news.
Melissa completed a Bachelor of Journalism at La Trobe University.
2. Demetrio Zema: leading in law
When entrepreneurs need legal advice, they turn to alumnus Demetrio Zema. Demetrio is the founder and director of Law Squared, a specialised commercial law and litigation firm that takes an entrepreneurial approach to providing legal services. Uniquely, Law Squared partners directly with its clients, working as risk advisers to high growth startups and ASX-listed companies.
In 2017, Demetrio's innovative approach to law saw him chosen as an Australian delegate to the G20 Young Entrepreneurs Alliance in Germany and named Rising Star runner-up in the 2017 Victorian Legal Awards. In 2018, he was a nominee in the Australasian Law Awards' Law Firm Leader of the Year category and named winner of both the Lawyers Weekly 30 Under 30 in Commercial Law award and the Law Institute of Victoria's Rising Star award. Today, Demetrio balances legal entrepreneurship with work in the non-profit sector – including as a Board member for the Centre for Multicultural Youth and the Victorian Deaf Society.
Demetrio completed a Bachelor of Laws/Bachelor of International Relations at La Trobe University.
3. Amy Whitten: high-flying in health science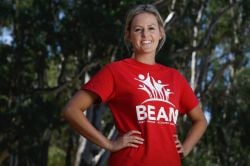 Echuca-based alumna Amy Whitten was in the final year of her occupational therapy degree when she co-founded BEAM, a not-for-profit dance group designed for people living with a disability. BEAM works with vulnerable children and families from rural communities, incorporating occupational therapy into a movement-to-music program. While still at uni, Amy was also invited to join the Golden Key International Honour Society and was elected president of the Bendigo Occupational Therapy Student Association.
Today, Amy balances her work as co-director of BEAM with her role as an occupational therapist for Moama Anglican Grammar School. Her advocacy for inclusion rural communities, and her commitment to social change, have seen her become a finalist in both the 2017 and 2018 Victorian Young Achiever Awards. Amy was also named a 2018 Young Social Pioneer by the Foundation for Young Australians (FYA), and went on to receive $10,000 through the FYA's Seed Funding Award for her winning pitch to further develop BEAM.
Amy completed Bachelor of Health Science and Master of Occupational Therapy at La Trobe University.
4. Sally Hill: innovating in international relations
Alumna Sally Hill is a lawyer and policy analyst who's passionate about improving Australia's relationship with its closest neighbour, Indonesia. She is the founder and director of the non-profit National Australia Indonesia Language Awards (NAILA), co-founding director of the Australia-Indonesia Youth Association, an Asia Literacy Ambassador for Asialink, and currently works as a Senior Policy Analyst for the Commonwealth Treasury in Canberra.
Sally's work on Australia-Asia relations has been widely recognised. In 2013, she won the Prime Minister's Australia-Asia Endeavour Award (2013) for her research into the effects of corruption on trade and aid in the Australia-Indonesia relationship. In 2014, she represented Australia and won first prize in the Prime Minister's International Malay Speech Competition. Sally received the Rob Chalonor Strategic Leadership (Policy Development) Prize in 2016 and has since been twice nominated for ACT Young Australian of the Year (2018 and 2019).
Sally completed a Bachelor of Laws/Bachelor of International Relations and a Diploma of Languages – Indonesian at La Trobe University.
5. Jake McKeon: bowling over business
Business took off for entrepreneur and alumnus Jake McKeon soon after graduation. Having co-founded Moodswing, a social network for peer-to-peer emotional support, in 2013, Jake was selected to participate in tech startup accelerator program AngelCube in 2014. That same year, Jake was a finalist in both Innovation Australia's Young Innovator of the Year awards and in the 2014/2015 season of That Startup Show. By 2015, he'd made Startup Daily's Top 50 Male Entrepreneurs under 40 list, before a trip to Bali gave him a new business idea – eco-friendly coconut bowls.
Not long after, Jake made headlines after he turned down an offer of $300,000 investment on popular TV show Shark Tank. But the decision proved to make good business sense. Today, as founder and CEO of Coconut Bowls, Jake has turned discarded coconut shells into a business that turns over $3 million. And the ideas keep coming – most recently, Jake founded Plantd, a media platform curated by Coconut Bowls that provides plant-based health and sustainability content.
Jake completed a Bachelor of Business at La Trobe University.
6. Dr Georgia Atkin-Smith: excelling in cell biology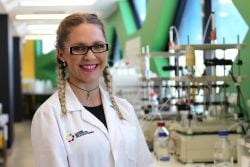 Each day, millions of cells in your body sacrifice themselves to maintain your good health. For alumna and scientist Dr Georgia Atkin-Smith, researching how these cells die has become a specialist career. As a 22-year-old cell biologist working at the La Trobe Institute for Molecular Science, Georgia used a technique called time-lapse microscopy to capture the complex 'dance of death' that happens when our white blood cells die – a phenomenon never before seen. In 2016, her world-first work was recognised by the Victorian Young Achievers Award, where she was both a finalist in the Research Impact stream and winner of the Peoples' Choice award.
Since then, Georgia has been awarded numerous travel scholarships and fellowships and was named in the Herald Sun's list of '25 under 25 Bright Young Things Changing our World' (2018). In 2019, she was awarded La Trobe's Nancy Millis Medal for an exceptional thesis. Now, through her postdoctoral research, Georgia's work will help us better understand how cell death occurs during the progression and treatment of blood cancers.
Georgia completed a Bachelor of Biotechnology and Cell Biology (Honours) and a PhD in Biochemistry at La Trobe University.
7. James Campkin-Smith: head of the herd in agricultural science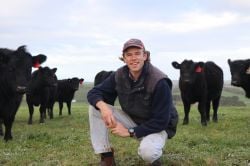 Alumnus James Campkin-Smith is a young farmer on his way to becoming a top beef producer. Aged 16, James began assembling his own breeding herd using money he'd earned from part-time hospitality work. Today, he manages a herd of black angus cattle on agisted land; works as a farmhand on his parents' 800-acre beef farm in South Gippsland, Victoria; and has a sales role with JBS Australia, Australia's largest meat and food processing company.
In February 2019, James was selected to join the GenAngus Future Leaders Program. He's also been recognised by the Cattle Council of Australia as Victorian finalist for the 2019 NAB Agribusiness Rising Beef Industry Champion Award. In an interview with the South Gippsland Sentinel-Times, James describes the sense of accomplishment farming beef cattle brings:
"Farming is hard work, but it's incredibly satisfying. I enjoy working with my hands and being out in the fresh air, achieving something worthwhile. To see growth – whether it's in my herd at calving time, trees that I've planted or general improvement to the property – I really get a sense of achievement out of that."
James completed a Bachelor of Agricultural Sciences/Bachelor of Business at La Trobe University.
8. Su Htet Zaw: transforming international education
For Myanmar-born alumna Su Htet Zaw, studying at La Trobe was a chance to deepen her understanding of different education systems. In 2016, she won the Myanmar Presidential Scholarship Award to study in Australia at La Trobe. While at La Trobe, she was a highly active volunteer, supporting international students' welfare and founding the La Trobe University Red Cross Club. She also worked across school partnerships, registration and student orientation. Together with her academic achievements, which saw her join the Golden Key International Honour Society, Su's all-round excellence made her the winner of Victorian International Education Awards' International Student of the Year – Higher Education award in 2017.
Today, Su is applying her postgraduate degree as an education leader at Myanmar Ministry of Education. She is a national specialist and trainer in school-based curriculum for substance use prevention. She is also an expert team member on the Ministry's Education Simulation Model, which works to improve education sector planning. Another focus of her work is the Myanmar Education Quality Improvement Program (My-EQIP), a joint initiative between Australia and Myanmar. Through the program, she hopes to improve education outcomes across Myanmar and strengthen the quality of education policy, planning and management.
In addition, Su is volunteering as an English teacher to high school students experiencing disadvantage and has also founded her own IELTS and English language school. Her business recognises the challenges she's overcome to become confident in using professional English and prepares learners for the competitive IELTS English test needed for overseas study, migration and work.
Su completed a Master of Educational Leadership and Management at La Trobe University.
9. Sam Bramham OAM: sporting superstar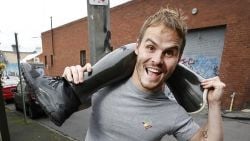 Alumnus Sam Bramham OAM is a Paralympian swimmer who's never let his disability get in his way. Born without a right femur, Sam had his right leg amputated at the age of five and began wearing a prosthetic. Part of his therapy was to swim; by the age of nine, he was swimming competitively.
Since then, Sam has travelled the world as a professional athlete, competing at the 2006 Melbourne Commonwealth Games, 2007 South African World Championships and the 2004 and 2008 Summer Paralympics. As a Paralympian, Sam won two gold medals, two silver and a bronze, and broke World Records in the 400m freestyle and the 100m butterfly. In 2007, Sam won Swimming World Magazine's World Swimmer of the Year with a Disability award. In 2009, he received the Order of Australia in recognition of his service to sport, as well as his contribution as a role model to youth with a disability.
More recently, Sam has been a contestant in the first season of Australian Ninja Warrior (2017) and was part of the winning legends team at the 2019 Australian Swimming Championships. When not in the pool, Sam works as a sports media commentator, author and owner of Chei Wen Wine Bar in Ivanhoe, Victoria.
Sam studied subjects in law and sports marketing at La Trobe University.