Our research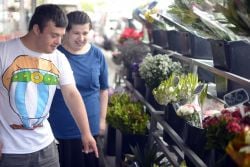 The Living with Disability Research Centre takes an evidence-based approach to inform and improve practice, programs and policies for people affected by a cognitive disability.
A key research focus is on the experiences of people with cognitive disabilities, their families and service providers. We take a lifespan perspective and stand committed to bringing about change at all levels so that our society can be inclusive.
The LiDs approach
We adopt a bio-psycho-social approach to understanding disability. Through the application of a systems perspective, our work takes a multi-tier approach recommending targeted interventions for the individual, family, organisation, community and the wider society.
The Living with Disability Research Centre ensures people living with cognitive disabilities have a voice in our projects. Our staff and their collaborators have strong partnerships with advocacy and self-advocacy groups, health, disability and other human service providers as well as key international disability research centres.
Our research themes focus on improving disability services. We work to enable mainstream service to be inclusive and to advocate for participation and inclusion. Under the relevant themes in the menu to the left are brief profiles of a selection of our research projects, which often cross these boundaries and even involve other disciplines.