Sarah Valente completed Year 12 at Loxton High School in the South Australian Riverland. She knew from Year 10 she wanted to become a teacher and it was her experience at a Careers Night that convinced her Mildura was the place for her to study.
'Ever since I spoke to the La Trobe staff, at a Careers Night in Year 10, I knew that the campus was meant for me. I was immediately drawn to a smaller campus, because I felt I could better form relationships with my lecturers and classmates.'
Sarah has just completed her first year of the Bachelor of Education (Primary) and due to her high ATAR, was accepted into La Trobe's Regional Benefits Program. She says many of her high school classmates couldn't understand why she wasn't making the move to Adelaide for university, like many of them.
'I think people don't consider a regional campus because they think the size difference will affect the quality of learning and social opportunities. Regional campuses provide opportunities for interaction and social opportunities, that allow you to build lasting friendships through learning in a smaller classroom.
'I love the environment, the people and the campus layout. The Mildura Campus is a kind community which allows you to work with a smaller group of classmates and collaborate in class, just like you would in a professional environment.'
Sarah says it's really important for high school students to choose an environment that suits them best.
'I went against the norm and did not follow the crowd. At the end of the day it is up to you, whether you study locally, move away or take a gap year. It is important to determine what is best for you, as long as you keep your future goal in mind.'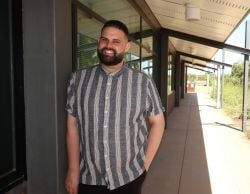 Michael Carty made the move to Mildura from Melbourne, as he wanted to return to uni to change up his career.
'Mildura offers a certain lifestyle with the added bonus of affordable living. More sunshine is always good too!
'I'm using Educational Studies as a stepping stone into Secondary Teaching. The goal is to become a secondary English and Humanities teacher. However, I would like to continue studying for a Masters as well.'
Michael's advice to others looking for a career change, don't hold back!
'Do it! I waited so long for a career change and while it's never too late, it's so liberating to make that change. For those really committed to their studies, studying regionally is a no-brainer!'
La Trobe recently unveiled the plan for its Mildura campus as part of the University's reset strategy. Under the plan students will have access to a wider range of online and mixed-mode courses, and support to, amongst other things, meet future employers and form networks through the University's Regional Connect program.
To book in online for a one-on-one course advice appointment with one of our course specialists, please visit: https://now.latrobe/1on1