La Trobe 3MT winner - Ms Viviane Richter

Viviane Richter off to 'Three minute thesis' national finals in Perth!
The 2014 La Trobe 'Three minute thesis' (3MT) competition final was held on 10 September in the John Scott Chamber.
Nine finalists gave their all in a bid for the title of 2014 3MT Champion and a trip to the University of Western Australia to compete in the national final.
VC Professor John Dewar and PVC (Graduate Research) Professor Andrew Brennan provided opening remarks and then the nine contestants performed before a prestigious judging panel and a full house.
3MT is an academic competition that challenges PhD candidates to explain their research project in just three minutes and with a single slide.
Many of La Trobe's PhD candidates took on this challenge and signed up for the 3MT competition earlier this year. Since then, they have rehearsed, trained, and performed for school and/or faculty heats before meeting at the La Trobe final.
The panel of judges, which included The Conversation's Health and Medicine section editor Fron Jackson-Webb, had a difficult time picking a winner.
"The quality of the presentations was outstanding," said DVC (Academic) Professor Jane Long, one of the competition judges. "The winners yesterday communicated their complex topics with great gusto and considerable flair — and no one could be left in any doubt that their research matters!"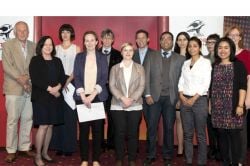 La Trobe 3MT finalists and judging panel
After close deliberations, Viviane Richter (FSTE) was declared the winner, and Lara Bereza-Malcolm, also from FSTE, the runner-up. Bereza-Malcolm also won the People's Choice award, which was decided by an audience vote.
"Viviane had great stage presence and really drew the audience in," said Ms Jackson-Webb. "She generated excitement in the room about the important implications of her research."
Richter's presentation was titled 'The machine that lets mitochondria divide'. She will compete in the national finals in Perth in November, and her supervisor, Professor Mike Ryan, will have the opportunity to accompany her.
"I'm very excited for Viviane," said Professor Ryan. "The 3MT competition is a wonderful opportunity for students to work out what are the most important and relevant aspects of their research. For someone to condense three years' work into three minutes is an incredible challenge."
The 3MT is a research competition developed by the University of Queensland and coordinated by the Research Education and Development team at La Trobe.