La Trobe students Amy Lawton (Bachelor of Prosthetics and Orthotics - Honours) and Brendon Smith (Bachelor of Business - Accounting & Finance) will don the green and gold on the world stage at the Tokyo Olympics next month following their respective selection and qualification over the weekend.
They will be joined in Tokyo by Paralympic athletes Emily Beecroft (Bachelor of Arts), Ahmed Kelly (Bachelor of Arts), Jeremy Tyndall (Bachelor of Education - Primary) and Bree Mellberg (PhD) who were announced as part of the Australian Para-Swim team for the Tokyo Paralympics on Tuesday.
The La Trobe quintet heading to Tokyo are in addition to fellow LEAP member and Carlton College of Sport student, Caitlin Parker (Diploma of Sports Coaching & Development), and La Trobe-Didasko student, Mack Horton (Bachelor of Applied Business). Parker, a boxer, secured her debut Olympic qualification in the 75kg category with a top two ranking in the Asia and Oceania Olympic Qualification tournament in Jordan in March 2020, while Horton will be part of the Men's 4x100m Freestyle relay team.
Brendon Smith, a member of the Australian Swimming team, booked his spot on the plane to Tokyo with a blistering swim at the 2021 Australian Olympic Swimming Trials on Saturday. The 20-year-old took out the gold medal in the Men's 400m Individual Medley with a time of 4:10:04, breaking an eight-year Australian record in the process. Smith also qualified for the Men's 200m Individual Medley on Tuesday night.
"Pretty surprising swim, everything went right and I had an amazing race," Smith said.

"There is definitely a lot of time I can drop with that swim, but I am just looking forward to getting back into training and see if I can drop more."
The Olympic Games selection capped off years of hard work and sacrifice for Smith, which nearly all came unstuck before the Australian Olympic Trials even began due to the snap COVID-19 lockdown in Victoria. Fortunately, Smith managed to escape Melbourne just in time to fly to Queensland for pre-event training before heading to Adelaide to compete in the Australian Olympic Trials.
The 19-year-old midfielder will become the fourth youngest Australian female hockey player to compete at the Olympic Games and is one of eight Olympic debutants selected in the final squad.
Despite her tender age, Lawton has already accumulated 17 caps and three goals for the Australian Women's Hockey team since her debut as a 17-year-old against New Zealand in 2019.
Emily Beecroft is no stranger to the Paralympics environment, having represented Australia at the 2016 Paralympics in Rio. At that campaign, the then 16-year-old made the finals in three of her four events and came 0.03 seconds off a bronze medal in the S9 50m freestyle. Five years on with greater experience behind her, Beecroft is hoping to take the next step and secure a spot on the podium this time around.
Born with a radial limb deficiency, causing a clubbed hand on her right arm, deafness in her left ear and mild scoliosis, Beecroft competes in the S9, SB9 and SM9 classifications. The 21-year-old has been a member of the LEAP program since 2019 and considers her greatest achievement to be the lasting impact she has left on her hometown of Traralgon in Central Gippsland.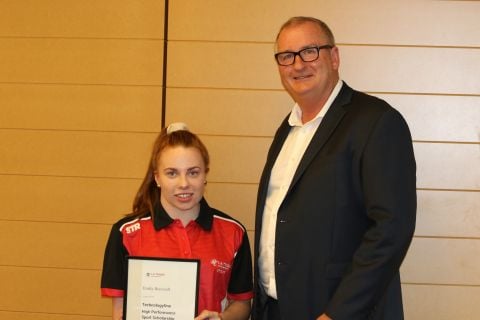 "Helping inspire people, to show them that swimming is a great sport to be involved with if you have a disability…. It's very surreal," Beecroft told upstart Magazine last year.
"I'm quite an introvert so I don't exactly see myself as a role model… I've always looked up at others and I never thought people would look up to me.
"Making the Tokyo team has been my goal for so long. That definitely keeps pushing me. Just remembering that goal and wanting to make the team so badly."
The story of Ahmed Kelly can best be described as inspirational. Before he was a Paralympian, Kelly was living in an orphanage in Baghdad, Iraq, with his brother Emmanuel. Both had been born with severely underdeveloped arms and legs, and in Ahmed's case, he later had surgery to remove both his legs below the knees.
Not to be deterred from achieving his sporting dreams, Kelly has gone on to become an accomplished para-swimmer and will become a three-time Paralympian when the event kicks off in August after making his Paralympic debut at the London 2012 Paralympic Games.
At last September's World Para-swimming Championships, Kelly won his first major international medal – a silver – in the men's 150m individual medley SM3; an effort he hopes to go one step better in Tokyo.
Jeremy Tyndall is no stranger to having success on the world stage whilst wearing green and gold. The Bachelor of Education (Primary) student was a member of the Australian Spinners team that won bronze at the 2017 Under 23 Wheelchair Basketball World Cup in Toronto. Now a member of the senior Australian Men's Wheelchair Basketball team, the Rollers, Tyndall will be hoping to go a couple of places higher up the podium this time around in Tokyo.
Bree Mellberg has proven to be an allrounder in every sense of the word. Selected in the Australian Gliders' wheelchair basketball team to represent Australia at the Tokyo Paralympics, Mellberg is also achieving incredible things in the world of science working in the lab at the La Trobe Institute of Molecular Science (LIMS). Read more about Bree's story via MyLaTrobe.
Lawton, Smith and Beecroft are all TechnologyOne High Performance Sport Scholarship holders, which has been established to support high performance athletes at La Trobe succeed in their sporting and academic pursuits.
Stay tuned to La Trobe Sport's Facebook and Instagram pages in the coming weeks for feature pieces on each of our Tokyo-bound athletes.