Working in the lab at the La Trobe Institute of Molecular Science (LIMS), Bree Mellberg is on the cusp of achieving twin lifelong dreams. She's pursuing a career in Science, undertaking her PhD at La Trobe's Bundoora Campus. Bree is also playing sport at the elite level, vying for selection in the Australian Gliders' wheelchair basketball team to represent Australia at the Tokyo Paralympics
UPDATE: Bree made the Olympic team and is headed to Tokyo!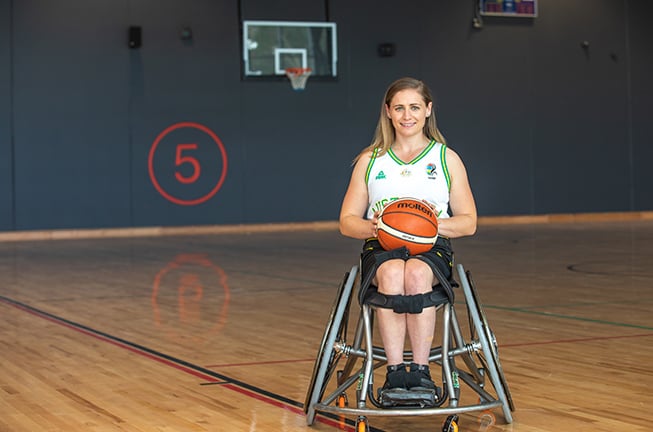 The science of space travel and cancer research
Bree has always had a keen interest in science, and completed a Bachelor of Biomedical Science with Honours at La Trobe's Bendigo Campus prior to undertaking her PhD.
"I have always been fascinated with how the body works and its capacity to adapt to disease," she says. "After completing honours under Professor Helen Irving in Bendigo, I discovered how much I enjoyed the biochemistry and genetics side of science."
Exploring her options, Bree considered different labs throughout Australia for her PhD, but ultimately found exactly what she was looking for at La Trobe's Bundoora Campus.
"I found that Professor Patrick Humbert was researching the areas I was interested in at LIMS – biochemistry and genetics/cancer – which allowed me to undertake world class research close to home."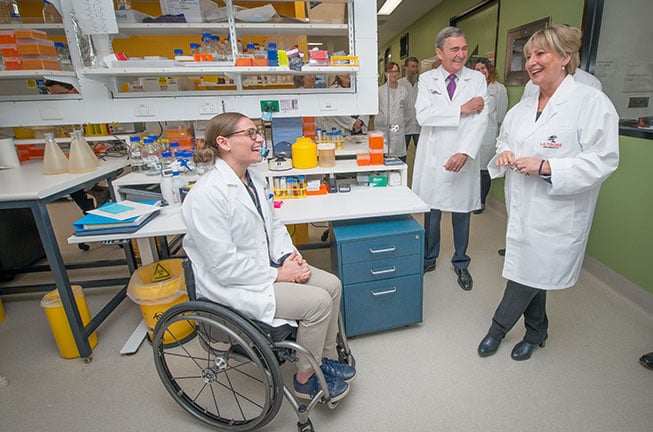 Bree's PhD focuses on understanding cell polarity, which is the cell's capacity to know direction so it can divide, communicate and secrete in the right direction.
"I am wanting to understand this process and its relationship to cancer growth. This process is very important for cell vitality and therefore has many worldly applications including cancer research, space travel and overall cell wellbeing in an individual."
Flying high from the gym to the pool
Outside the lab, Bree is a successful wheelchair basketballer. Yet, basketball isn't the first sport she's tried her hand at. Bree started gymnastics when she was just three years old, which was the perfect sport for an active child looking to channel her energy.
"I instantly loved gymnastics," she says. "It can be a very difficult sport with the focus on appearance and perfection. These qualities had both a positive and negative influence on myself, however I think the most beneficial skill I learnt was to be driven and motivated in achieving what I wanted. This has benefited me massively both in and out of sport.
"In gymnastics, I competed at my first national championships when I was nine years old and won a silver medal in tumbling when I was 13 at the national championships. I was hoping to compete at the world age games in Tumbling when I was 15, but missed out on selection."
At a fork in the road about the future of her career in gymnastics, Bree transitioned into diving. Within four months, she was competing at a national competition.
"I found it very easy from an aerial point of view to transition from gymnastics to diving – I just needed to learn to land head first!"
She competed nationally in both age-level and open competitions across all board heights. In 2008, the switch from gymnastics to diving paid off for Bree, and she was selected for the World junior championships in Germany. A year later, her focus shifted to study and the pursuit of other interests, and she retired from diving.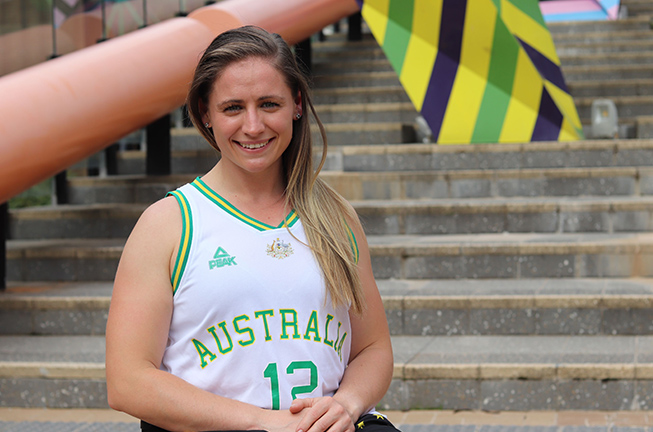 Taking on Tokyo 2021
Competing at the Olympic games was Bree's dream as a little four year old growing up in Bendigo. Though, her journey to the elite level has been one she couldn't have imagined back then.
In 2013, a trampolining accident left Bree with a broken neck. Overnight she felt she'd transformed from an independent University student, to needing around the clock care from her mother and having to attend constant rehab sessions.
"I found my involvement in sport previously helped me immensely in rehab and was determined to be the best version of myself," she says.
Bree initially started playing wheelchair tennis, but due to damage in her right hand, she was unable to hold the racket. It wasn't long before she found a sport in which she flourished.
"In challenging the limits of my disability I came across wheelchair basketball and instantly loved it! Having experience of being an athlete I knew how to be challenged in sport and push my body. It was a very freeing feeling to be pushing fast and being active again."
Strangely enough, Bree found wheelchair basketball, diving and gymnastics had more in common than she first realised.
"They both require precision and accuracy, just in different areas," she says. "I think the greatest challenge for me was learning how to shoot a basketball. Being quite short, it was never a sport I thought I would play. But fundamentally the building blocks for any sport are relatively similar and the template of training hard and self-motivation is easily transferrable across sports."
Bree enjoys the nature of basketball as a team sport and, though she loves her team, she admits she suffers from a bit of white line fever.
"I am incredibly competitive and love the feeling of pushing hard and working with others to get a win. I very much enjoy team sport in its nature to promote teamwork and communication – which was not a focus in gymnastics and diving."
At the age of four, Bree thought her Olympic dream would be competing in gymnastics. Though there have been testing times along the way, Bree's dream of reaching sport's highest level never changed as she moved through different sports.
"I didn't think when I first started basketball I would have the capacity to compete at this level again. Being less than six months out from the games now, I am so excited and proud of all my achievements – whether selection is in my favour or not.
"I do miss being able to go for a run, but I have adapted my life to be as capable as possible. My mindset is that I am a young woman pursuing science and sport that happens to be in a wheelchair. I don't let my disability define who I am."
Bree has been supported by the La Trobe Elite Athlete Program (LEAP) throughout her undergraduate and postgraduate studies.
"In my undergraduate studies the LEAP program was able to shuffle tutorials to fit in with my training and change exam times if I was overseas competing. They were also able to write letters of recommendation and offer course support that was conducive with the lifestyle of an athlete.
"The LEAP program also has strong ties with sporting organisation such as VIS and AFL, allowing for opportunities to guest speak or attend information sessions around different topics, such as nutrition or finance. All these small things make such a difference for athletes that are quite time poor."
Life after sport
In the next 14 months, Bree hopes to compete in three major wheelchair basketball tournaments, though currently her focus is on selection to Tokyo 2021.
"After this, I will reassess my career in sport," she says. "I am not one to plan my future too much as I have learnt how unpredictable the world can be."
Excited about her scientific career, Bree has her goals set on finishing her PhD and going onwards to complete post-doctoral research studies.
"My career in science is something I'm so passionate about. Ultimately, I would like to both teach and be involved in research as I am a strong believer in passing on the knowledge to the younger generation and inspiring them to be the best version of themselves."
Bree's advice to other La Trobe students is to persist and not shy away from opportunities that come their way.
"Don't be afraid to challenge yourself and see where you get to. Life can be so exciting and take the opportunities that arise for yourself – no matter the area."
She also recommends students do their own research into the supports available to them through the University.
"Having people around me during study made a big difference for me feeling like I was supported throughout my studies."
At MyLaTrobe, we're hoping to hear Bree's name in the Aus Gliders' Tokyo 2021 call-up, but for now, we're glad she's contributing to cancer research in the lab.