Remember the sense of accomplishment you felt on your graduation day? The thrill of wearing your academic gown and cap? The relief that all those long days in the library were finally over – that the tens of thousands of hours you spent reading, writing, typing and thinking were, in the end, worth it?
Now, multiply those memories by the challenges of COVID-19. You'll see that, for the more than 6,600 graduands who marked this milestone in December 2020, graduation day meant so much more than a mortarboard toss.
To give you a glimpse into just how significant this event felt for our Class of 2020, we've rounded up our five favourite stories from GradsFest. We hope you enjoy them!
1. Fourth generation nurse Kylie graduates from La Trobe
When 16-year-old Edith Seymour fibbed about her age and became a nurse in London after WWI, she began a tradition that would carry through her family for almost a century. Today, Kylie Rofe is the family's newest nurse, having followed in the footsteps of her great-grandmother Edith, her grandma Cynthia, and her mum Janine.
"Hospital can be a scary place for some people, so being a person who helps them feel more comfortable and secure is important to me as a nurse," Kylie says. "I want to help them feel better in what can be one of the worst moments of their life and when they're most vulnerable."
Read Kylie's story for a historic look at a profession that, quite literally, runs in her blood.
2. Tina's degree of dreams

In 2005, Tina Mukasa arrived in Shepparton as an eight-year-old Congolese refugee, with her father and four siblings. She had no education and no English language skills. Now, she's graduated with a Bachelor of Health Sciences, and she's dedicating her degree to "every refugee girl and boy".
"Who knows what the future holds, but for the moment I'd like to stay here and work and give back to the community that has helped me so much," Tina says.
Read Tina's story to be reminded of the importance of asking for help – and never giving up on your dreams.
3. How biotech graduate Jaison battled to complete experiments before lockdown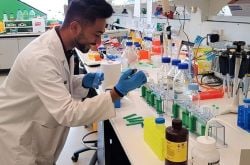 In March 2020, Master of Biotechnology and Bioinformatics graduate Jaison D Sa was in the lab, racing against time. Outside the lab, COVID-19 was sweeping the globe. Would he finish his experiments, which could pave the way for the next generation of cancer drugs?
"It was quite an overwhelming experience," Jaison says. "There were some high-pressure moments and head-scratching days and nights leading up to the final results. I learnt that to achieve something you need to put all your energy into it and be dedicated and determined irrespective of any shortcomings."
Read Jaison's story to remember the hair-raising pressure of a looming deadline.
4. Career success for Shepparton nursing grads
In a testament to both the grit and adaptability of our students and the strength of our hospital partnerships, all of our 68 new nursing alumni in Shepparton have landed graduate positions. Of them, 32 will start graduate roles at Goulburn Valley Health (GV Health) in 2021.
Behind the recruitment drive is La Trobe alumna Cathy Scott (Bachelor of Nursing, '98). As GV Health's director of nursing and midwifery education, she's helped kickstart dozens of nursing careers.
"As GV Health continues to grow, we're actively recruiting higher numbers of staff. Graduate nurses work all across the organisation including the wards, rural campuses and in the primary health and community programs," Cathy says.
Read the story to be inspired by what's possible when alumni like you seek out La Trobe's new talent for your workforce.
5. Bendigo employers lap up local alumni
A study into where La Trobe alumni are employed has revealed Bendigo businesses and institutions are making great use of local graduates. The study found 10,900 La Trobe University alumni living within 30km of Bendigo are also working locally – predominantly in education, government, essential services, finance, nursing and allied health.
Among them is Bree Isaacs (Bachelor of Business, 2019), one of almost 100 alumni who work for the Bendigo and Adelaide Bank. The bank's managing director, Marnie Baker (Bachelor of Business, '94), is also a La Trobe alumna – a fact that doesn't surprise Bree.
"My past and current managers, they're all La Trobe alumni," says Bree. "It's really good that you can study in your own town and then work here. We've got all the opportunities here in Bendigo."
Read the story to discover which Bendigo companies are the top employers of La Trobe alumni.
Keen to network with La Trobe's new graduates? Discover who's in your alumni community by connecting on LinkedIn.