La Trobe's very own student Ashley Eadon has been recognised as one of Australia's top graduate talents, making GradConnection's Top100 Future Leaders list, with her success published in the Australian Financial Review.
Each year, GradConnection partners with Chandler Macleod and The Australian Financial Review to deliver the Top100 Graduate Employers and Future Leaders Competition and Awards Night. Ashley is nominated for the Ashurst Law Award and will be attending the Sydney-based ceremony virtually.
The Top100 Future Leaders listing also provides Ashley with the incredible opportunity to experience the full graduate recruitment process with some of the country's top graduate employers.
Ashley will be put through her paces in the simulated graduate recruitment process, with videos, interviews, group exercises and more set to sharpen the skills she needs to shine in the pursuit of a graduate role.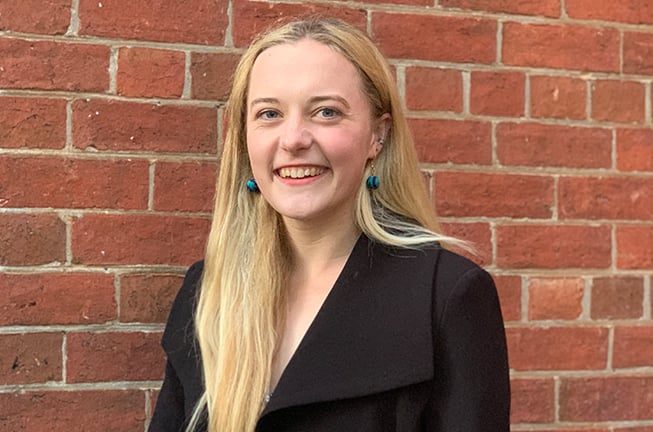 Opportunities at La Trobe helping to launch a career
Studying a Bachelor of Laws and Psychological Science (Honours), as well as a Diploma of Hindi, at Bendigo Campus has stood Ashley in good stead to become one of the country's top graduates.
Ashley was born in the small town of Manning in the U.S. state of South Carolina and moved to Australia when she was in primary school. In 2017, she relocated to Bendigo Campus to begin her studies at La Trobe.
"I chose to study Law because I believe in the pursuit of justice and desire to uphold human rights," she says. "Upon graduating high school, I had the desire to have a career that was both challenging and meaningful, consequently this lead me to law.
Ashley is passionate about human rights law, peace-building and advocacy. She plans to use her penultimate year of her degree to continue to explore different legal pathways. At times it's been a challenging path to navigate.
"I am the only person in my family to have studied law and at times that is daunting," Ashley says. "I found it especially difficult to get my first legal position. The only lawyers I know, I met during Law School. I didn't have any of the connections that a lot of my peers did. My parents were not lawyers, my father's friend wasn't a partner at a firm. I struggled to get my foot in the door, so at times that was really disheartening and made me question, "Why I am even studying Law, if I can't even get a volunteer position?" These were times when I felt inadequate and out of my depth, but I still went to class and continued to apply for different positions."
To be recognised as a finalist for the Top100 Leaders in Law for Australia, Ashley says, is incredibly encouraging and surreal.
"If I won, I probably would be in a fair bit of shock and disbelief," she says. "It is an incredible opportunity as I enter into the final stages of my degree. I am now starting to think seriously about what area of law I want to go into, where I want to work and what type of career I want to have. Therefore, the opportunity to connect with some of Australia's top employers is invaluable."
Initially, the opportunity caught Ashley's attention as she considered it a fantastic way to network and learn more about the 'typical graduate recruitment process.'
"The way the Top100 Leaders are selected is very similar to a graduate hiring process. I felt that it would be worthwhile to have a practice run of sorts. I did not expect to become a finalist, but it's quite a privilege to be recognised.
"I was really excited when I found out I was nominated, not only for the career implications this will have for me, but hopefully how it will challenge the stigma surrounding tertiary education in regional Australia. Regional campuses are often overlooked, with some thinking they aren't as good as their Melbourne counterparts. There are incredible career opportunities in regional Australia and a Bendigo student being recognised as a Top100 leader is testament to that."
Ashley believes making the Top100 Future Leaders list will help her to apply for clerkships as she nears graduation. She'll also get the chance to meet other Top100 leaders, making connections that'll expand her network.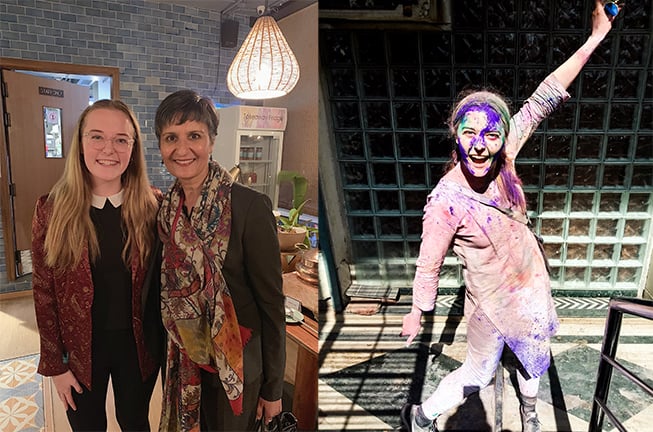 A leader in the making
Seeking out experiences that build an employable skillset have been the cornerstone of Ashley's approach to her studies.
"Countless times throughout my studies I have heard that getting a degree is not enough to get you a job," she says. "I have come to the conclusion that I have to build my employability while at University. I try to be strategic in my approach and participate in a wide a range of experiences. This has ranged from volunteering at legal centres to studying law in India and Thailand."
Crucial to Ashley's success, she says, has been the guidance she has received from the University's Career Ready services. Since her first year at La Trobe, Ashley has been a regular at careers workshops and events.
"It was Career Ready that taught me how to write a cover letter and how to find new opportunities. I would highly recommend any student to make use of La Trobe's career services!"
Having worked and volunteered for several organisations, Ashley has narrowed down her focus for the type of leader she wants to be.
"I believe that not all leadership styles were created equal," she says. "I aspire to be a servant leader. In practicality, I believe this means championing the people I work with, building up my team and giving them opportunities to shine and excel. I want to be a leader than encourages collaboration, diversity, innovation and is willing to adapt as required. Fundamentally though, everyone can talk about leadership, however, leading by example is much harder. Good leadership is demonstrated by the actions you take and how you handle both your failures and success."