With our wide range of affiliated sport clubs, competitions and facilities, La Trobe University offers a variety of ways to take a break from the books and get involved in sport and active recreation.
Get in touch with La Trobe Sport to find out how you can engage with our fun sport events and programs all year round and meet new people along the way!
Here's six reasons why you need to check out our sport and active recreation offerings at La Trobe University:
1. Sports facilities don't get much better than our world-class Sports Park
The first of its kind in Australia, the La Trobe Sports Park offers a unique environment to play, teach and research sport.
The best part? Students can access and use our state-of-the-art facilities!
Our state-of-the-art Sports Stadium is the centrepiece of the Sports Park precinct, unlocking a range of opportunities in teaching, research and getting active in sports. Be sure to drop in to casually shoot some hoops, or hire one of our six brand-new courts to play sports like:
basketball
netball
indoor soccer (futsal)
volleyball
To book a court at any of our facilities, head to our online booking portal, SportOnline.
2. Everyone knows keeping active equals better study habits, so here's a massive discount to get you started
La Trobe Sport two has conveniently situated recreation facilities at our Melbourne (Bundoora) and Bendigo campuses.
With access to cutting-edge gym equipment throughout both facilities, expert coaching from our friendly staff and a supportive community of fellow members, La Trobe Sport is the perfect place to reach your fitness goals.
To welcome our new community members to La Trobe, we are offering a special Orientation discount for students at both campuses, where students can receive nearly 50% off gym memberships purchased upfront during Semester 1 Orientation Week.
But be quick – this limited-time only offer is available until Sunday March 5, so visit the La Trobe Indoor Sports Centre or Bendigo Sports Centre and speak to our friendly reception team to take advantage of huge savings!
3. Uni is all about making new friends.
Our sports clubs are the best place to do that! La Trobe University has 24 affiliated sporting clubs (three of which are based at La Trobe's Bendigo Campus). All clubs are run by students, with support from La Trobe Sport, and provide something for everyone; from a great social atmosphere and competitions to participation at an elite level.
4. Looking for something casual without the weekly commitment? Social sport is the answer!
Take your place as the reigning champs of the La Trobe League!
La Trobe League is a great way to have fun and stay active during your time at our University. Not only is La Trobe League an easy and affordable way to stay active, but it's also a fun way to socialise with your friends or meet some new ones.
Competitions are hosted at both our Bundoora Campus (at the La Trobe Sports Stadium) and our Bendigo Campus (at the Bendigo Sports Centre) and run all year long. There are no limits to who can join, and we encourage all our students, staff, and community members (public) to come along.
We will organise the fixtures, umpires, and ladders; all you need to do is sign up individually or get a team together.
Make sure you also join our La Trobe League Facebook group to keep up-to-date with the latest news, ladders, fixtures and competition updates.
5. Everyone loves a freebie
How does free tickets to some of the biggest sports clubs in town sound? La Trobe University has sports partnerships with the a number of major sport organisations, including the Carlton Football Club, the Melbourne Rebels, the Bendigo Spirit and many more. Partnering with these organisations provides students, staff and researchers meaningful educational, research, social and community outcomes through sport.
Core to all of our partnerships is the ability to provide employability outcomes for our students through exclusive internships, game day experiences and industry mentorships. It also means heaps of tickets to selected matches throughout the year and activations from our partners on campus!
To learn more about our sports industry partnerships, visit the La Trobe Sport website.
6. You can be part of something bigger with our Team La Trobe community
Representing Team La Trobe in intervarsity events, such as the UniSport Nationals, is a fantastic way to demonstrate your skills and experience elite sports competitions against other universities across Australia.
If community events are more your thing, you can still get fit, have fun and represent Team La Trobe in events like the Olivia Newton-John Wellness Walk and Research Run and the Melbourne Marathon. If you would like to register your interest in any of these events, complete our Team La Trobe expression of interest form.
Let's keep in touch!
If you are interested in our wide range of organised sport and high performance programs, follow La Trobe Sport on Facebook and Instagram to get the most up-to-date news and information.
If the gym and general active recreation is more your thing, check out our La Trobe Sport Active Recreation channels on Facebook and Instagram.
Alternatively, you can join our Team La Trobe mailing list to have all the latest news, offers and event details sent directly to your inbox.
You can also purchase a membership or book a sport facility by downloading our La Trobe Sport App on iOS or Android.
Come say hi during O Week!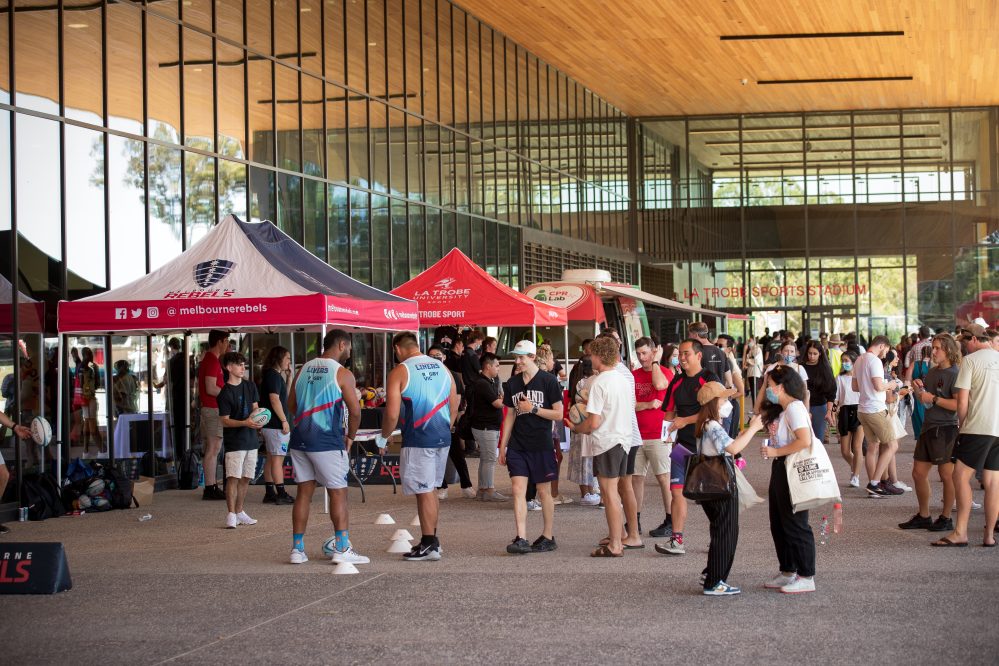 Discover more about our wide range of health, fitness and sport programs during O Week! La Trobe Sport will be hosting heaps of events throughout the week, including the two best events of all during the O Week period (yes, we're biased!).
Sports Fest at the Melbourne Campus (Bundoora) and the Sports Club Mixer & BBQ at the Bendigo Campus!
Set to be held on Wednesday 22 February from 11am – 2pm at the Melbourne (Bundoora) campus, Sports Fest is one of the major social events of La Trobe University's Semester 1 Orientation calendar.
Sports Fest on the Melbourne Campus provides the perfect opportunity for students to seek out information on how to join La Trobe's affiliated sports clubs, participate in La Trobe Sport offerings, engage with our sport partners, listen to music, receive giveaways and enjoy a free feed!
Similarly, the Sports Clubs Mixer & BBQ event at Bendigo provides opportunities for students to engage with local sports clubs while enjoying a BBQ (meat and vegetarian options available), some tunes and all round good times.
If you can't make it to either of these events, you have plenty of other opportunities to catch us at the following events during O Week.
To see what's on for O Week, visit the Orientation Planner.