Orientation can be hectic, so take some time out to recharge in The Lounge on the Bendigo campus this Thursday! The Lounge is a student-run, transportable space promoting mental wellbeing. It is the result of last year's Rural Health Innovation Sprint in Bendigo.

The Rural Health Innovation Sprint, headed by Dr Brad Hodge from the La Trobe Rural Health School, gave students from various disciplines the chance to tackle social issues and develop valuable skills – all while working in a super challenging environment.

Students were required to research, consult and collaborate to deliver a project in five intense days.
Participating students in Bendigo focused on improving young people's mental health. The result was The Lounge, which offered relaxation and wellbeing activities.

The Lounge was popular during its first outing in November and Sprint participants jumped at the chance to showcase their work again during Orientation. Bendigo Sprint participant, Laura Weightman said she was looking forward sharing The Lounge with fellow students.

"Being able to share the idea and the 'safe place' with other peers is very exciting to me,'' she said.
Visit the Lounge:
When: Thursday 23 February, 12pm – 3pm
Where: Near the La Trobe Student Association Office (LTSA), Bendigo Campus, Level 1, Library Student Union Building
Look out for Innovation opportunities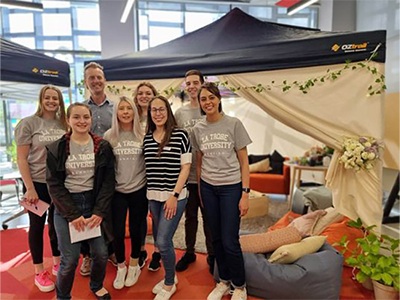 Dr Hodge plans on leading more Innovation Sprints in 2023, with a continuing focus on mental health.
"I hope to run the Sprint in Albury Wodonga again, with a possible Mildura sprint at the end of 2023.
"It's (mental health) a rich theme and we've already established good community connections,'' said Dr Hodge.

"Coming out of COVID-19, mental health is a key issue. Thinking about what it means to thrive and how we talk about mental health – how we have those conversations.''
Dr Hodge said the Rural Health Innovation Sprint was an opportunity for students to test their abilities and achieve at a high level.

"I think sometimes we have an assumption that if something at university is difficult, it's a bad thing. But that's not necessarily the case,'' said Dr Hodge.

He hopes to expand the selection process for students, which currently relies on academic referrals. He urged students to look out for information on upcoming Sprint events during the year.
"We'll look at more of an open invite system this year, to bring in greater richness of story and diversity.''
Laura was also keen to encourage fellow students to get involved.

"This has been a lifetime experience and I have learnt so much in such a small time. It is definitely something I wouldn't say 'no' to!

"The one thing I took away was that everyone's opinions and ideas are equally important," she said.