It's been tough trying to connect with people these last two years. Whether you are brand new to La Trobe or have been around for ages, check out these ideas for how to connect with the LGBTIQA+ community at La Trobe.
1. Link up with a social group
The LTSU Queer Collective is run by the La Trobe Student Union and is based at the Melbourne (Bundoora) campus. Student Queer Officers run social events during the year as well as maintain the Queer Lounge on campus. In addition to this, the Queer Officers also work with the wider LTSU and members of the Queer Collective on campaigns for better acceptance and to challenge discrimination for queer/LGBTIQ+ people at La Trobe. You can submit an expression of interest to become a member of the Queer Collective.
Rainbow Eagles are a student-run group based in Bendigo that run a mix of social activities and campaigns to challenge discrimination based on sex, gender and sexuality.
Even if you are based elsewhere, make sure to follow these groups so you don't miss any online or multi-campus events!
Details
2. Join our new group program – FINDING PRIDE
Our newest group has started in 2022 – Finding Pride! (Please note, sessions are now filled for 2022. Register your interest for 2023).
Finding Pride is a group program open to all our LGBTIQA+ students. This group may be of interest to those who are looking for a more supported group.
By joining a Finding Pride group, you'll have a chance to connect with a small group of LGBTIQA+ students as you follow a structured program facilitated by the LGBTIQA+ Student Wellbeing team. Meeting weekly over 7 sessions, you and your group will go on a journey to share and learn skills to help prepare you for the extra challenges that LGBTIQA+ people can face due to discrimination.
Details
Groups run multiple times throughout the academic year (February to November) and can be online or face-to-face at the Melbourne (Bundoora) Campus. Register your interest.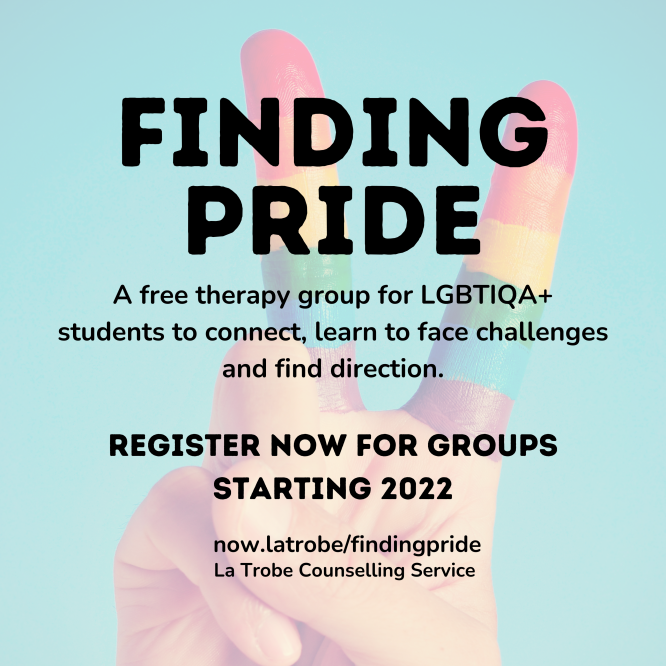 3. Participate in La Trobe's Pride Week
Every year, across our campuses, the La Trobe community comes together to celebrate and support all members of our LGBTIQA+ community for our very own Pride Week. From stalls, entertainment, webinars and more, Pride Week is an opportunity to connect, celebrate and support LGBTIQA+ students and staff at La Trobe.
Details
The next Pride Week will be running from Monday, August 22nd to Friday, August 26th (Wear It Purple Day). There will be a stall and market day at both Bundoora and Bendigo campuses plus smaller events at other campuses. Keep an eye on the LTU Pride webpage for updates or join the mailing list.
4. Join a mailing list
From Pride Week to Wear It Purple Day, you can make sure you never miss any upcoming events or programs by signing up to the Pride @ Latrobe mailing list. Don't worry – you'll only get an email when an event is coming up.
The Australian Research Centre in Sex, Health and Society (ARCSHS) newsletter is another must-follow. Sign up for this one if you are interested in reading about fantastic LGBTIQA+ research coming from La Trobe.
Details
Email pride@latrobe.edu.au and request to be added.
Sign up to ARCSHS newsletter or read past issues.
5. Contact a LGBTIQA+ Counsellor
If you're looking for support more than socialising, we have dedicated LGBTIQA+ Counsellors who have experience in supporting students with diverse sexualities, sex and gender identities. You can talk to our LGBTIQA+ Counsellors about any range of issues that can impact your study or personal life.
Details
Read more about our LGBTIQA+ Counsellors or request a counselling appointment.