Based on research undertaken here in Australia with uni students just like you, we know that there are seven things that you can do to hit the ground running and maximise your chances of succeeding at University.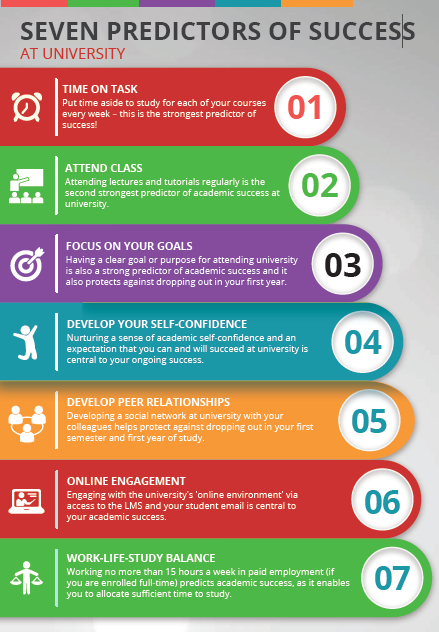 Time on task
The most important predictor of success at university is devoting enough time to your study. For each subject you are enrolled in, you should be dedicating at least 10 hours per week to that subject. This 10 hours will include attending and/or engaging in your classes (either on campus or online) as well as undertaking study, research, assessment preparation and other necessary coursework outside of class time. By putting in enough time each week, you will enable yourself to stay on track and get the most out of each of your subjects.
Mapping out a weekly plan is a great way to stay on track and ensure you are devoting enough time to your studies while also meeting your outside commitments. The Library Learning Services team can advise you on managing your time and creating a schedule that is realistic and works for you.
Attend your classes
Another key component of success at university is to regularly attend your classes (either on campus or online), as this gives you a chance to meet and connect with your teaching team as well as participate actively in class and meet your fellow students.
Focus on your goals
It is really important to remember why you are here at university. Having a clear 'sense of purpose' as to why you are at university will help you better connect with your course of study as well as your future profession or possible career pathways. It is also a great protective factor; remembering why you wanted to come to university can help you hang in there and persist with your studies when challenges come your way.
Develop your self-confidence
Having a sense of 'academic' self-confidence and an expectation that you can and will succeed at uni is central to your ongoing success. So remember to be kind to yourself and try to engage in a bit of 'positive self talk'. Celebrate the small wins as you progress through your studies and don't be overly harsh with yourself if you experience a setback. And never forget – we offered you a place at La Trobe because we believe in your ability to succeed. Your job is to also believe in yourself!
Develop Peer Relationships
Developing a social network with your peers is also really important to your ongoing success. The friendships you will develop while at university will be strong and long lasting. Having a network of uni friends will also provide you with a great support system that you can draw on throughout your studies.
It can sometimes feel a little lonely when you first start university, but with a little bit of effort, it won't feel that way for long. Whether it is joining a student club or society, attending social or cultural events run on campus or online, or engaging with the MyLaTrobe social media, La Trobe has lots of ways to help you get involved and make friends.
Get comfortable with our online systems and platforms
To maximise your chances of academic success, you also need to feel confident with navigating our online learning environment. This means checking your student email and regularly accessing and navigating your subject sites on the LMS to stay up to date on everything that is happening with your course and at the university.
In the lead up to the start of semester, spend some time logging into your La Trobe online systems and navigating around to see what is where. If you find a useful page, a good tip is to bookmark it on your device so you can find it again easily and quickly. If you need a bit of extra guidance, we have some great IT services and support available to help you learn how to access and navigate your online systems.
Get the balance right
It is really important to balance your work-life-study commitments to ensure you have enough time and energy to devote to everything. If you are enrolled as a full-time student undertaking four subjects across the semester, we recommend that you work no more than 15 hours of paid work each week. Working more than this can significantly challenge your chances of academic success, as you will not be able to allocate enough time each week for your studies.
If you need to get further advice about balancing your study load with your outside work commitments, reach out to our Library Learning Services team.