If you're looking for a unique opportunity to boost your leaderships skills and challenge yourself at the same time, then the Rotary Youth Leadership Awards (RYLA) is for you!
The RYLA program is delivered during a week-long camp held in December each year. It is open to young people aged 18-25 with a connection to Rotary District 9800 which covers the Bendigo, Melbourne and Echuca areas.
This connection could be that you grew up, work, study, volunteer or live in the area.
The majority of the program cost is covered by Rotary clubs – with food, travel, accommodation, speakers, reading/writing materials all taken care of.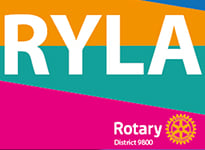 There's a $50 application fee, but if this is an issue you can indicate this on your application and Rotary can work with you.
The RYLA program is run by a group of young volunteers who have previously participated in the program, and are passionate about community and giving back.
Participants are supported throughout the week and will engage in lively discussions prompted by sessions and workshops designed to challenge and inspire.
Program goals:
Help participants gain a better understanding of their own strengths, passions and values​
Develop the leadership skills of young people through experiential workshops involving teamwork, communication, motivation and introspection
Foster an appreciation of the diverse abilities and unique qualities of those around them
Provide an opportunity for young people to come together in a supportive environment
Develop resources and tools to facilitate the participants' ongoing development in their communities
Create a greater awareness of social issues affecting young people
Demonstrate Rotary's commitment to young people.
The next program is scheduled to be held at Axedale from December 3-9 2023. Applications are open until 19 November, but Rotary will work with applicants to facilitate later applications where possible.
To find out more and to apply for this exciting opportunity visit: RYLA DISTRICT 9800 – Home (ryla9800.org.au)