Sienna Castellon, Founder: Neurodiversity Celebration Week :
"I founded Neurodiversity Celebration Week… to change the way learning differences are perceived. As a teenager who is autistic and has ADHD, dyslexia, and dyspraxia, my experience has been that people often focus on the challenges of neurological diversity. I wanted to change the narrative and create a balanced view which focuses equally on our talents and strengths."
To honour Neurodiversity Celebration Week (March 21-27) and Autism Acceptance Month (April), the La Trobe Neurodiversity Project will be publishing a series of blogs on Neurodiversity. These include interviews and panel discussions on how celebrating Neurodiversity can support La Trobe's staff and student community, cultural qualities, and strategic planning. This series will include discussions between Neurodiversity Project Officer Beth Radulski and Vice-Chancellor Professor John Dewar (AO); Dr. Rebecca Flower (LTU's first openly ADHD lecturer); and a host of staff, students, researchers, and industry partners in the neurodiversity sphere.
Our first Neurodiversity Celebration blog is a coming-out success story: Miss Galaxy Australia pageant finalist and Bachelor of Arts student Nicole Missios has chosen to publicly come out as Autistic to base her campaign platform on Autism and Neurodiversity Acceptance. In this blog interview, Nicole shares her coming out journey, educational experiences, and thoughts on embracing the Neurodiversity Movement as a university student.
Beth: So you're competing in the Miss Galaxy Australia pageant, where you've made it into the finals—congratulations! Why did you decide to enter the pageant?
Nicole: The reason why I decided to enter the pageant was to help me to give back to the community and really speak about my platform!
Beth: Tell me a little more about that platform – You've decided to publicly 'come out' as an Autistic pageant contestant: can you tell me how you came to that decision, and why you've chosen to build your pageant platform around Autism advocacy?
Nicole: The reason why I decided to come out publicly as an Autistic pageant consistent is because it allows me to raise that awareness since a lot of people might not know about Autism… It is important for society to include and learn about Autistic people, as it is a very unknown topic, or people only understand it from a movie or something, but this isn't accurate. Everyone should be able to learn and gather information about it from valuable resources—from [Autistic people] themselves. It will make it so much easier [for us] to be included in day to day society!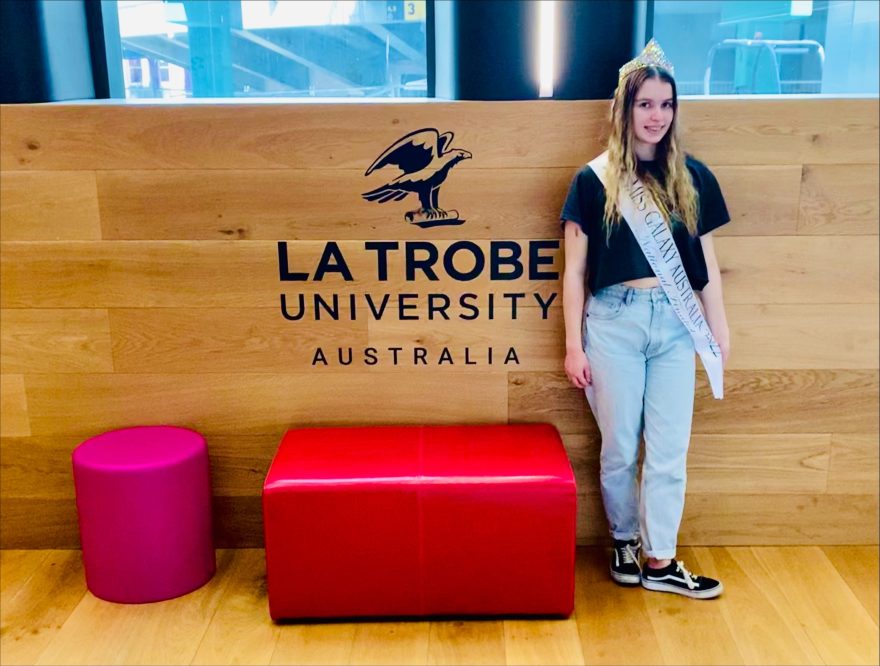 Beth: I think it's really wonderful that you've chosen this platform, as you'll be able to offer some fantastic insights into the lived experience of being Autistic. On that note, a core component of Neurodiversity Celebration Week involves acknowledging the barriers to inclusion that neurominority students can face in accessing education, and working to address them. What has your educational experience been like as an Autistic student: Have you experienced any inequality throughout your education? If so, what type of support has helped you to thrive?
Nicole: When I was studying in primary school I had a teacher's aide alongside me for all my classes so that helped me with understanding the work… In high school it got a little harder since I didn't have a teacher's aide, but I was able to have support classes… Throughout years 10, 11, and 12 I basically was doing VCAL and my certificate… In terms of like understanding the learning, and feeling like I could like really excel, it was pretty easy, [but] I did struggle a little bit with doing work placement. I found that quite scary at first having to ask businesses to let me stay for two weeks and do some work [but] now I'm at university, and I'm getting all the support I need!
The La Trobe Neurodiversity Project is offering accessible Work Integrated Learning experiences to neurominority students undertaking an elective or self-sourced placement subject, or the Industry Placement Minor. If you are a company interested in supporting Neurodiversity at work by becoming an industry placement partner, or a neurominority student wanting to apply for a Neurodiversity friendly placement, please contact Beth Radulski at Neurodiversity@latrobe.edu.au
Beth: I'm so thrilled we've arrived at the day where we're seeing an openly Autistic undergraduate student in our La Trobe community! What made you decide to pursue a university degree?
Nicole: I ended up deciding to go to university because it was a lifelong dream! I always went past Melbourne Uni on my way to the dentist, and I'd always think 'I want to go to there!' But when I was in my diploma year, I kept quiet about being Autistic, and I struggled a lot… I made the decision to come to La Trobe purely because of the support offered and the subjects offered.
I am currently studying a Bachelor of Arts, and I made sure I have two majors: one is Screen, Media, and Performance, and the other is Sports Management. I feel like this degree really suits me, as I get a lot of freedom in what I study. I can really just enjoy myself, and still have a lot of knowledge for the workforce when I go to work full time—I'm not just learning business subjects, I'm learning different types of subjects to help me along the way!
How did you make the decision to disclose that you're Autistic once you arrived at La Trobe?
Nicole: My dance teacher told me [that] since I am Autistic… I could get a Learning Access Plan, and support. That's how I ended up 'coming out' at La Trobe. It really helped me a lot! The days where my studies would be really hard, I could know that there was an extension ready for me if I needed it, or that the teacher understood my learning needs.
Beth: Last year we asked our first openly Autistic lecturer Dr. Benjamin Habib the following two questions, and it would be great to have a student perspective on this too:
Firstly, What advice would you give to Autistic students who are either questioning their Autism status, or who may want to come out to their peers and lecturers on campus?
Nicole: I would say talk to someone about it… [For me] it was talking to AccessAbility staff who referred me to the Neurodiversity community—it definitely helped, especially in my first degree where everything was new for me and I had no idea what to do at uni.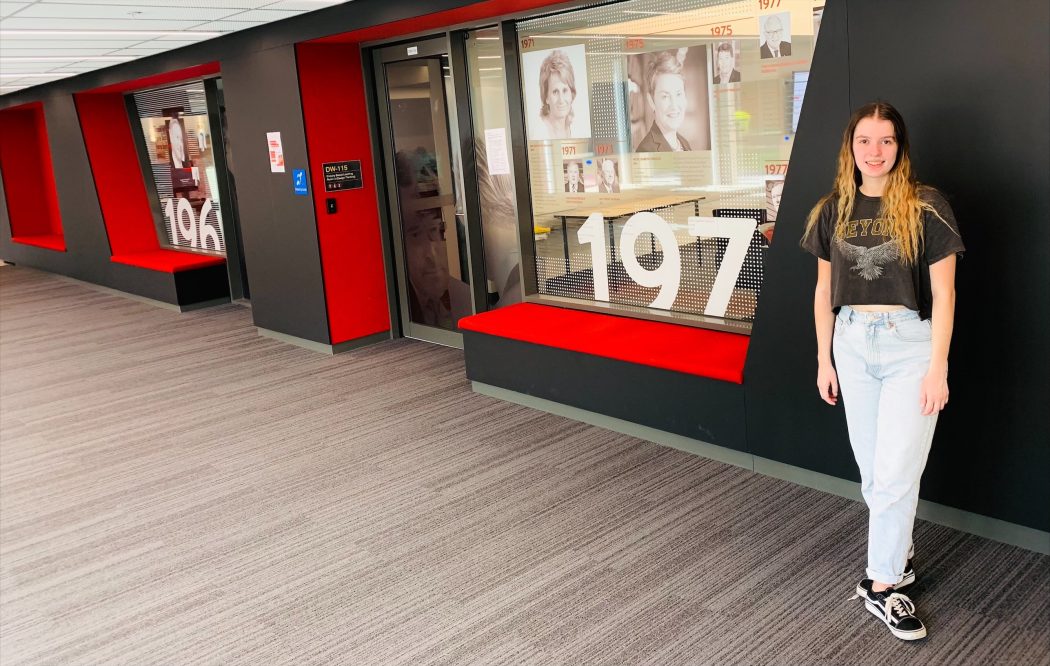 Beth: Did you feel any sense of Neurodiversity community in high school? What does it mean to you to have a Neurodiversity community at university to support this 'coming out' journey?
Nicole: In high school I didn't really have any neurodiversity community. We had a lot of support for students who might struggle with their learning, but there was nothing around Autism itself. But being at university I've met so many people who actually do come out as Autistic! I've actually made a best friend, and it's just easier because we can relate more, and I can understand a lot more about myself. When we hang out it's easier to talk about things: "I go to this person for this [support], maybe you should go as well". Or, "there's this place that has good fidget toys!", or whatever. It's a lot easier on me to really just be myself.
Beth: Can you offer any study tips to other students who identify as Autistic?
Nicole: Some study tips I found work best for me:
Firstly: I really like to use an iPad to take my notes down instead of having to carry around so many highlighters, books, and pens. I have everything on the app Good Notes and it has all different colour highlighters and stuff…so I'm not stressing about losing something.
Second: Have a work buddy! I find this is very useful because you can easily message them and be like "hey do you understand the lecture?" or "do you know when the assignment is due?" and it just helps take some nerves off [being able to] talk about what's happening—you feel a bit more supported surrounded by people in the same class.
Lastly: put everything in a calendar with all your assignments, including anything else that might impact your studies. [For example] if I have a dance competition, I would put date in with all my assignments, so I know in advance I've got to get the assignment done early on, before my dance competition.
Beth: I think it's so valuable to have you acting as a leader in our Neurodiversity community on campus, and showing other students how you've achieved success. I also think your advocacy as a pageant contestant is particularly valuable, given that you are focusing not only on Autism acceptance but also sharing your lived experience of Autism as a young woman. Sadly, we don't often see representations of Autistic women, and there is a long way to go towards gender equity in this area, in both research and the public sphere. Did you have any role models growing up who were Autistic women?
Nicole: I didn't really have any role models to look up to when I was very young. There was one person on social media, she was a dancer [like me] and she publicly came out as Autistic, and I kind of got to know a little bit more about it, but that was it.
Beth: It's great to see you using your pageant platform for such a wonderful cause, as I suspect you'll end up becoming a role model for many young Autistic people. What would it have meant to you to see Autistic people thriving as adults like you are today?
Nicole: It would have meant that I could have grown a bit more in my younger years, and been able to understand [myself]. If I was doing something different to my other friends, I would have understood why, but a lot of times I was left in the dark and I just thought it's a 'me thing'. But really, [if I'd seen] someone else doing exact same thing, I could have been like 'that's part of being Autistic, it's fine!'.
Looking to learn more or get involved as a student, staff member, or industry partner?
Click here for more information on the Neurodiversity Project.