La Trobe's Learning Management System (LMS) is Moodle. This system may be referred to as the 'LMS' or as 'Moodle' – it is the same system.
The LMS will be upgraded from Moodle 3.5 to Moodle 3.9 on Saturday, 5 December 2020.
The purpose of the upgrade is to ensure that the University is using a supported version of Moodle, which will also bring new features, improvements, and enhancements.
What is changed in the new LMS?
The upgrade to Moodle 3.9 will bring new features and improvements that will make it easier for you to engage with your teacher and classmates and will improve your student experience. Some of the new features include:
New dashboard (image below) 
An improved and user-friendly dashboard that will allow you to locate your subjects and important information easily. 
Freehand drawing plugin 
The Atto Sketch is a new tool that will allow you to submit freehand drawings from your touch screen device or mouse to almost all text submission areas in the LMS. This will include answers in forums, assignment submissions, and more! 
Quiz Autosave 
The new LMS version has an integrated Quiz Autosave tool, that reduces the risk of you losing your submissions or answers even if you experience technical or connection difficulties during quiz activities. 
Text word count tool 
For activities with word count limits, this new tool allows you to select a button in the online text editor (Atto) to quickly and conveniently display the word count rather than having to count words manually. 
Moodle App 
One of the exciting new features of the LMS Upgrade is that LMS content will be available through the Moodle App. We are conducting a pilot over the summer break with selected online subjects to ensure it is ready for all University Students as of February 2021. The app is available for anyone to try but limited support will be available until the start of Semester 1. 
New messaging features 
This new feature will allow you to select your preferred privacy settings for messages and notifications easily. 
Improvements to Forums 
Forums will now be easier to find and contribute. 
Improved H5P interactive content integration 
If required for your subjects, the LMS will have the H5P interactive content and multimedia integrated via a new button in the Atto editor.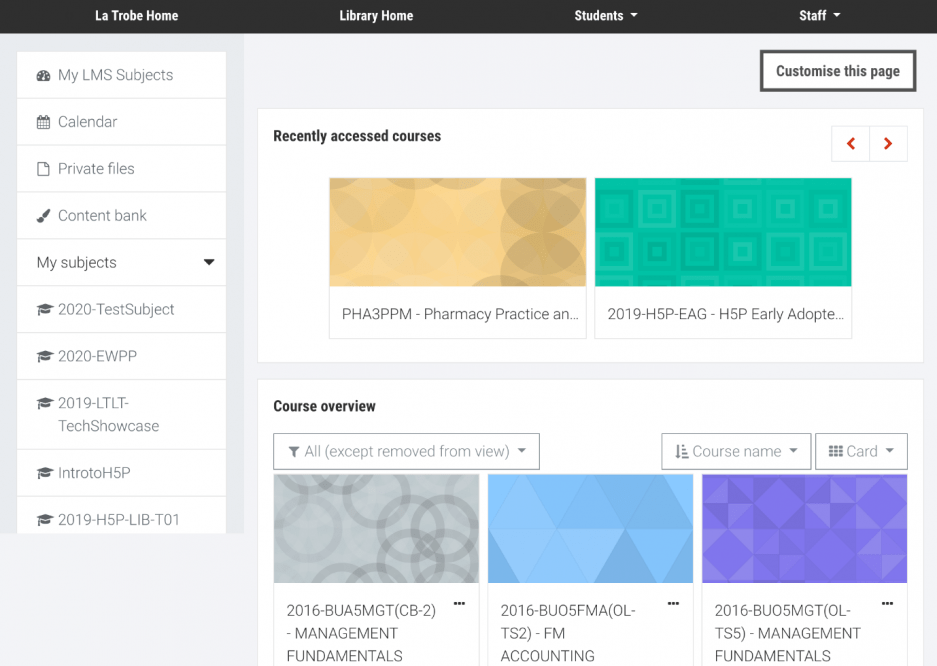 How do I download the Moodle App?
The Moodle app can be downloaded from Google Play and Apples Stores.
What are some of the features of the Moodle app?
Mobile notifications – easy to set up and change in Moodle app settings 
Calendar – view and add events 
Offline content – download selected resources and activities to run offline 
Discussion forums – access to your device camera and microphone for video and audio posts   
Will the upgrade affect my current subjects or submissions?
The LMS will continue to work the same before and after the upgrade, except during the outage on Saturday, 5 December 2020. All your subjects, quizzes, assignment submissions and grades will migrate to the new LMS during the upgrade.
Is my class participating in the pilot?
Your lecturer will let you know if your class is participating in the pilot. The pilot is optional, and you do not have to participate if you do not want to. You will be asked to provide feedback by answering an online survey.
I have classes and exams in December, I need to study!
We understand that some students will have classes and/or exams in December. Therefore, the LMS upgrade was scheduled for one day only on Saturday, 5 December 2020. During this day, you will not have access to the LMS, hence, it is strongly suggested that you download any information if you need to study that day.
What can I do if something is not working?
This is the first time that the Moodle app has been used at La Trobe University to access the LMS. We are aware that not all LMS content will be mobile friendly or will work in the app. You will still be able to access LMS content that is not supported in the Moodle app via your web browser. We will also be making improvements to make LMS content more mobile friendly in 2021.
Initially we are running the pilot with selected online subjects to ensure adequate support is ready for all University Students in Semester 1, 2021. There will be limited technical support provided for the app during this time.
We recommend that you do not attempt to complete graded assessment tasks using the Moodle app until Student IT Support is available in Semester 1, 2021.
If you have any feedback about your subject content, please provide it directly to your lecturer. You can provide feedback about the Moodle app to Student IT Support.
Who can I contact if I need help?
Student IT Support will continue to provide support to assist students with the LMS before and after the upgrade.
To contact Student IT Support please visit the Student IT Support Website.