A La Trobe Access bursary or scholarship will not only boost your finances, but it can also help you to experience the world.
One of the many bursaries and scholarships available to students is the Golden Lanyard Scholarship, which is valued at up to $5000 and open for applications until October 6, 2023.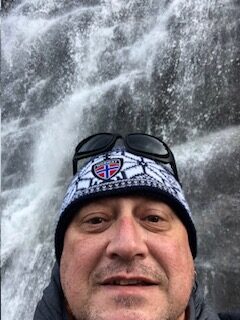 This scholarship has opened up a world of opportunity for Bendigo student, Leigh Rogers.
Leigh is in his final year of a Bachelor of Outdoor and Sustainable Education degree. He said he was encouraged to apply for the Golden Lanyard Scholarship by La Trobe's Indigenous and AccessAbility units.
Leigh said the scholarship helped eased the financial burden of study – especially during a pandemic.
"Covid-19 lockdowns caused considerable financial pressure. Getting some respite from the costs of travelling to campus and obtaining study texts was the main reason I applied."
Financial relief
He said it was a huge relief to find out he had been successful in his scholarship application.
"Quite frankly, it was a relief that the financial pressure was slightly removed, and I also felt vindicated in the educational path I have chosen," he said.
The financial support Leigh received from the scholarship also contributed to his overseas study experience.
"Initially, the scholarship funds allowed me to attend classes at campus (travel was 220kms one way), but unintentionally it also supported me during my exchange period in Sweden last year during their fall Semester.
"I experienced many life-altering events like seeing Queen Elizabeth II's funeral, the Northen Lights over Norway/Sweden, enjoying a white Christmas with close friends in the Scandinavian mountains, and I even got to see and pat a moose in Sweden – just to name a few things.
"I enjoyed my time there and made the most of my time whilst there. Without this scholarship support, I doubt I would have been able to see and do many things during my time in northern Europe during Semester 2 last year."
Leigh encouraged other students to explore scholarships options and submit an application as soon as possible.
"The process is clear and simple and you never know where the financial support can lead you.
"There are support to hep you with your application and even if you are not successful the Scholarships department may be able to recommend alternatives for you, so it can benefit you in the long run."
Without this scholarship support, I doubt I would have been able to see and do many things during my time in northern Europe during Semester 2 last year
The Golden Lanyard Scholarship is worth up to $5000 and is available to eligible students who are:
An Australian or New Zealand citizen or holder of an Australian passport, permanent resident visa or permanent humanitarian visa.
Enrolled in any campus, undergraduate degree or post graduate degree by coursework on a full-time basis.
Able to demonstrate educational disadvantage, including but not limited to – financial hardship, significant caring responsibilities, disability, medical condition, refugee status, having relocated from a regional or remote location, other hardship or disadvantage.
Does the Golden Lanyard Scholarship sound like it could be for you? APPLY NOW.
Other scholarships and bursaries to consider:
Leslie Kilmartin Regional Bursary: this bursary is provided by the Bendigo Tertiary Education Anniversary Fund and is valued at $1000. There are two bursaries available. To be eligible, you need to be a continuing, undergraduate Education student enrolled at Bendigo. Does this sound like you? APPLY NOW.
Patterdale Bursary: this bursary is available to Albury-Wodonga and Mildura students. There are four bursaries of $2000 available. If you think you might be eligible, APPLY NOW.
If you are not sure, apply anyway – what have you got to lose? Applications for all Access scholarships and bursaries are open until October 6, so get in quick!
To find out more about other scholarship opportunities, visit the Scholarships website.
See also: Applications for 2024 access scholarships and bursaries are now open