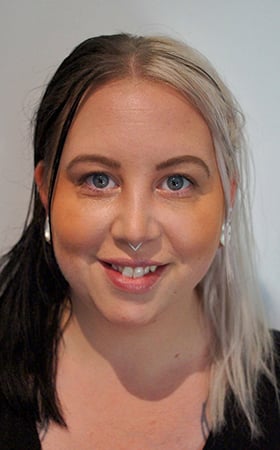 La Trobe Access bursaries and scholarships are making a real difference to students, and they could help you too!
The $2000 Patterdale Bursary is one of many bursaries and scholarships waiting to be claimed by students, with applications open until October 6, 2023.
There are four $2000 Patterdale bursaries available to students enrolled at the Albury-Wodonga and Mildura campuses. This bursary is on offer thanks to the generosity of an anonymous donor.
Jade Knox is a second-year nursing student at Albury-Wodonga and a recipient of the bursary.
Jade said she didn't know much about scholarships or bursaries until she received an email advising she was eligible to apply.
"As I was the first in my immediate family to go to university and I didn't know much about scholarships or bursaries'' she said.
When I found out I could apply I thought "what's the harm? I have a young family, money is tight – let's see what happens."
Jade said she was thrilled to find out she was successful in her application.
"When I found out I was successful I was very, very grateful. It has taken a lot of financial pressure off, especially with my placement.
"I have started placement which is about an hour from where I live. Having a young family, I can't stay nearby and I have been driving back and forth.
"I had just started a new job as well and didn't have any paid leave.
Practical financial assistance
"This bursary has helped with practical things like petrol and phone credit so that I can hotspot and continue my study while I am on placement.''
Jade said she hoped her story would encourage other students to apply for this, or other scholarships and bursaries.
"It's not scary and it's not hard to apply.
"The process was very easy. It took maybe 20 minutes and was straightforward. It doesn't cost you anything and you have nothing to lose.
"Having the money means there is one less stress. Think about what you might use it for – helping with placements, computer/study equipment, paying off a bit of HECS".
It doesn't cost you anything and

you have nothing to lose.
The Patterdale Bursary is open for applications until October 6, 2023.
If you are an Albury-Wodonga or Mildura student and think you may be eligible, APPLY NOW.
Other scholarships and bursaries to consider:
The Golden Lanyard Scholarship: This scholarship is worth up to $5000 and is available to students who are:
An Australian or New Zealand citizen or holder of an Australian passport, permanent resident visa or permanent humanitarian visa.
Enrolled in any campus, undergraduate degree or post graduate degree by coursework on a full-time basis.
Able to demonstrate educational disadvantage, including but not limited to – financial hardship, significant caring responsibilities, disability, medical condition, refugee status, having relocated from a regional or remote location, other hardship or disadvantage.
Could this be you? APPLY NOW.
Leslie Kilmartin Regional Bursary: this bursary provided by the Bendigo Tertiary Education Anniversary Fund is valued at $1000. There are two bursaries available. To be eligible, you need to be a continuing, undergraduate Education student enrolled at Bendigo.
Does this sound like you? APPLY NOW.
If you are not sure, apply anyway – what have you got to lose? Applications for all Access scholarships and bursaries are open until October 6, 2023, so get in quick!
To find out about other bursary and scholarship opportunities visit the Scholarships website.
See also: Applications for 2024 access scholarships and bursaries are now open