All students and staff have responsibilities to ensure their learning and work environment is COVIDSafe. Compliance with the Government Health Directions and the University's COVIDSafe plan is an important part of creating a safe working environment.
Here, we've put together the steps you need to take to be COVIDSafe on Campus.
Stay up-to-date with face mask rules, and follow them
At La Trobe's campuses, you must abide by the latest government directions on face masks. Face mask rules may change, see coronavirus.vic.gov.au/face-masks for the latest requirements.
Masks may also be required in outdoor settings at the University, and informal situations where physical distancing cannot be maintained, such as study groups.
You need to sign-in to every Campus building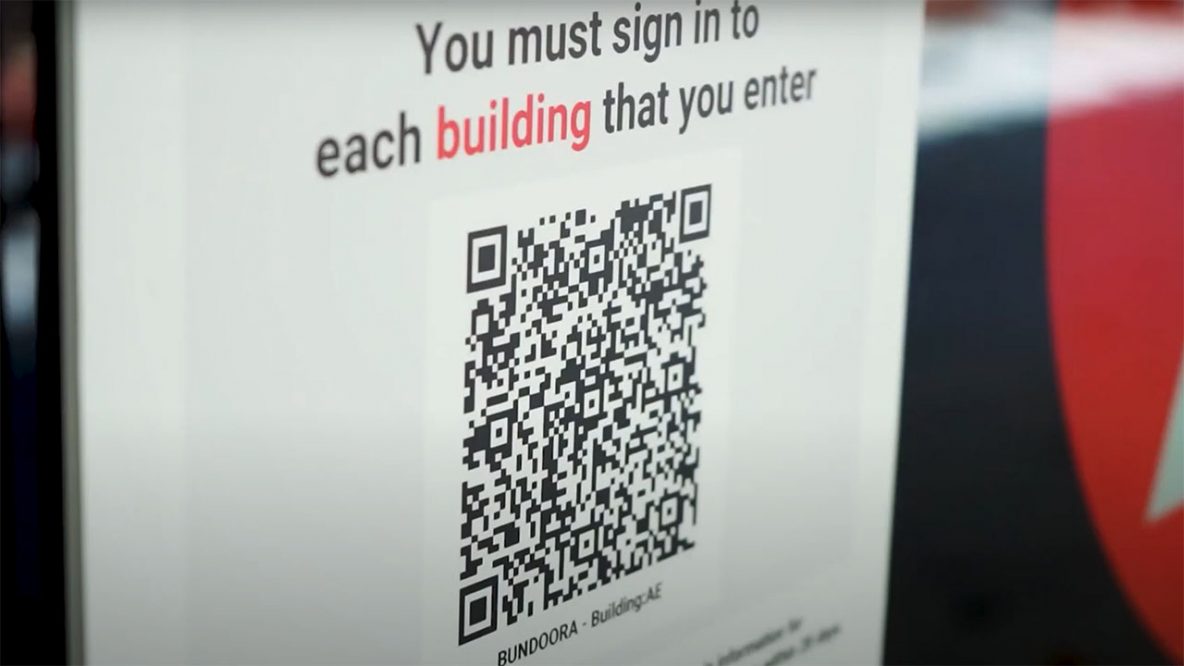 Any person, including students, who attends any La Trobe campus will need to sign in via the QR code outside of each building each time they enter a building on campus. This system is designed to assist with contact tracing if this becomes necessary.
Stay home if you're feeling unwell
DO NOT attend campus if even slightly unwell.
If unwell with COVID symptoms, immediately self-isolate, call the Department of Health COVID hotline (1800 675 398) for advice on how to get tested, and then self-isolate and stay home until you have the test result
Under the workplace directions issued under the Public Health and Wellbeing Act 2008 (Vic), students and staff must notify their tertiary education provider if they have been diagnosed with COVID-19 and may have attended while infectious. Please contact Spomenka Krizmanic the University's Manager, Health Safety and Environment by phoning (03) 9479 2186 or emailing s.krizmanic@latrobe.edu.au
Physically distance and practice good hygiene
At all times practice physical distancing and good hand hygiene, good cough etiquette, and wear a face mask when required.
As a courtesy to your fellow students and teaching staff, and in line with health and safety responsibilities, clean shared spaces and equipment after you have finished using them.
Teaching spaces have been scheduled in alignment with COVID-19 social distancing requirements, although higher education is exempt from applying the density quotient under the current Victorian Government Health Directions that may exist in other settings. We encourage all people to maintain appropriate physical distancing.
Follow the safety signage
Safety signage can be found on campus. Please obey all safety signage and comply with any room capacity limits.
What will cleaning practices look like?
We all have a responsibility for ensuring the working, learning and research environment is safe, including COVIDSafe. Within our communal spaces this may look like:
The cleaning team attending a lecture theatre at 07.00 am in the morning
Student facing and high touch areas are cleaned the frequently touched surfaces.
Staff and students using the wall mounted hand sanitiser dispenser whilst entering and exiting the building/ lecture theatre.
Students wearing masks and where possible physically distancing throughout the entire lecture/tutorial/labs.
Staff and students placing all waste, including tissues, within waste bins provided.
Where to get the latest updates
For the latest from the Victorian Government, visit www.coronavirus.vic.gov.au.
Make sure you regularly check your student email account. You can also stay up-to-date via the MyLaTrobe Facebook and Instagram pages. For more specific information related to COVID-19, please see the Student COVID-19 FAQs page.