With the move to online learning last year, it's probably been a while since you've been to our Melbourne Campus. As we get into the swing of Semester 1, there's a lot of new and exciting things around Campus to look forward to!
Here's a run-through of some things you may have missed since you were last here.
Big ticket items
La Trobe Sports Park
We'll be kicking goals in no-time with the commencement of Stage 3 of the Sports Park Project!
Set to be complete in August 2023, Stage 3 of the project will see La Trobe's Sports Park facility become the State Centres for Football Victoria and Rugby Victoria as well as the national base for Football Australia's national women's programs, including the Home of the Matildas.
Construction of the Football Victoria project has started and will be completed in March 2023, in time for the facility to be considered as a training base for the 2023 FIFA Women's World Cup!
But for now, keep an eye out for construction in the area, and check out some completed artist impressions below.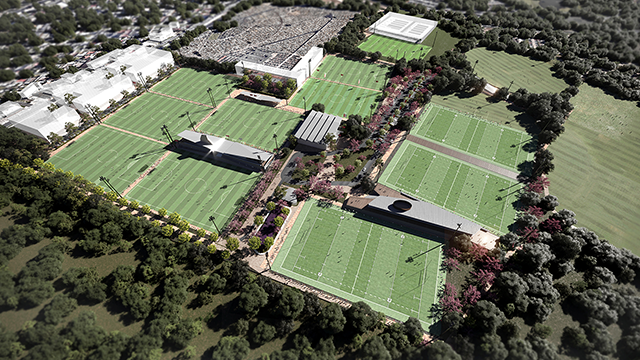 Thomas Cherry and Health Sciences 1 upgrades
As part of our transformation into a University City of the Future, upgrades are taking place across the Thomas Cherry (TC) and Health Sciences 1 (HS1) buildings. This includes the relocation of the GP Clinic from the La Trobe Medical Centre, to Level 1 of HS1 – right in the heart of the Campus!
To improve access to these facilities, a new entrance into the clinic is currently under construction and will allow direct access from the Visitors Carpark once complete in the coming month. Stay tuned for more information.
But works in HS1 don't stop there! We're constructing new Telehealth facilities on Level 1 to provide best-practice training for La Trobe's entry level health students and professionals, complete with consultation rooms, classrooms and breakout rooms.
What might this look like once complete? Take a look at some artist impressions of the Telehealth facilities below.
These facilities are set to be complete by mid-2022, so keep your eyes peeled for construction in this area. And stay tuned for more info on the TC upgrades.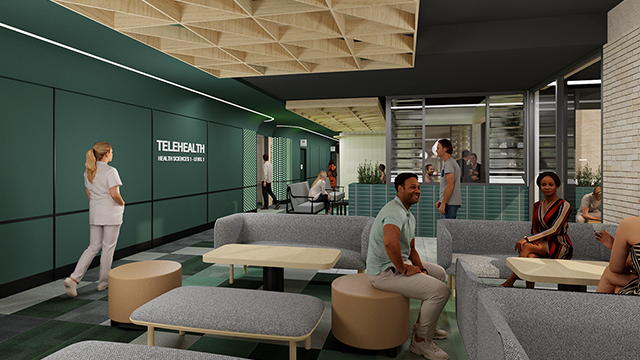 Upgrades to teaching spaces
Art Therapy and Dietetics and Nutrition relocations
To make way for La Trobe's new Bio Innovation and Digital Innovation Hubs in TC, Art Therapy has been relocated into Humanities 2 and the Dietetics and Nutrition kitchen into Health Sciences 3.
These new areas are ready for classes in Semester 1! Check them out below and keep an eye out for construction around the TC building throughout the semester.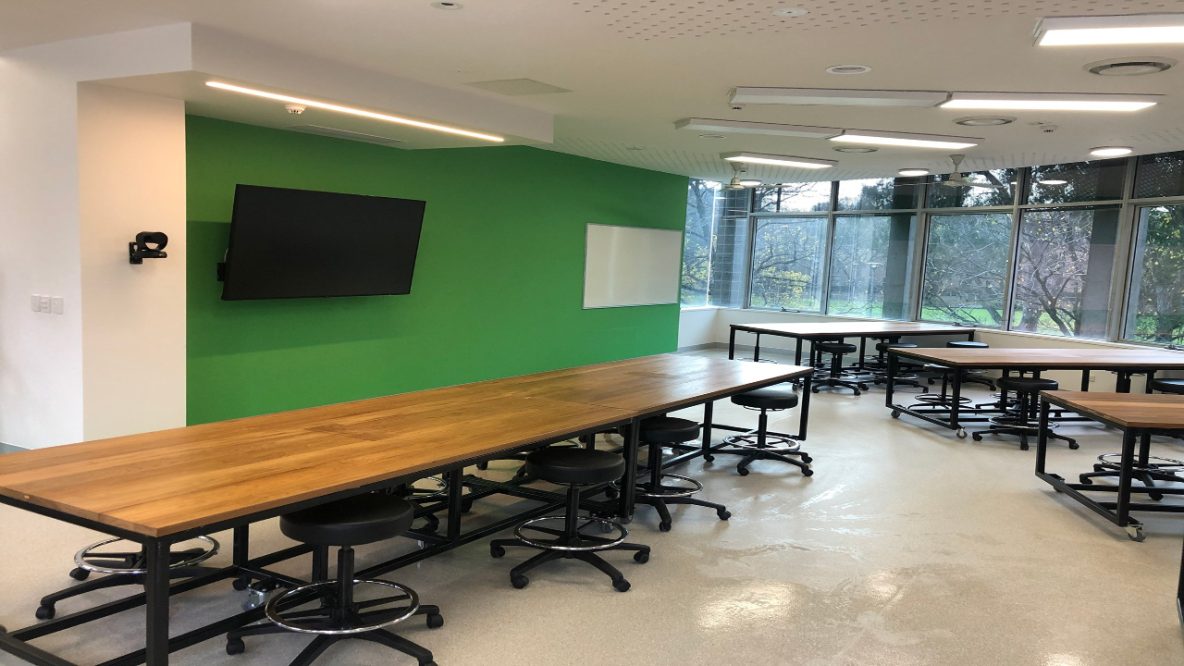 Advanced Manufacturing Lab
Get ready Computing, Engineering and Mathematical Sciences students, because a new Advanced Manufacturing Lab is ready for use in Level 1 of Physical Sciences 2 (PS2)!
Equipped with welding booths, a specialised mechanical plant and wet lab, acoustic booth, fume hoods and cupboards, chemical storage and gas services, you'll be able to design and test new materials and structures in the new lab.
Not a Computing, Engineering and Mathematical Sciences student? You can still take a peek at the action thanks to large glass portals, allowing you to see inside!
Here's a preview of what you might expect to see in the new Advanced Manufacturing Lab.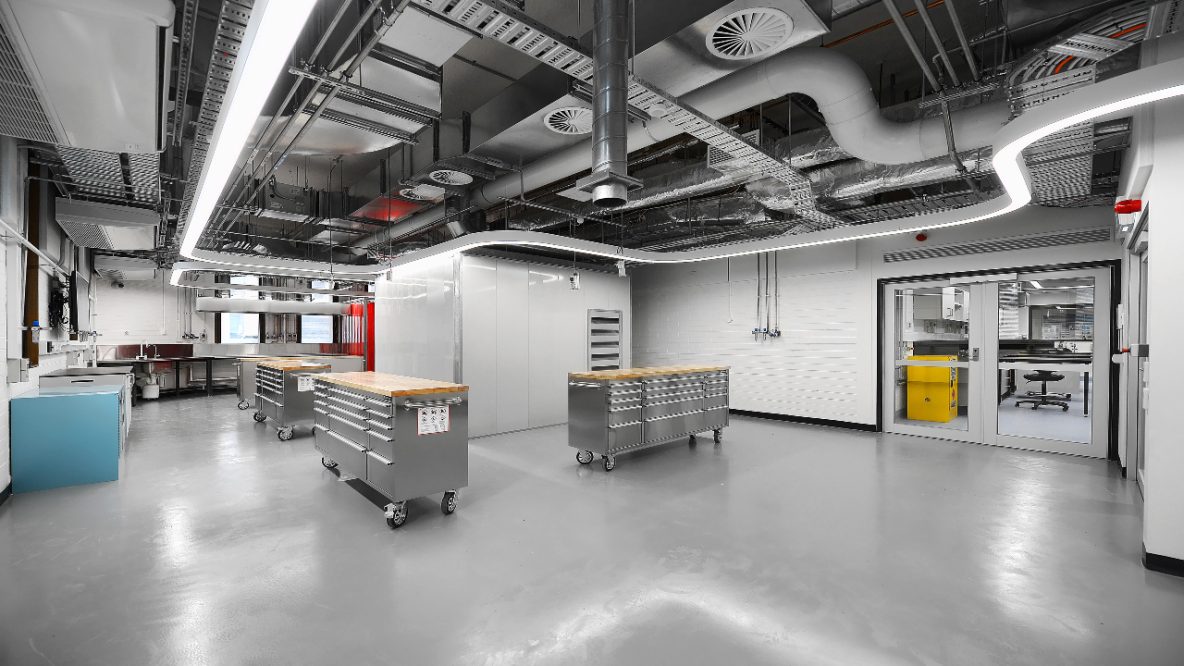 Around the grounds
Building cladding replacements
Since May 2021, external cladding has been replaced on a range of buildings across our campuses to make sure they meet safety and compliance requirements.
To date, works have been completed to some Melbourne Campus favourites, including LIMS2, the Western Lecture Theatres and the Agora Theatre, with works still occurring on LIMS1.
When complete, the LIMS1 you know and love will still have its iconic look, with a subtle change to a part of the cladding. Works are expected to be finished around mid-semester break – so keep an eye out for construction in the area!
New shared pathway
Get ready to schedule in an extended lunch break in Semester 2 because once the new 1.9km long, 3-4-metre-wide shared pathway is finished, you'll want to hop on your bike or take an extra-long walk through Campus!
This project is a part of a suite of initiatives which will hope to enhance and protect Nangak Tamboree over the coming years, and is supported by the Victorian Government through the Northern Metropolitan Trails Program.
Construction is now complete along Union Hall and Moat Drive in front of Glenn and Menzies Colleges, with works now underway near the Academic Lawn before continuing in front of John Scott Meeting House.
Check out where the pathway could lead you, once complete!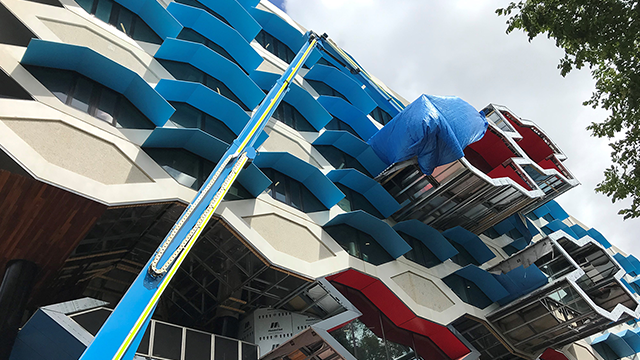 Raingardens installed across Campus car parks
If you park in Car Parks 3, 4 and 6, you may notice some changes to the area! With the help of the Victorian Government through Melbourne Water Corporation's Liveable Communities, Liveable Waterways Program, 24 raingardens have been installed across these carparks.
Raingardens improve the quality of the waterway for our local flora and fauna by filtering stormwater through layers of plants, sand, soil, and fabric before it flows into the moat and Darebin Creek.
The new rain gardens follow the installation of 12 raingardens in Car Parks 1, 2, 7 and 8 in 2020.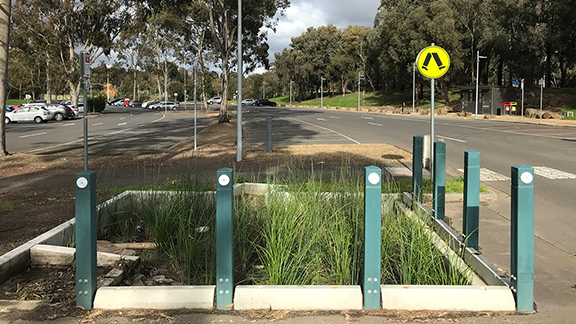 There you have it – a crash course in how some of our spaces across the Melbourne Campus were transformed into great places for you to use and enjoy. And there's plenty more to come in 2022!