Each year, the best and brightest minds from Victoria's eight law schools are awarded the Supreme Court Prize, which recognises outstanding academic excellence.
La Trobe graduates Danielle Chiaverini and Myles Tracy landed at the top of their class in 2020, and were subsequently named co-winners of the Supreme Court Prize. La Trobe's Samuel Connop was also awarded the Exhibition Prize for the best honours thesis.
MyLaTrobe caught up with Danielle to hear how she launched a career in law.
Meet criminal lawyer Danielle Chiaverini
On any given day, Danielle Chiaverini can be found in the courtroom, working as a junior lawyer for the Office of Public Prosecutions. When she's not appearing in court, Danielle spends her time instructing, conferencing victims and witnesses, analysing briefs of evidence, liaising with Victoria Police or seeking advice from Crown Prosecutors.
"My work is extremely varied," she says. "I greatly enjoy the autonomy I have in my work, as I have been able to run my own files from day one, which I understand is rare for new lawyers. As a junior lawyer, everyone is so willing to answer questions and share tips which I certainly take advantage of!"
Danielle's career in law has so far been short, yet illustrious. She clerked at the Office of Public Prosecutions and secured a position upon completion of their graduate program in 2020. In between her clerkship and beginning her graduate role, Danielle was selected to work on the Royal Commission into the Management of Police Informants.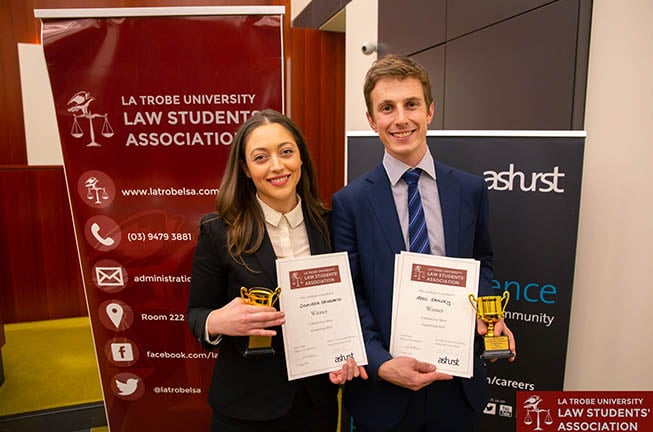 Launching a career in criminal law
Law wasn't Danielle's first choice for her dream career. In high school she had a keen interest in legal studies and justice, reveling in mock trials and debating against other schools. But, when she envisaged a career in law, she saw one spent in an environment that was hyper-competitive and purely corporate. A career in law, Danielle decided, wasn't for her.
At the end of high school, life as a future historian was a tempting prospect for Danielle, but she ultimately decided to undertake a Bachelor of International and Global Studies in Sydney, majoring in Philosophy and Government Studies.
For a time, she toyed with the idea of becoming an editor or journalist, where she could indulge her passion for literature. Though, while investigating job opportunities in different fields, Danielle realised most of them required one common prerequisite: a law degree.
She decided to take the plunge, enrolling in a Bachelor of Laws (Graduate Entry) at La Trobe's Bundoora Campus. She soon realised her misconceptions about a career in law – faceless suits competing in an office tower – were just that, misconceptions.
Though she specialised in criminal law, Danielle was able to explore her strong interests in administrative and international law as well during her studies.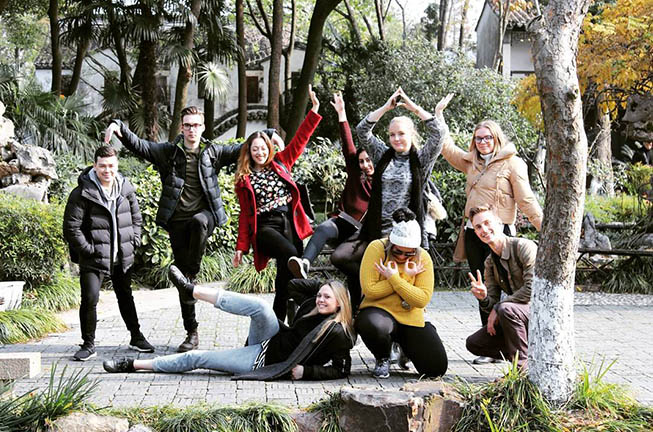 La Trobe also offered Danielle the opportunity to travel internationally as part of her degree. In 2017, she undertook a short course in Shanghai with the help of La Trobe Abroad.
"I highly recommend internships and study abroad programs," says Danielle. "With the caveat that research is the key in order to find the right one. They expand both your network and sense of what is out there after you graduate."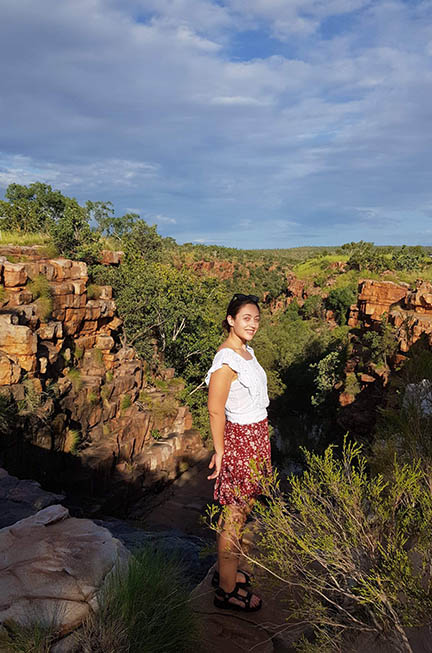 Danielle continued to expand upon her experience back at home in Australia too, undertaking internships at Victoria Legal Aid and the Aboriginal Legal Service of Western Australia in the Kimberley.
"Both were unpaid and very demanding, but completely enriching and ultimately integral to securing the job I wanted."
In July, 2019, Danielle clerked at the Office of Public Prosecutions. From there, she went on to work on the Royal Commission into the Management of Police Informants and complete the Office of Public Prosecutions Legal Traineeship in 2020.
"As anyone embarking on a new career during the pandemic will know, the experience is one of constant change and upheaval, requiring adaptability and resilience," she says. "However, I have been supremely fortunate to work in an organisation that prioritises the development of junior lawyers and alongside other grads who have become my friends and support network."
Opportunities at La Trobe laying the foundation for a successful career
The first thing Danielle did when she arrived at La Trobe was join the Law Students' Association as a Publications Officer.
"I know clubs and societies aren't for everyone, but I have always been very 'into' co-curriculars," she says. "Plus, I was new to town, and wanted to meet people! It turned out to be a really fun experience."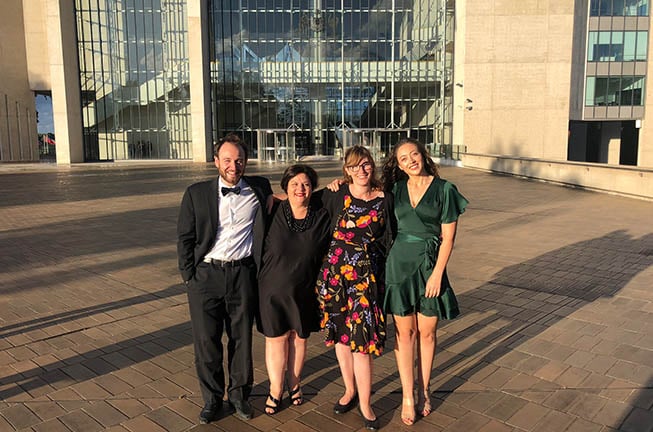 Danielle also got involved with mooting, both within La Trobe and externally. The highlight of her mooting experience was achieving third place at the Australian rounds of the Jessup Public International Law Moot in Canberra, with only two speakers as opposed to the usual four.
"The Jessup is almost absurdly onerous," she says. "But, if you can carve out the time to throw yourself at it completely, it will act as a kind of pressure-cooker for your research, writing and advocacy skills."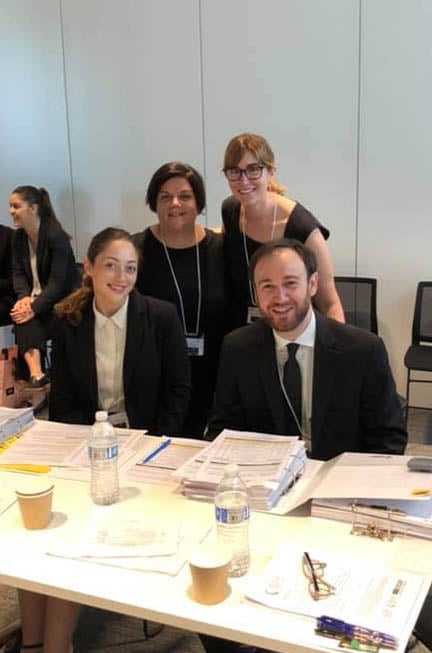 She also connected with the University's careers services, which helped her to secure two part-time jobs working as a Peer Learning Adviser and Archivist for La Trobe, before moving to the Administrative Affairs Tribunal as a quasi-associate.
Danielle advises other students to start getting involved in University life and its opportunities as soon as possible.
"Try to maximise your university experience – whether that is joining the LSA, volunteering at a Community Legal Centre, shadowing a barrister or working as a research assistant. Don't be afraid to approach staff and ask for help with your studies or careers – I found La Trobe staff to be uniquely approachable. Speak up in class if you have something to say – I know it can feel daunting, but it really helped me feel like I understood the content."
Listening to her passionate teachers were one of Danielle's greatest highlights from her time studying at La Trobe.
"Stephanie Falconer, Dr. Steven Tudor, Dr. Darren O'Donovan, Ben Walsh, Dr. Pascale Chifflet and Dr. Jeffrey Barnes, to name a few, were really engaging," she says.
"I also made some good friends – it is exciting to move into the next phase of life together."
Topping the class of 2020
Danielle describes being named co-winner for the 2021 Supreme Court Prize, and topping the class of 2020 at La Trobe, as a humbling and gratifying experience.
"I wasn't expecting it," she says. "I received an email from the Supreme Court one night out of the blue. It took me a moment to register, as I had finished up my studies more than a year earlier. I think it is safe to say I was very pleasantly surprised!"
While Danielle may have considered careers in philosophy, government, journalism, literature, and history, ultimately the law won out. She has been amazed with the variety of avenues a law degree has opened up to her.
"I think it is important to keep an open mind, be willing to put yourself out there and remind yourself of what you love about working in the law. For me, it is advocacy, problem-solving and engaging with stakeholders.
"Don't feel pressured to venture down a career path that doesn't feel right for you," Danielle warns other students considering their future direction. "Life is too short!"