In the lead up to International Nurses Day on Wednesday 12 May, MyLaTrobe caught up with a graduate who is making a difference in her hometown of Mildura.
Intensive care nurse Concettina (Conci) Malcotti has had many meaningful moments with her patients since becoming a nurse at Mildura Base Hospital in 2020. Though, the one that made the biggest impact on Conci really began to hit home after her patient had left the hospital. A big, bright bunch of flowers arrived at the front desk with a list of staff who'd made a difference in a patient's care – Conci's name included. This small gesture was her patient's way of saying thank you for helping them through what was undoubtedly one of the worst times in their life.
Just a week earlier, Conci was sitting in the Intensive Care Unit (ICU) with a trauma patient who'd suffered a crush injury, the same one who'd later order her flowers. Over a few shifts she'd built a good relationship with the patient and their partner, learning about their lives, their family and the hardships they'd faced and overcome.
"These people were so positive, so strong and honestly so inspiring after everything they'd been through, and all I hoped was to provide them with the best quality holistic care that I could," says Conci. "They made a big impact on me and on the way I see nursing."
Though Conci wasn't present when the patient had been discharged, she knew she'd done her part to make a difference in their lives.
"It was the most remarkable feeling I've had to this day in my nursing career," she says. "Knowing that I had provided the best possible care I could for this family gave me an overwhelming feeling of warmth and appreciation for the career I am in."
Nursing through a world-wide pandemic
If there were ever a challenging year to jump head-first into a nursing career, 2020 was it. Conci took up the challenge and rolled with the punches, even when it wasn't easy.
She was less than a month into her new role as an ICU nurse when the pandemic took hold.
"People were really seeing the value of nurses," she says. "On top of that, the need for nurses increased dramatically."
At first, Conci felt stressed and uncomfortable with the situation she could potentially be faced with.
"Initially during the crisis, I felt my self-confidence diminishing. Our community was relying on us and, like many nurses new to the profession, I felt I lacked the knowledge or skills necessary to meets their needs."
COVID-19 triggered major changes to the way in which nurses were able to provide care to their patients and their patients' support networks. Many hospitals changed their layouts and processes, adapting to anticipate the needs of a potential influx of COVID-19 positive patients.
Many nurses were also required to participate in additional training, in order to expand their scope of practice, so that they were prepared for the high acuity care that COVID-19 required.
"This was an extremely overwhelming time, however I've grown so much from being able to learn and develop skills above the level I ever believed possible," says Conci. "These skills and knowledge only continue to grow now, as I go further into my career as an ICU nurse.
"Now, after completing my Graduate Nurse Program, I feel overwhelmed with pride and appreciation for my fellow nurses, as well as all other health professionals that I worked with. These amazing people took a complete turn in the way in which they provided care for their patients and worked extra or longer shifts with less time spent at home with their loved ones. The education they provided to upskill as many nurses as possible was incredible and prevented transfers out from our local hospital, meaning patients could remain close to home and near those they love.
"Since securing a permanent position in our hospital's Intensive Care Unit, and I am absolutely in love with my career. Each and everyday I am learning something new from my fellow nurses, doctors, allied health professionals, pharmacists and most importantly my patients and their families."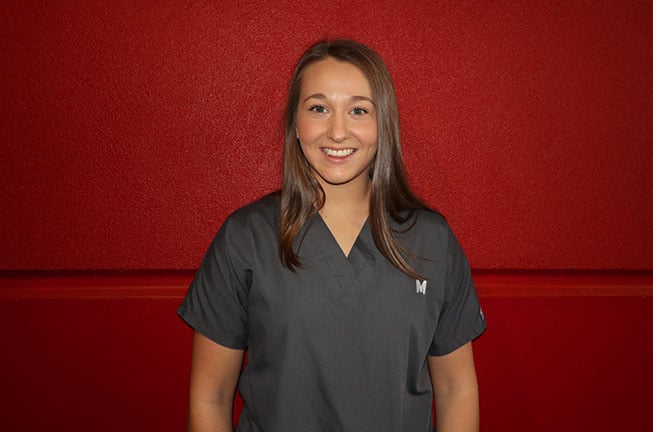 Studying at Mildura Campus
Before Conci was working in the Mildura Base Public Hospital's Intensive Care Unit, she was a student at La Trobe's Mildura Campus.
In 2017, she commenced a three year Bachelor of Nursing degree, straight after finishing her Year 12 studies.
"Initially wasn't entirely sure that I had chosen the right career path for or not," she says. "However after being at our campus for only one semester I knew that I had made the right decision, and this feeling only continued to grow over the years."
In 2019, Conci received the ANMF Student Nurse Award upon completing her studies at La Trobe.
"It truly came as a huge shock to me. In all honesty, it was one of the final boosts from my lecturers which gave me the confidence I needed to know that I actually could succeed in this nursing career I had grown to love.
"During my time at La Trobe, I was also lucky enough to be awarded one of the amazing scholarships that the campus offers to students. This scholarship decreased my financial burden and further more decreased my stress levels, so that I could better focus my time and energy into my learning."
"I am absolutely in love with my career. Each and everyday I am learning something new from my fellow nurses, doctors, allied health professionals, pharmacists and most importantly my patients and their families."

Conci Malcotti, La Trobe nursing graduate
Conci made life-long friends at La Trobe with other nursing students in her class. Some of them now walk to corridors of the hospital with her as colleagues.
The connections she was able to make with students and staff alike is one of the reasons she loved studying at Mildura Campus.
"This campus provides an amazing learning environment, and allows for students to really connect and develop strong relationships with their lecturers and fellow peers. Everyone is so welcoming and supportive, and the lecturers all had a wealth of knowledge, skills and experience, which they were happy to share. For me, studying in Mildura decreased the financial burden that moving to a larger city can create, due to more affordable living and transport."
She also enjoyed using the clinical skills labs on campus.
"These labs were equipped with e"verything we needed and provided an appropriate size class for everyone to have an equal opportunity to learn and develop without the fear of falling behind," she says.
"I am forever grateful for my lecturers at the La Trobe Mildura Campus. Without them, I may never have have had the opportunities I've had to help make a positive impact in the community in which I grew up."
Conci aspires to eventually complete further study and specialise in the critical care areas of the Intensive Care Unit and the Emergency Department.