Thank you to everyone who came to our Sustainability Stall during Orientation week! La Trobe's I&O team gave away over 340 sets of reusable cutlery and over 370 reusable crockery pieces used to serve food and drinks using our food and drink vouchers.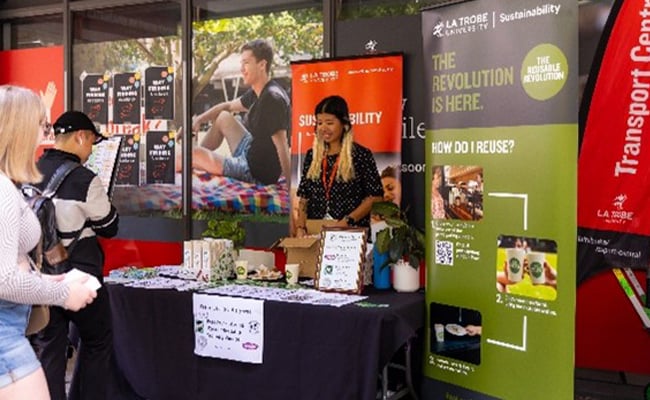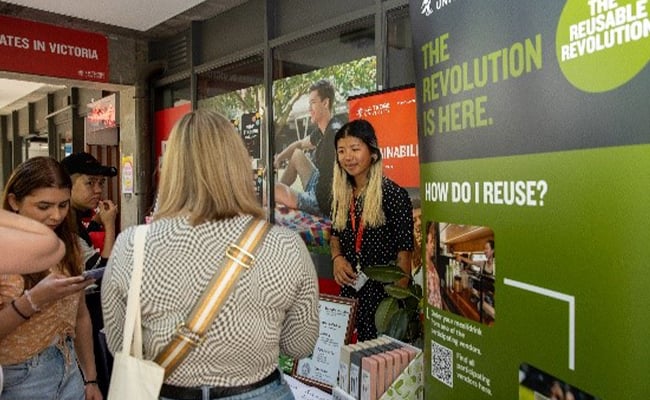 Thank you to our amazing retailers: Caffeine Café, Fuel Juice Bar, Bachelor of Coffee, House of Cards, Café spice and newly joined Mamak and Rice & Noodle for joining us on The Reusable Revolution journey.
A refresher: How does The Reusable Revolution work?
Choose to reuse: ask for reusable crockery when you order your meal from one of our participating retailers
Place your dishes on trolleys: once you've finished your meal, place your dishes onto dedicated collection trollies available around the Agora. Trolleys are located at the four corners of the Agora, and also in the Agora Theatre building.
Dishes are cleaned: your dishes will be taken to the dish wash hub to be cleaned
The revolution continues: the clean dishes are returned to our Agora vendors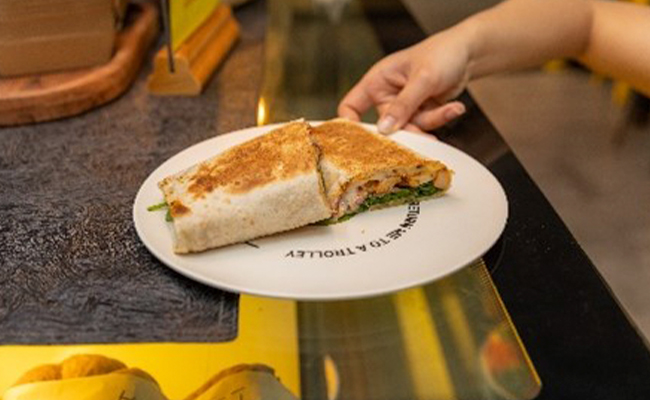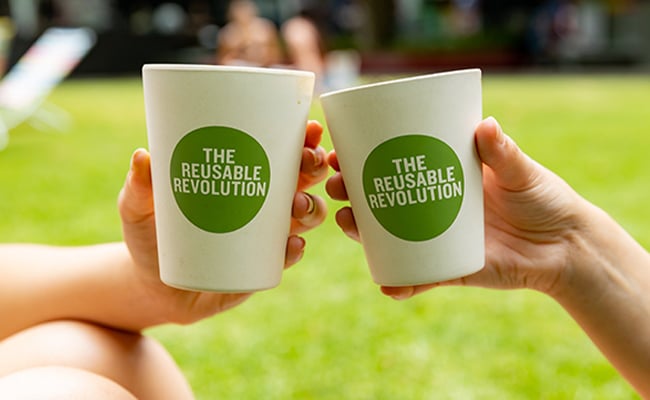 Over the coming months, we will be sharing key insights into the program and answering commonly asked questions.
How did this program come about?
The sustainability team attended the 'Choose to Reuse' Masterclass with Sustainability Victoria where The University of Melbourne showcased its reusable crockery program. The Masterclass presented the Reuse pilot fund and the team applied and was successful in obtaining a $64,000 fund, co-funded by the university to launch The Reusable Revolution.
What is the single-use plastics ban?
The Victoria government implemented the single-use plastics ban from 1 February 2023. The following items made from conventional, degradable, and compostable plastics will be banned in Victoria:
Single-use plastic drinking straws
Single-use plastic drink stirrers
Single-use plastic cutlery
Single-use plastic plates
Single-use plastic cotton buds
Foodware & cups made from expanded polystyrene (EPS)
What is the reusable crockery made from?
The plates, bowls and cups are made from 20% melamine, 35% corn starch 45% bamboo fibre.
What are the reusable cutlery sets given away during Orientation week made from and how can they be correctly disposed of at end of life?
The reusable cutlery sets given away at Orientation Week, Semester 1 2023 (coloured grey, pink and beige) are made from 50% wheat straw and 50% polypropylene, with the wheat straw a waste product of wheat grain harvesting. Please only hand wash them.
These products are recyclable and can be disposed of through the normal home recycle bins.
Where do the dishes go after you use them to have your coffee or food?
The dishes should be placed in one of the 5 collection trolleys, which are located at each corner in the Agora and one in the Agora Theatre, outside Caffeine Café.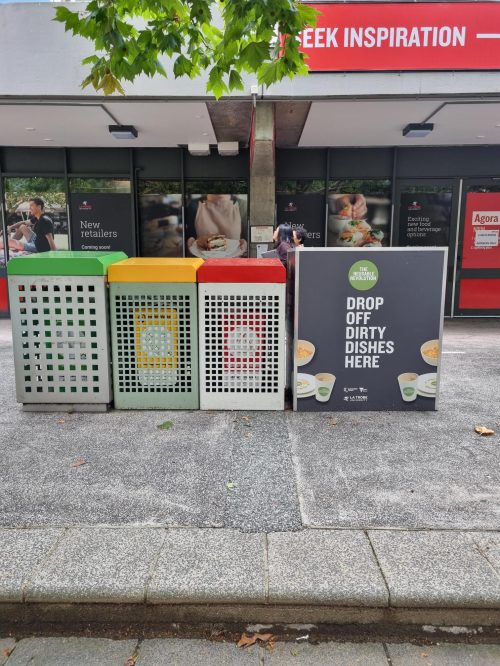 The Reusable Revolution is supported by the Circular Economy Reuse Pilots Fund, delivered by Sustainability Victoria under the Victorian Government's circular economy policy, Recycling Victoria: a new economy to help businesses to respond to the Victorian Government's single-use plastics ban which came into effect on Wednesday 1 February 2023.
The Reusable Revolution project embodies La Trobe University's commitment to circular economy principles; reusing crockery keeps these products in circulation for longer, versus their single-use counterparts which are used once and then sent to landfill.
Takeaway packaging will still be available from all Agora retailers