If you're a student at the Melbourne (Bundoora) Campus, you'd know that it's a pretty big place. So, walking from one side of the campus to the other is no easy feat. Did you know there is an easier way to get around campus, and it's free?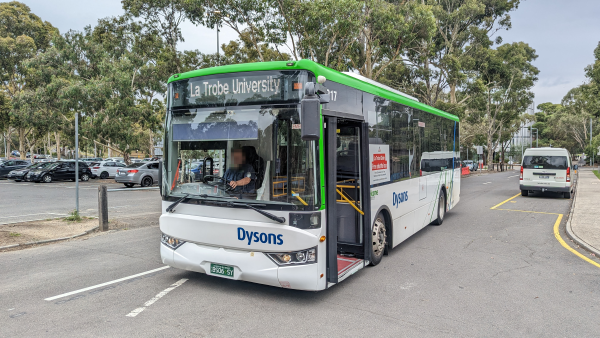 The La Trobe Glider is a free bus service available to transport La Trobe students, staff and the wider community around the Melbourne Campus!
The Glider travels in a loop around Campus every 20 minutes from Monday to Friday during the semester from 8:30 am to 1:25 pm, and 2:10 pm to 5.30 pm (excluding University-wide holidays) stopping at popular places around campus including the Polaris Town Centre and the Thomas Cherry Forecourt at Science Drive.
The bus now also stops closer to student accommodation with stops near the North and South Apartments, and Chisholm College (which is also best for going to the Union Building).
The bus is wheelchair accessible and if you catch the tram to campus, there is a convenient stop close to the number 86 tram stop to take you to the stop near the bus terminal. From there, you can hop on the Glider and be transported into the heart of the campus within minutes.
If you're on Campus after hours, the Night Glider has got you covered with services running from 6 pm (non-daylight savings) or 7 pm (daylight savings) until 6 am all year round (excluding University-wide holidays).
As part of the Uni-Safe program, the Night Glider is available on request to pick up and drop off La Trobe students and staff anywhere on campus.
You can request the Night Glider service by calling (03) 9479 2222.