On campus and looking for a dedicated place for that next online class? Or maybe you just need a quiet space to study?
All campus libraries have spaces for students to participate in lectures/tutorials online and to meet and collaborate in person or online. There's also a range of dedicated study spaces, breakout rooms and lounges across campus (see the table below).
We recommend using headphones where possible if you are doing online classes in any of these spaces.
Melbourne (Bundoora)
Room
Details
Borchardt Library
Open seven days, morning till late (see the Library website for current hours)
Staffed Hours: Monday to Friday: 10.00 am-4.00 pm
Quiet spaces are available for solo study, and 'talking spaces' for group work or participating in online classes.
Online Learning Zone (Level 2 of Borchardt Library)
Open seven days, morning till late (see the Library website for current hours)
Computers and open desks with power points are available. You can freely talk and participate in online classes. Please wear a headset and be considerate of your neighbours.
The Learning Commons (TLC) and Donald Whitehead Building (DW)
TLC and DW have various group study rooms, alcoves and lounges. Bring your laptop and use the large screens for group work and collaboration.
The Agora
Grab a table outside with your friends and get started on that group project over a coffee. There are also benches available for solo study and powerpoints to charge your devices.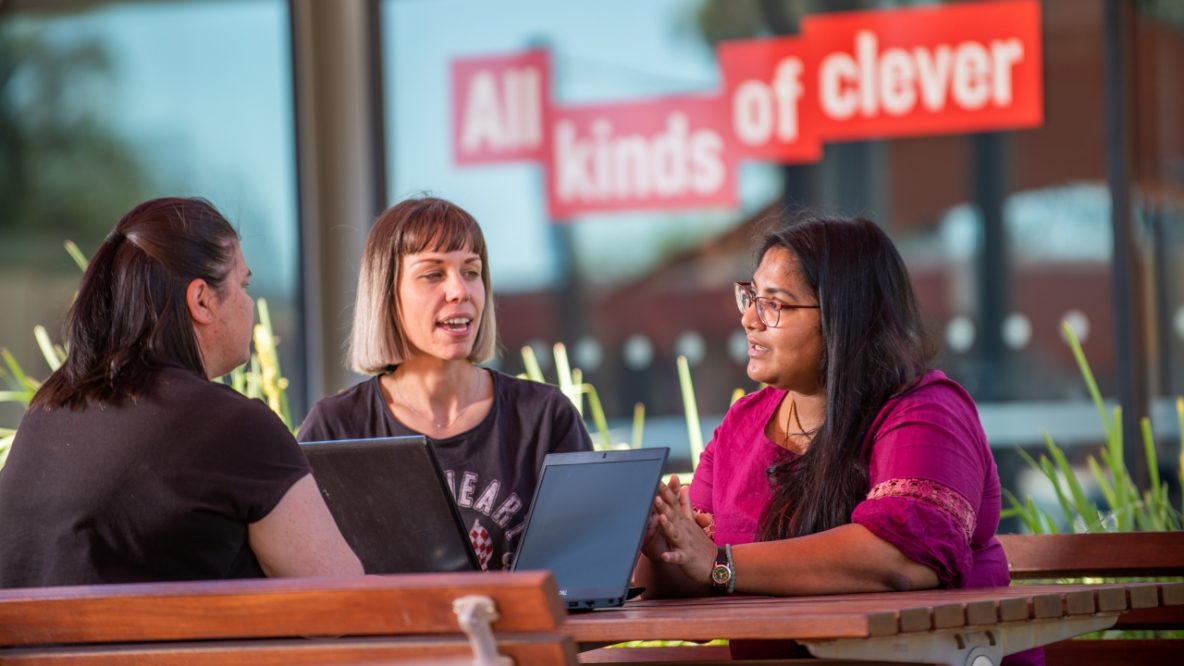 While the weather's fine, take advantage of the great outdoor spaces across campus for meeting and studying. Some even have powerpoints to keep your devices charged!
Bendigo
Room
Details
Heyward Library
Building Hours: Seven days, morning till late (see the Library website for current hours)
Staffed Hours: Monday to Friday: 10.00 am – 4.00 pm
Online Learning Rooms (Level 2 Heyward Library, Rooms 201a, 201b and 201c)
Open seven days, morning till late (see the Library website for current hours)
For individual use, maximum one person per room.
Screen with speakers and a webcam which connects wirelessly to your device (BYO device).
Must be booked through LibCal.
GDP 241 (computers)
Monday to Friday: 7.00 am – 6.00pm
Saturday and Sunday: 10.00 am – 3.00 pm
HHS1-105
Monday to Friday: 9.00 am – 8.00pm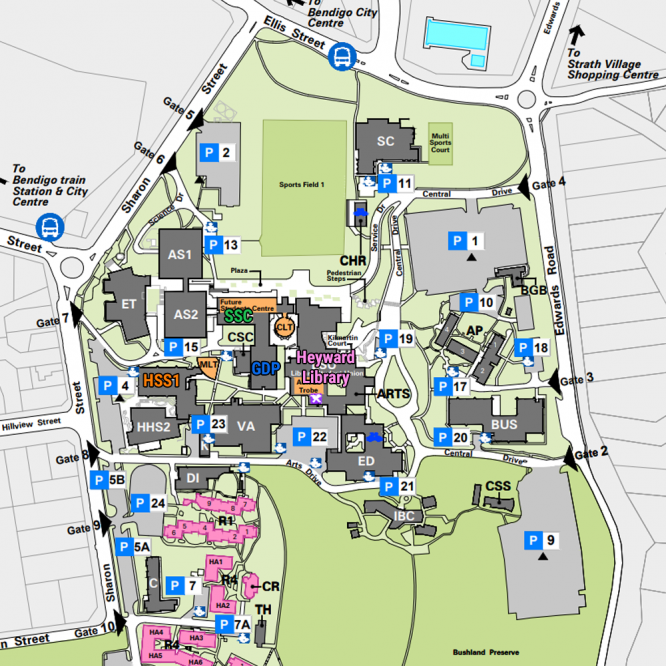 Albury-Wodonga
Room
Details
David Mann Library
Building Hours: Seven days, morning till late (see the Library website for current hours)
Staffed Hours: Monday to Friday: 10:00 am- 4.00 pm
AW-3A1
Computer Labs
27 June – 16 October 2022
Monday: 8am-8pm
Tuesday: 8am – 9am, 1pm – 8pm
Wednesday: 8am – 2pm, 4pm – 8pm
Thursday: 8am – 11am, 12pm – 1pm, 2pm – 3pm, 4pm – 8pm
Friday: 8am – 8pm
AW-3A4
Computer Labs
27 June – 16 October 2022
Monday: 8am-8pm
Tuesday: 8am-8pm
Wednesday: 8am – 11:00am, 1pm – 2pm, 4pm – 8pm
Thursday: 8am – 10am, 3pm – 8pm
Friday: 8am – 8pm
AW-3A2
Computer Labs
27 June – 16 October 2022
Monday: 8am-8pm
Unavailable Tuesday – Friday
AW-3115

27 June – 16 October 2022
Monday: unavailable
Tuesday: 8am-8pm
Wednesday: 8am-8pm
Thursday: 8am-8pm
Friday: 8am-8pm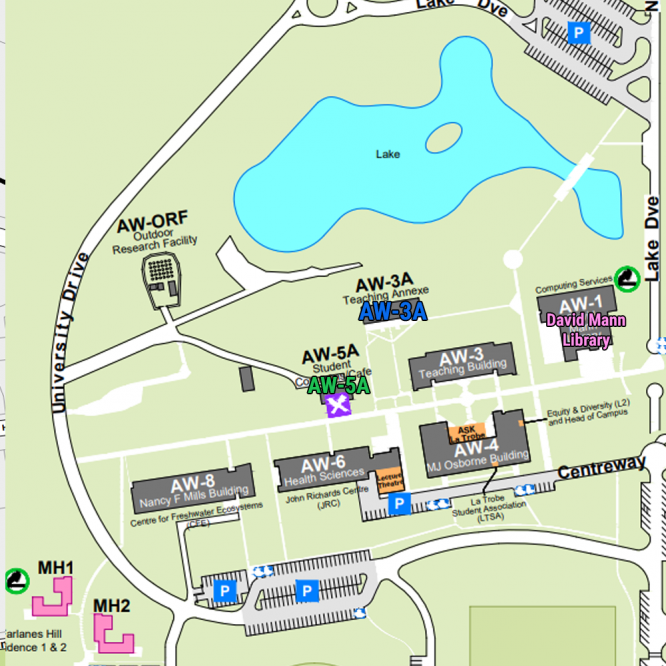 Mildura
Room
Details
Library
Building Hours: Monday to Friday, see the library website for current hours
Staffed Hours: Monday to Friday: 10:00 am- 4.00 pm
Computer Lab BGR125
Monday to Friday 8.30 am to 5.00 pm
Seminar Rooms BGR 103 and BGR 127
Monday to Friday 8.30 am to 5.00 pm
Shepparton
Room
Details
Library
Building Hours: Monday to Friday, see the library website for current hours
Staffed Hours: Monday to Friday: 10:00 am- 4.00 pm
Learning Hub (Room 213)
Monday to Friday: 8.30 am to 5.00 pm
Building SHS, levels 1 and 2, Common Spaces
Monday to Friday: 8.30 am to 5.00 pm