On campus and looking for a dedicated place for that next online class? Or maybe you just need a quiet space to study?
All campus libraries have spaces for students to participate in lectures/tutorials online and to meet and collaborate in person or online. There's also a range of dedicated study spaces, breakout rooms and lounges across campus (see the table below).
We recommend using headphones where possible if you are doing online classes in any of these spaces.
Albury-Wodonga
Room
Details
David Mann Library
Building Hours: Seven days, morning till late (see the Library website for current hours)
Staffed Hours: Monday to Friday: 10:00 am- 4.00 pm
AW-3A1
Computer Labs
Monday: 8 am-8 pm
Tuesday: 8 am – 9 am, 1 pm – 8 pm
Wednesday: 8 am – 2 pm, 4 pm – 8 pm
Thursday: 8 am – 11 am, 12 pm – 1 pm, 2 pm – 3 pm, 4 pm – 8 pm
Friday: 8 am – 8 pm
AW-3A4
Computer Labs
Monday: 8 am-8 pm
Tuesday: 8 am-8 pm
Wednesday: 8 am – 11 am, 1 pm – 2 pm, 4 pm – 8 pm
Thursday: 8 am – 10 am, 3 pm – 8 pm
Friday: 8 am – 8 pm
AW-3A2
Computer Labs
Monday: 8 am-8 pm
Unavailable Tuesday – Friday
AW-3115

Monday: unavailable
Tuesday: 8 am-8 pm
Wednesday: 8 am-8 pm
Thursday: 8 am-8 pm
Friday: 8 am-8 pm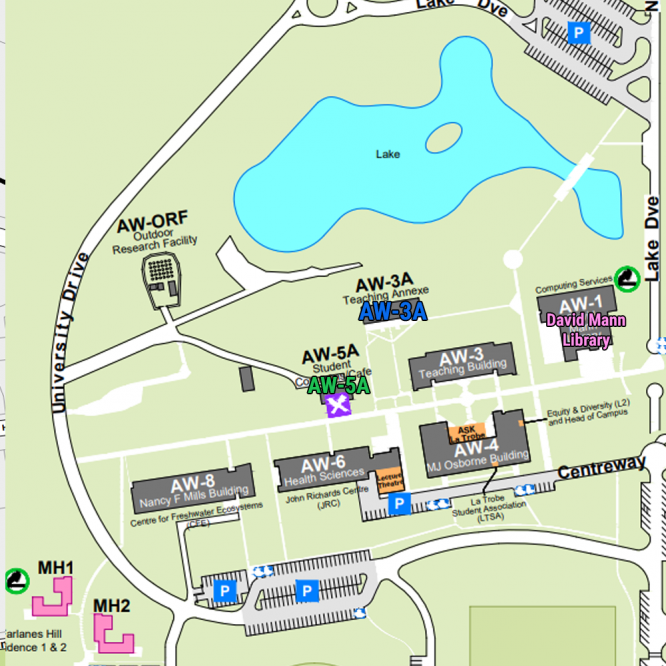 Bendigo
Room
Details
Heyward Library
Building hours: Seven days, 24 hours (see the Library website for current hours)
Staffed hours: Monday to Friday: 10 am – 4 pm
BUS 129
Open study area outside BUS 129
Online Learning Rooms (Level 2 Heyward Library, Rooms 201a, 201b and 201c)
Open seven days, morning till late (see the Library website for current hours)
For individual use, maximum one person per room.
Screen with speakers and a webcam which connects wirelessly to your device (BYO device).
Must be booked through LibCal.
Clinical Teaching Building
(Arnold St, Bendigo)
Study spaces throughout the building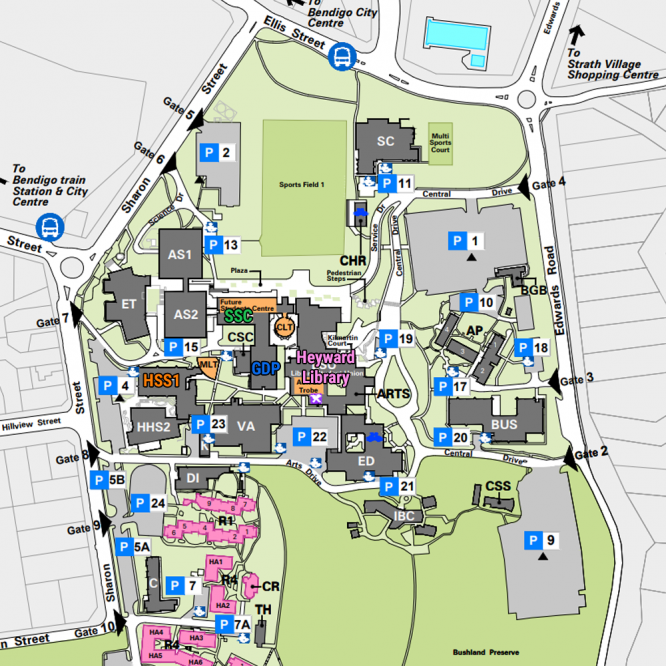 City
| | |
| --- | --- |
| Room | Details |
| 360 Collins Street, Level 2 | Study spaces throughout the building |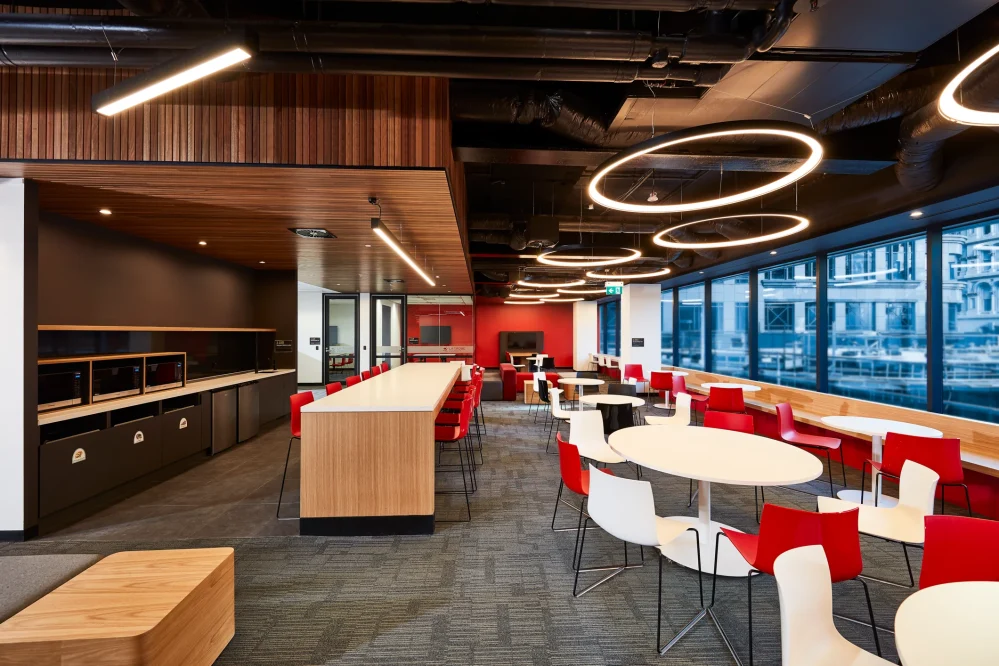 Melbourne (Bundoora)
Room
Details
Borchardt Library
Open seven days, 24 hours (see the Library website for current hours)
Staffed hours: Monday to Friday: 10 am – 4 pm
Quiet spaces are available for solo study and 'talking spaces' for group work or participating in online classes.
Donald Whitehead Building (DW)
Various group study rooms, alcoves and lounges. Bring your laptop and use the large screens for group work and collaboration.
Online Learning Zone (Level 2 of Borchardt Library)
Open seven days, morning till late (see the Library website for current hours)
Computers and open desks with power points are available. You can freely talk and participate in online classes. Please wear a headset and be considerate of your neighbours.
The Learning Commons (TLC)
Various group study rooms, alcoves and lounges. Bring your laptop and use the large screens for group work and collaboration.
The Agora
Grab a table outside with your friends and get started on that group project over a coffee. Benches are also available for solo study and powerpoints to charge your devices.
Sylvia Walton Building
Study spaces throughout the building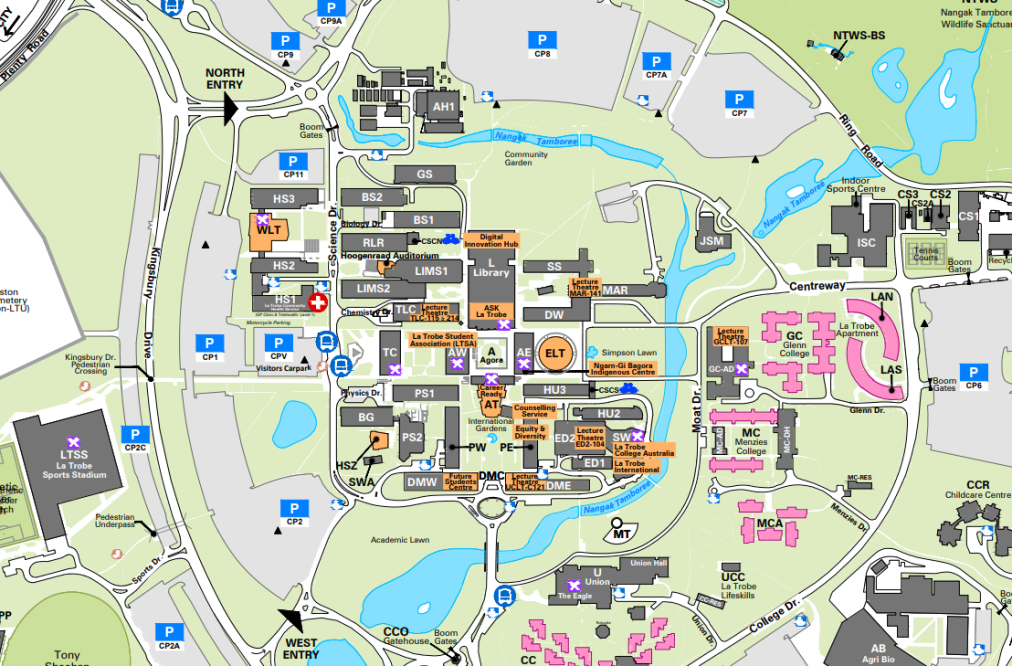 Mildura
Room
Details
Library
Building hours: Monday to Friday, 8.30 am – 5.00 pm (see the Library website for current hours)
Staffed hours: Monday to Friday: 10 am – 4 pm
Computer Lab BGR125
Monday to Friday 8.30 am to 5.00 pm
Brian Grogan Building Student Lounge
Open area, foyer near lecture theatre.
Monday to Friday 8.30 am to 5.00 pm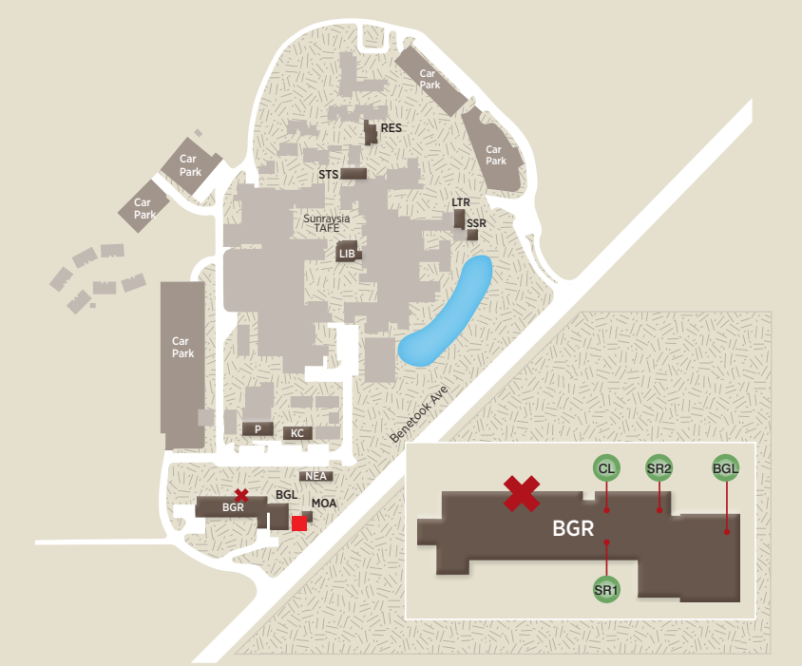 Shepparton
Room
Details
Library
Building hours: Monday to Friday, 9 am – 5 pm (see the Library website for current hours)
Staffed hours: Monday to Friday: 10 am – 4 pm
Room 213
Monday to Friday: 8.30 am to 5.00 pm
Building SHS, levels 1 and 2, Common Spaces
Monday to Friday: 8.30 am to 5.00 pm