Say hello to members of your Security team, who are available 24 hours, 7 days a week across all our campuses to assist with a range of queries including safety on campus, minor accidents and first aid. They're here to ensure our campus is a safe environment for all students and staff.
You can contact the Security team 24/7 on (03) 9479 2222. For all emergencies requiring Police, Fire and Ambulance, call Triple Zero (000), then call Security La Trobe Emergency on (03) 9479 2222 (all campuses). For general security enquiries, phone (03) 9479 2012.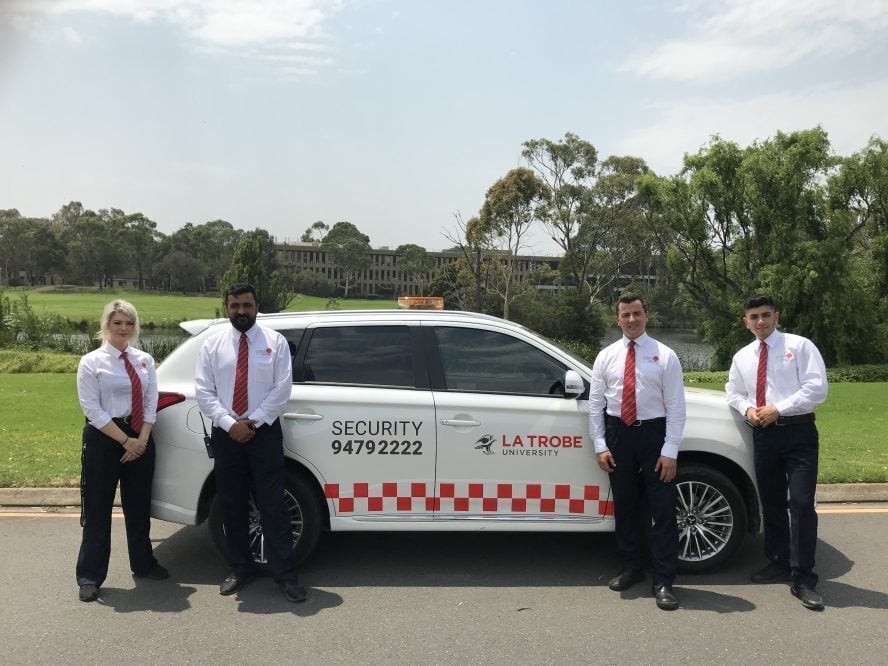 Uni-Safe Service
On campus after dark? Security officers are available to escort students and staff after dark between campus buildings and car parks, local transport points (Melbourne only) and on-campus student accommodation.
Request the Uni-Safe Service at Melbourne (Bundoora), Bendigo and Albury-Wodonga by calling (03) 9479 2222 or find out more at www.latrobe.edu.au/unisafe
Safer Community
Peviously named Speak Up, Safer Community is a free and confidential service for students who experience or witness unacceptable or concerning behaviour to seek advice, support and referrals. For more information on the Safer Community service, visit latrobe.edu.au/safercommunity . You can also contact Safer Community by phone at (03) 9479 8988 or via email safercommunity@latrobe.edu.au