Following La Trobe's carbon neutral achievement in Mildura and Shepparton earlier this year,  the University partnered with Greenfleet to spend a day planting 5000 seedlings in Kinglake. As they grow, the seedlings will form the first part of a significant reforestation project in the area, set to stand for a minimum of one hundred years.
Signifying a truly closed loop, not only did La Trobe University plant the trees at Kinglake, but the seedlings were also grown at the University's very own Nangak Tamboree Wildlife Sanctuary.
As a leading not-for-profit environmental organisation, Greenfleet's mission is to protect the climate through forest restoration. This reforestation project also allows the University to achieve Net Zero campuses in the most ethical and sustainable way.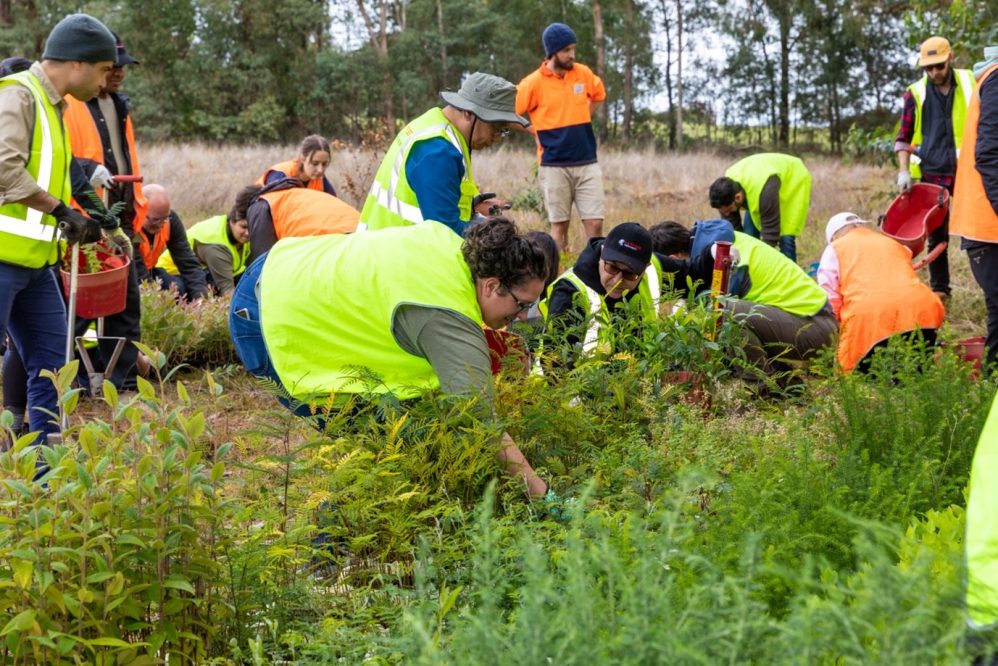 Once the seedlings mature at their new location in Kinglake, the area will become home to an ecosystem for a variety of native birds including Sulphur-Crested Cockatoos, Lyrebirds, King Parrots and colourful Rosellas. The seedlings are protected for 100 years.
To reach La Trobe's Net Zero goal, sustainable projects across each of the campuses have been implemented, including the installation of rooftop solar panels, energy efficient LED lights, mechanical system efficiency upgrades, and batteries to store solar energy. These projects are in addition to the University's requirement to purchase carbon offsets to reach total Net Zero.
"The University's Net Zero commitment is about sustainability now and into the future – and the decision to purchase carbon credits for the final part of the journey to Net Zero Campuses in Mildura and Shepparton was well considered."

Andrew Jennings, Director Carbon Neutral Strategy at La Trobe University
Organisations who have committed to Net Zero may purchase carbon credits from any sustainability project, anywhere in the world. However, La Trobe are particularly proud to be purchasing carbon offsets from Greenfleet in their home state of Victoria, specifically, offsets that were generated from the tree planting at the Kinglake reforestation project.
Andrew Jennings, Director Carbon Neutral Strategy at La Trobe University, described the importance of La Trobe's Net Zero Program, the Greenfleet partnership and how carbon credits affect the University's target.
"Through the La Trobe and Greenfleet 25-year sustainable reforestation partnership, La Trobe has offset over 22,500 tons of carbon – this is the equivalent of over 10,000 hectares of forest for one year."

Andrew Jennings, Director Carbon Neutral Strategy at La Trobe University
Learn more about La Trobe's commitment to reaching Net Zero by 2029.