Become a foster family to a Dogs for Life Assistance Dog puppy!
Dogs for Life is focused on working with specifically trained dogs within mutually defined programs, to assist people to achieve predefined therapeutic goals and to create a lasting partnership that aims to improve quality of life, enhance independence and facilitate increased participation in society.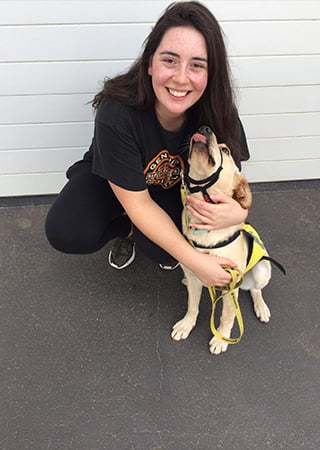 What are the duties of a foster family?
Provide a warm, loving and secure home for an Assistance Dog puppy
Follow Dogs for Life's rules regarding the treatment and interactions with an Assistance Dog puppy
Dedicating daily interaction time with an Assistance Dog puppy

Following through with the Assistance Dog puppy fostering program for approximately one year.
What are the benefits of fostering a puppy?
Contribute to a program that supports those in your community living with a disability
Enjoy the company of furry friend that will provide endless laughs and a lot of love
There is no cost to you to foster. All essential care is provided (including health care, food and toys)
Dogs for Life will provide training and support to you and

the Assistance Dog puppy
Fostering a Dogs for Life Assistance Dog requires time, patience and dedication. No experience is necessary but showing your enthusiasm, commitment and interest is part of the application process.
If you're interested in fostering a Dogs for Life Assistance Dog puppy, please visit their webpage.