The first week of semester is a busy time for any student. But spare a thought for Katta O'Donnell.

Not only has she spent the past few days wrapping her head around fifth-year Law subjects, she's also been fielding calls from reporters at the New York Times, ABC, Financial Times and The Guardian, all of whom are clambering for an interview with the 23-year-old La Trobe student.
That's because in the same week she was starting a new semester of study, she also made history as the lead litigant in a world-first climate change lawsuit, the origins of which can be traced to a lecture she attended at La Trobe's Bundoora campus.
Katta and her team of lawyers will argue in the Federal Court that the Commonwealth Government failed in its obligation to declare the financial risk climate change poses to the value of government bonds.
Government bonds are a bit like shares, except that instead of buying into a company, an investor (of whom Katta is one) can lend a government money to deliver its services and infrastructure projects.
They're usually considered a sure bet but the value of bonds can take a hit if there's doubt about a government's ability to repay them.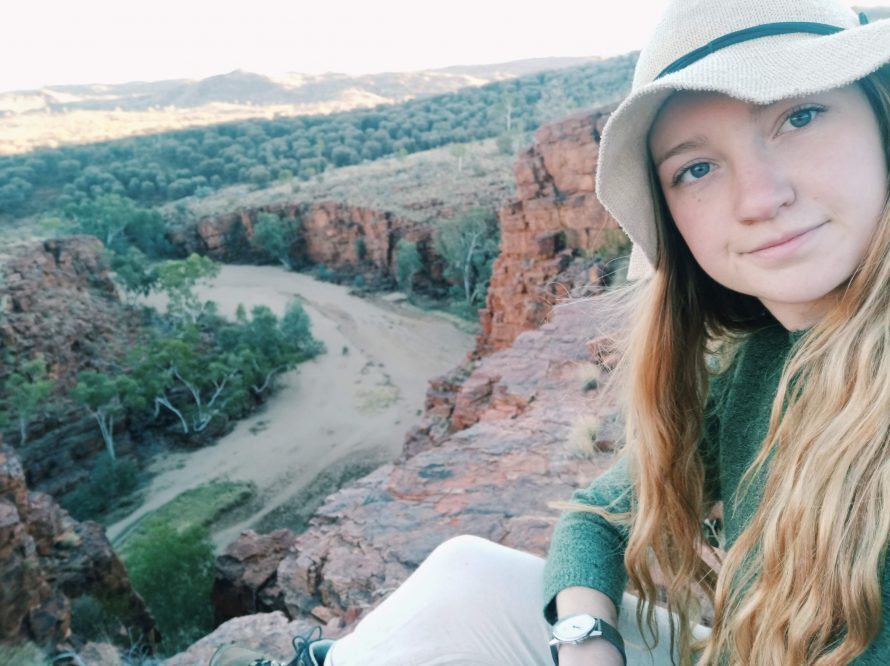 Katta and her lawyers are seeking an injunction that would stop the government from promoting government bonds until the risk posed to them by climate change is made clear, as well as a declaration from the Commonwealth that they breached their duty of care in not disclosing those risks.
It is the first time a sovereign nation has ever been sued for an alleged failure to make a climate-related risk disclosure.
The seeds of this idea were born when Katta approached guest lecturer David Barnden, who was invited by the La Trobe Law School's Dr Julia Dehm to speak to her Climate Law class.
"I went up and talked to David about what he was doing, went home and did some research on cases that he's got going and then I got in contact with him about other risks facing young people because of climate change," Katta recalled. David, who specialises in climate and finance law, agreed to take on the case pro bono.
Katta's alarm about the cost of climate change went up a gear after this year's summer bushfire crisis ravaged her neighbourhood, including the homes of some of her friends.
"The physical impact of the fires is worth about $100 billion to the economy – and that's just one event," Katta explains.
"The Great Barrier Reef dying is going to impact the economy, and all this impacts the value of government bonds.
"Australia is particularly vulnerable to impacts of climate change. We're going to be hit hard."
At just 23 years of age, Katta has been compared to another notable young climate activist, Greta Thunberg. Just like Thunberg, Katta is also attracting attention from people who don't share her concern about the changing climate.
"It is exciting but also daunting," she says. "I'm putting myself out there on an issue that is still surprisingly contentious."
It's unfortunate that the fight for climate justice is being left to young people, Katta says.

"I think the change needs to come from everyone and not be left to young people. But unfortunately it is us and vulnerable communities that will suffer the most."
But where does someone so young find the gumption to take on an entire government? Katta says studying Law at La Trobe has helped her prepare to bring the case to court.
"It's a really niche area of the law but being aware of the legal process and having that background helps," she says.
"The legal system is there to help people find equality and justice and that definitely factored into my decision to choose Law.
"Sometimes it can look like a scary place but it is a very powerful thing and it does have a real ability to make change."
She also had some idea what to expect because of work placements she'd completed during her time at La Trobe.
In 2017 she did a stint with an Alice Springs law firm, where she got experience inside the Northern Territory's Magistrates and Supreme Courts, working on everything from a drug case to a murder trial.
"I'd recommend everyone to get as much time on placement as they can – it's a great opportunity while you're studying to get real-world experience," she says.
As for the case, Katta is now waiting for a judge to be assigned – or for the government to respond. Until then, it's back to the books. She's got a Law degree to complete.