The Reusable Revolution is here to stay; diverting waste one reusable at a time!
Our impact
La Trobe Sustainability launched The Reusable Revolution pilot program in the Agora, at our Melbourne (Bundoora) campus on Monday 20 February 2023. This pilot was supported by the Circular Economy Reuse Pilots Fund, delivered by Sustainability Victoria under the Victorian Government's circular economy policy, Recycling Victoria: a new economy. The Reusable Revolution project embodies La Trobe University's commitment to circular economy principles.
Thank you all for participating in the pilot program and we look forward to your continued support as we continue our efforts to reduce waste. Together we have: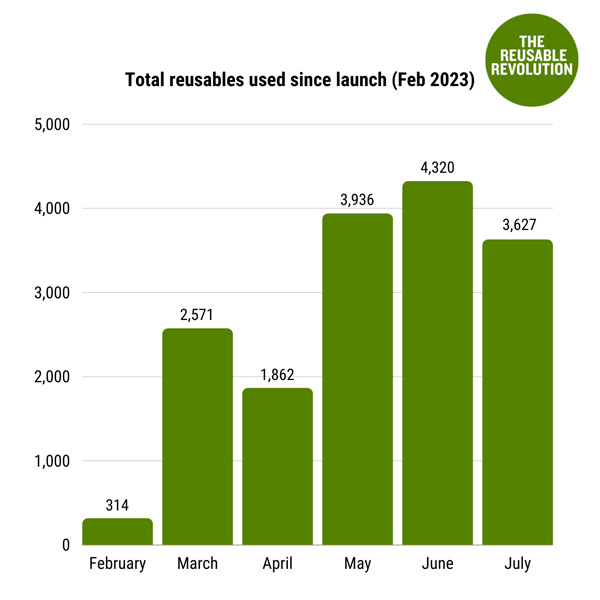 diverted over 22,881 single-use items (equivalent to 548 kgs of waste) from landfill
used the reusable cups to get our drinks over 7,090 times
used reusable crockery over 15,700 times
Enjoying making an impact? Help us promote it!
We are thrilled to see the positive impact the Reusable Revolution is having on our community and we encourage everyone to get involved. Next time you are having a coffee or meal with friends or colleagues, why not suggest using reusables? It's a better dining experience and saves single-use items from going into landfill.
Support us as we continue demonstrating the power of collective action in tackling the global issue of waste management.
I love this program! How do I get reusable crockery at my next event?
All current cafes who are involved in the Reusable Revolution will now also offer reusable crockery as a free addition, as part of their catering services for events under 50 people. Just ask for reusables next time you use their catering services. 
The Reusable Revolution is going strong, and we hope you continue to help us keep the momentum going, one reusable at a time.