By Sandra Tunley-Cooper (PhD), Multifaith Spiritual Advisor.
BioPsychoSocial as a word was introduced by George Engel at the American Psychological Association conference in 1977. He argued that a broadening of an understanding of the way people experience health challenges was required beyond addressing the biological. Since then this word has been used not only to focus on and influence the management of health, it has also been used to explore wellbeing.
An operational definition of this word directs us to the physical or biological, the psychological and the social aspects of what it is to be human.
The biological or Bio is a focus on the physical wellness of the individual which also includes the systems of the body: the Autonomic System, the Sympathetic and Parasympathetic Nervous Systems and the Central Nervous System.
The psychological or Psycho is a focus on the psychological aspect of the individual: emotional, cognitive, personality, decision making, and beliefs and values.
Social is a focus on the social environment of the individual and includes the way the individual interacts with the self, others, and the social environment.
For the last four and a half decades this word has anchored a treatment model for those who seek treatment for health and in particular for pain management.
Thus, a Biopsychosocial approach to health and wellbeing, whilst on the surface, provides evidence-based approaches to care and treatment, I propose is deficient in addressing the spiritual aspects of humanity.
Adding 'Spiritual' to BioPsychoSocial
Although Sulmasy (2002) introduced 'spiritual' as a hyphenated add-on (biopsychosocial-spiritual) to address the care of those in end of life palliative care, it has never been incorporated as a single word as Engel did in 1977. Therefore, I would propose to add 'spiritual' which would introduce a new concept which can be added to form a new word (Biopsychosocialspiritual) and thus, potentially enhance the service of providing care when pursuing wellbeing and positive mental health.
The addition of 'spiritual' to the word, although difficult to define but equally important if a focus on the whole human being is to be undertaken.
An attempt to define 'spirituality' has been done by many over the decades but in my view not very successfully. A brief search of the web identifies spirituality as something to do with the higher self with a sense of the divine being part of this. At a more secular level it provides a meaning people place on a 'purpose for living' or an essence of an 'inner pathway'.
Spiritual Health Victoria (2018) uses Pulchalski's (2014) definition of spirituality who identified it as:
…the aspect of humanity that refers to the way individuals seek and express meaning and purpose and the way they experience their connectedness to the moment, to self, to others, to nature, and to the significant or sacred

Mathisen, who presented to the La Trobe community in the 2020 Faith and Spiritual Diversity Day also utilised Pulchalski et al's (2009) definition by emphasising what gives meaning to life is connecting … 'to self, to others, to nature, and to the sacred' to enhance wellbeing.
Whilst Mathisen did not emphasise the first part of Pulchalski's (2014) definition, it is important to recognise the proposition that each human being is intrinsically neurologically configured to seek 'meaning and purpose' and at a naïve level, to achieve a certain 'way of knowing' which practically provides for each a way to lift them out of the mundane and to experience a higher sense of being (some call this the better or higher self).
Thus, my brief deliberations as a layperson would offer the following.
Spirituality:
– Is a way of knowing and/or being
– A sense of a higher force which could be called the Divine
– A way of being lifted out of the mundane
– A sense of enlightenment
– An all-pervading consciousness
– Indefinable by empirical evidence
Perhaps the figure below provides a way to more fully explore this important part of what it means to be human.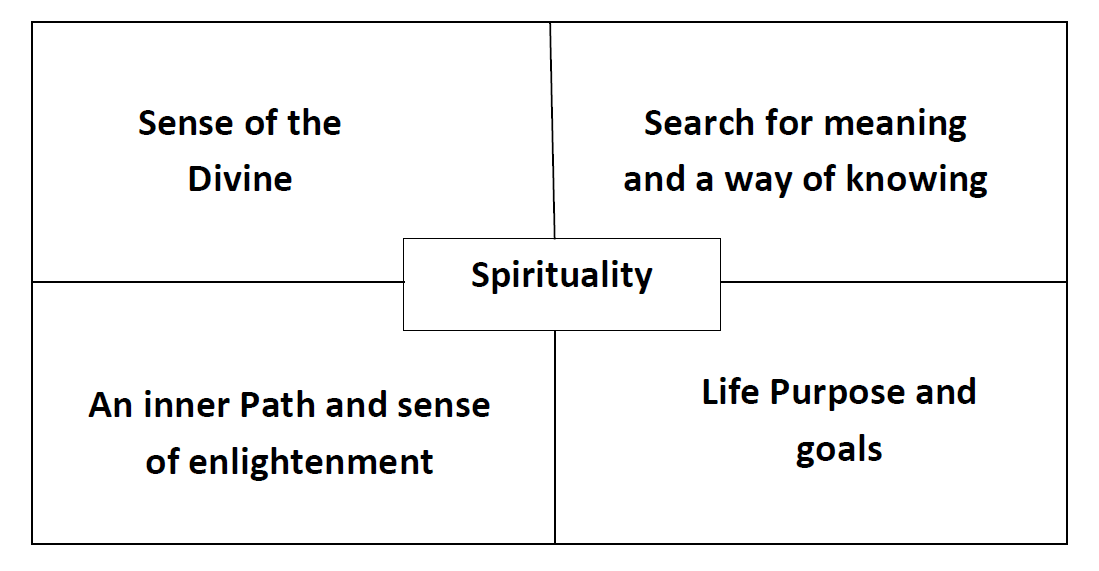 This brings me to an important component of my deliberations. As supporters of this important process, spiritual care is, according to Spiritual Health Victoria (2016)

…a supportive, compassionate presence for people at significant times of transition, illness, grief or loss. Spiritual care is a collaborative and respectful partnership between the person and their … care provider and is an integral component of holistic care (p.7)
Arguably, the holistic care spoken of brings us back to Engel's argument in 1977 that the whole person should be considered when we speak of health and wellbeing. I, therefore, pose a new word for the University:
Biopsychosocialspiritual, not necessarily empirically definable, is nevertheless very important when addressing the humanity of student wellbeing.