Landing a front page article in the Latrobe Valley Express and having a report she'd written highlighted in the Victorian parliament wasn't what fourth year student Alette (Allie) De Koker expected to come from her internship experience.
Allie has always wanted to pursue a career in public policy. She's studying a Bachelor of Laws/Bachelor of International Relations double degree at La Trobe's Bundoora Campus, laying the groundwork for her future career. As part of her studies, Allie undertook a Work-Intergrated-Learning opportunity and joined the Victorian Parliamentary Intership Program.
Exploring policy and the people it impacts
The internship pairs students with Members of Parliament who assign them research topics based on the Member's current policy interests. Allie joins a list of more than 1,200 past interns who have taken part in the program over the past 20 years, including notable names such as current Victorian Premier Daniel Andrews and former Human Rights Commissioner Tim Wilson.
For Allie, the internship was an opportunity she couldn't pass up. Her interest in policy first began as a fifteen year old, when Allie undertook work experience with Lisa Neville, the current Minister for Police. An exciting third year subject in Australian public policy cemented Allie's interest in policy writing.
Allie was selected for the program in 2020 and was placed with Russell Northe MP, Member for Morwell.
"As someone who wants to pursue a career in policy, the internship was an invaluable opportunity to get first-hand public policy experience, something that not many students are able to do before they graduate," she says.
Tasked with identifying the barriers to development and potential solutions in the Latrobe City local government area, Allie initially felt out of her depth.
"Although I was initially apprehensive about my topic, given my lack of knowledge of the local area and subject matter, I quickly became interested and very invested," she says.
A highlight for Allie was being able to interview people who were involved directly with the projects she was writing about.
"Having spent months reading and researching, they were able to really bring the issues to life for me.
"Being able to draft a report that dealt with a real issue which touches the lives of the Latrobe community was really rewarding. It is easy to assume that the big political issues are the most (and only) important ones. However, it became abundantly clear to me during my internship that the local, grassroots issues, although often overlooked, are equally as important."
Allie's report makes headlines
In one semester, Allie produced a report entitled Why the Wait? Infrastructure Costs – A Barrier to Regional Development, which she presented to Mr Northe. The report wasn't left to gather dust in an office drawer at the end of her internship either.
Mr Northe raised some of the recommendations made in Allie's report in Parliament.
"It was one of the absolute highlights of my experience," she says.
Her report also made front page news, landing on the cover of The Latrobe Valley Express in November.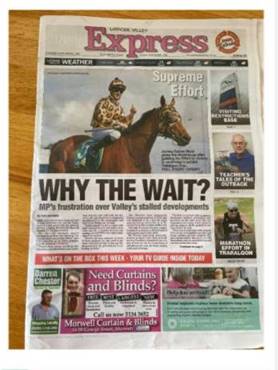 "Although policy change does not happen swiftly, I hope that my report is one policy tool which assists the Latrobe City in having its needs better recognised and addressed," she says.
To top it all off, Allie's report was added to the Parliamentary Library.
An experience like no other
Overall, the internship was a challenging yet incredibly rewarding experience for Allie.
"It was certainly daunting at the beginning and the COVID-19 restrictions meant that, in some ways, this year was perhaps more challenging than most. However, it was also a really unique experience to be a Parliamentary intern throughout the height of Victoria's struggle with COVID-19.
Allie was able to witness some of the inner workings of the Victorian Parliament in a historic moment in time and built valuable relationships along the way.
"We got to see public policy in action and watch as Parliament had to quickly adapt in order to keep functioning in the unprecedented circumstances. Russell Northe – my host Member of Parliament – was actually the first MP to address Parliament via video conferencing.
"I challenged myself both academically and personally and the research and policy-writing skills I gained will be beneficial in any career I choose to go into."
Although the internship was conducted remotely, Allie made great friends with other students in the program.
"I didn't feel that any of that comradery was lost," she says. "Getting to know my fellow interns and building connections with students from other universities who have similar interests and career aspirations was one of my favourite aspects of the internship. If anything, having the chance to meet new friends in a year like this made the experience all the more special."
This wasn't the first opportunity Allie has made the most of while studying at La Trobe. She's completed summer internships and has even been on a semester exchange to Europe.
"My Parliamentary internship, however, may just be my favourite experience," she says.
"I am so grateful to the academic supervisors, the Parliamentary library staff and the Members of Parliament for the enriching and supportive learning environment they fostered, and I could not recommend the internship more highly."