Master of Biotechnology and Bioinformatics student Jaison D Sa was working in the lab in March 2020, battling an unexpected foe: the clock. He was conducting experiments that could pave the way for the next generation of cancer drugs as part of an exciting research placement with Professor Marc Kvansakul's lab at La Trobe. Outside the lab, the COVID-19 pandemic was sweeping the globe. The state-wide shutdown of many institutes in Victoria was just around the corner.
The ticking clock
Racing against time, Jaison and his lab-based adviser Dr. Suresh Banjara managed to perform all the key experiments required in the days before the shutdown deadline. They were investigating similarities between altruistic cell death in Trichoplax adhaerens – a tiny marine invertebrate that resembles an irregular hairy plate – and a similar but defective process in human cancer cells.
"The overall aim is to find a cure for cancer," says Jaison. "My project focused on investigating if a particular organism could serve as a prototype which can be then used in humans to develop a cure."
Jaison's efforts paid off and he was named as a co-first author of the international research study into cell death, published in Science Advances.
The heroic effort by Jaison and Suresh finished off a mammoth nine months of experiments that built on a three-year project run by a team from France.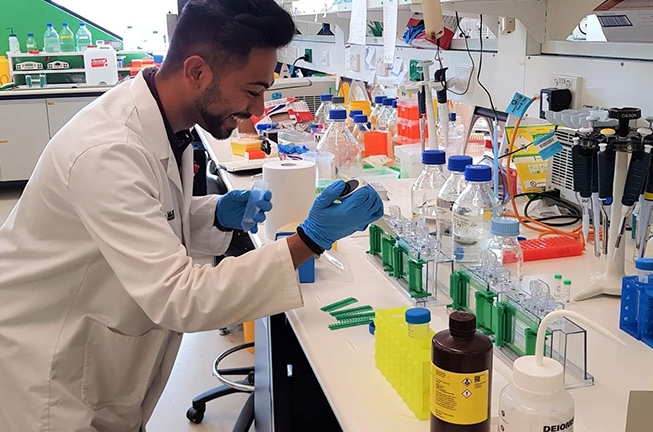 Getting an edge at La Trobe
Jaison has always been drawn to the computational parts of science. He likes having the ability to visualise things essential to our wellbeing that may not be otherwise visible in daily life.
Studying biotechnology and bioinformatics was a natural choice for Jaison, who chose La Trobe because of its reputation and the unique degree combination the University offers.
"Biotechnology and bioinformatics is the perfect blend of subjects and La Trobe's course structure ensured we were exposed to most areas in the field and we could pick what we want to focus on in our research year and possibly the rest of our careers," he says.
"La Trobe is constantly working on being the leaders in research which is what the science field is all about. Specific, hands-on experience to understand different scientific concepts and techniques is rare to find accompanied with state-of-the-art facilities. It leads to an unparalleled experience leaving you with an edge over the rest."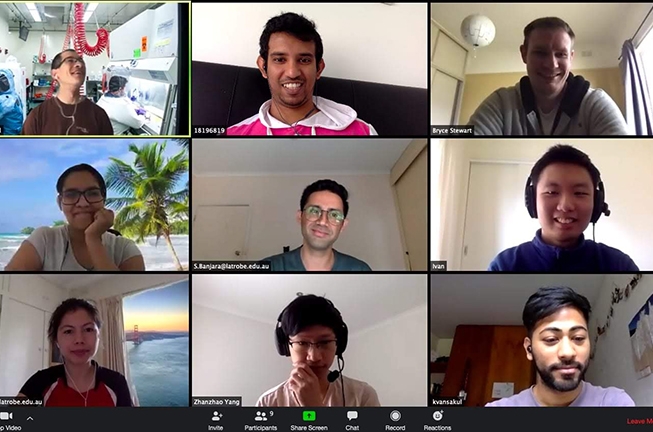 Jaison arrived at La Trobe's Melbourne (Bundoora) Campus after completing his undergraduate studies at St. Xavier's College in Mumbai, India. He'd recently graduated with a Bachelor of Science majoring in Zoology and Biochemistry. Jaison had moved to Mumbai from Dubai, United Arab Emirates, to complete his senior years of school.
He graduated from La Trobe in December 2020, adding another country to his list of international education experiences.
"Graduating feels like I've accomplished something that means a lot to me and is a step forward in my career," he says.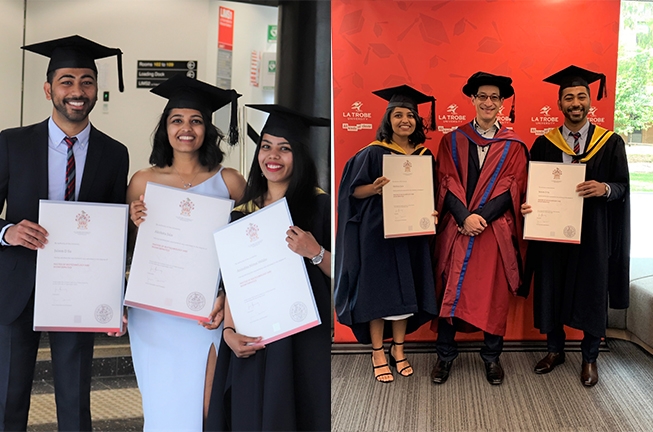 An inspiring placement experience
As part of his second year postgraduate studies, Jaison had to produce a scientific thesis and choose a research project to work on. He headed straight for Professor Marc Kvansakul's lab.
Jaison was quickly trained in a number of structural and functional biology techniques which he quickly applied to the research project.
"It started off easy and ramped up before I knew it," he says. "Once I started to get a better understanding of what I was doing I became more independent and began making some good progress.
"It was at this point that Marc and Suresh offered me the opportunity to work on a potential first author paper within a constricted timeframe of two months. I knew I had to give it my best shot. I could not let Marc and Suresh down and at the same time I knew they would be there to support me no matter what. And with that mindset I made it through what now is the highlight of my time in the lab. My biggest cheerleaders were the Kvansakul lab members who made sure I enjoyed the pressure leading up to the success."
Through this intense experience, Jaison was able to build on his soft skills such as time management, organisational skills, self-motivation, problem solving and the ability to work under pressure.
"It was quite an overwhelming experience," he says. "There were some high-pressure moments and head scratching days and nights leading up to the final results, which was definitely an experience you cannot buy. I learnt that to achieve something you need to put all your energy into it and be dedicated and determined irrespective of any shortcomings."
Jaison says the Kvansakul lab environment was one of the most inspiring and motivating places he has ever been in.
"Some of my favourite moments were going to the Australian Synchrotron overnight with the team and sharing pizzas, getting the opportunity to attend the Lorne protein conference and present some of my work, Marc's annual Christmas dinner, sharing cakes for everyone's birthdays, as well as publishing two scientific papers including a first-author paper."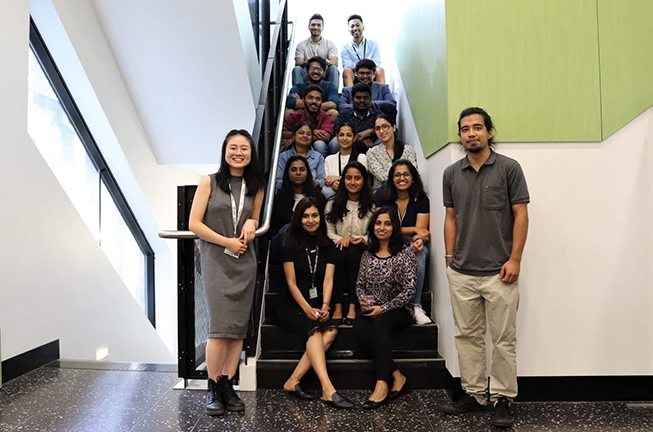 What's next?
In the next few years Jaison would like to see himself as a Doctoral Candidate, producing high end research data. Ultimately, one day he hopes to help people lead healthy lives by leading a research and development team in a pharmaceutical company.
He's currently working as a research assistant at the Walter and Eliza Hall Institute of Medical Research and is starting his PhD studies in early 2021.
"My course work was great, but the research year really prepared me to move ahead in the real world," Jaison says of his time at La Trobe. "All the teachers were always extremely welcoming, and their mode of teaching was engaging which enabled better understanding of various concepts."
"I valued the ability to learn from and work with the best researchers around the world. Overall, my experience in the lab has led to me being a lot more inquisitive and thinking outside the box."
As for Jaison's advice for other students looking to succeed?
"Some of the things that I found very valuable are having the passion to achieve your goals and dreams, staying focused on the bigger picture and not letting the tiny setbacks take over and always celebrate every little victorious moment."