Are you a role model who carries a passion for STEM that you want to share with others? Do you want to give your resume a boost?
Volunteering with In2science is now open!
This program is open to all current STEM students (undergrad, postgrad, and PhD) and is supported by In2science and La Trobe University staff.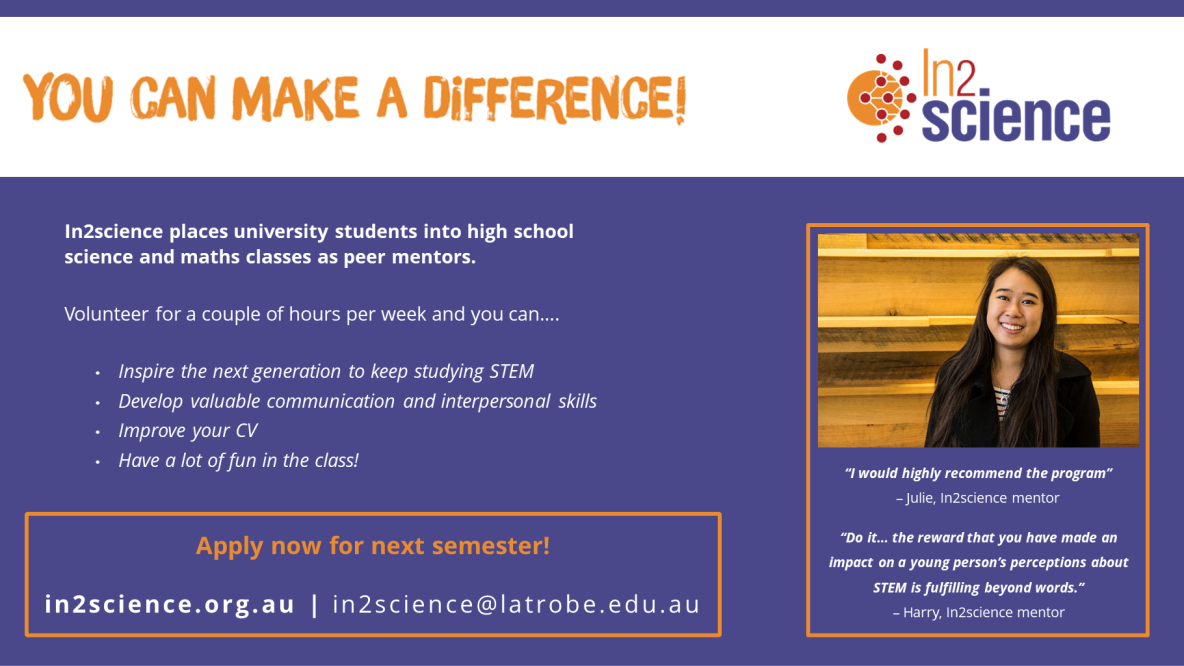 What is In2science?
In2science is a multi-university school partnership program that places university students as peer mentors for lower socio-economic secondary schools in Victoria.
There are 2 flexible modes in In2Science, which include the following:
In-class (volunteering in science or math classes at a local school)
eMentoring (using MSTeams to work with rural and regional students)
What can you gain from volunteering with In2science?
As a peer mentor, you can:
Develop confidence communicating about science-related topics
Participate in professional development workshops
Open up further professional opportunities through networking
Gain credit towards the Career Ready Advantage Award
As an In2science mentor, you will provide secondary students:
An opportunity to discuss their schoolwork with a university student
Encouragement in pursuing their interests in STEM
Insights into what their future might look like in STEM
Study tips and tricks
An understanding of what university life is like
You will also be able to:
Increase student engagement in science and mathematics
Enhance student understanding of content and dispel common misconceptions
Break down stereotypes and provide a human face for science and math
Enhance students' own aspirations for STEM studies and careers