"Look! That team has a girl on it!" remarked the primary school boys from rival teams as a young Sofia Sakalis laced up her soccer boots, ready to take the field in the boys' competition. Unfazed, Sofia sprinted out onto the pitch to show them exactly what a girl could do.
By the time Sofia began secondary school, she was representing Australia in the Junior Matildas, the national under-17 women's soccer team. Now, at 18, Sofia continues to compete at the elite level and has also taken up a new challenge. She's preparing for life after sport by studying a Bachelor of Physiotherapy (Honours) at La Trobe's Bundoora Campus.
From the backyard to the pitch
Recently, eighteen-year-old Sofia came across an old family video. It showed her older brother, age four, kicking the soccer ball around the backyard with their father. Also featured in the video was one-and-a-half-year-old Sofia, getting a few kicks in during one of her first-ever training sessions.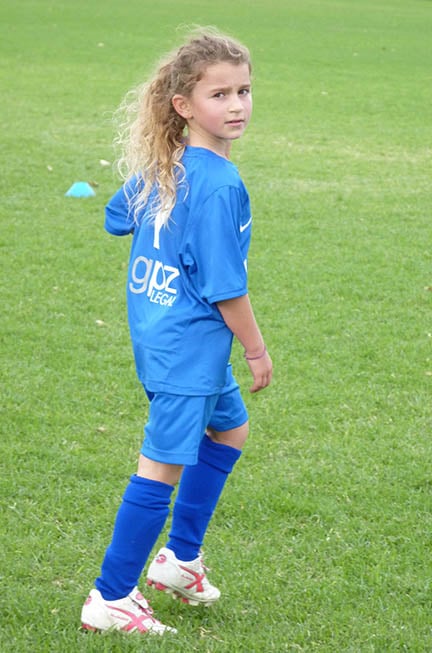 "I would always be in the backyard kicking the ball with them, and that's where my love for the game began," she says.
It was also lucky for Sofia, that her father was also a soccer coach. He taught her the basics in the backyard, along with her brother. After starting primary school, Sofia was ready to join a team.
"When I started playing soccer there weren't many girls' teams, so I was advised to join a boys' team," she says.
So, from the age of six, until she was 13 years old, Sofia played in the boys' competition.
"I remember I would even be chosen by coaches to play with older boys to help their team out," she says, a move which at times resulted in unfair remarks from opposition players and their parents.
"I always enjoyed the challenge of being part of a boys' team and also liked proving them wrong that a girl can in fact keep up and score goals when playing against boys," she says. "I believe that being a part of a boys' team was a pivotal moment in my development."
Scoring the winning goal for Australia
As she moved into secondary school, Sofia and her family felt it was the right time to transition into a girls' team.
"A coach came and scouted me at one of my boys' games and invited me to join the Victorian state team," she says.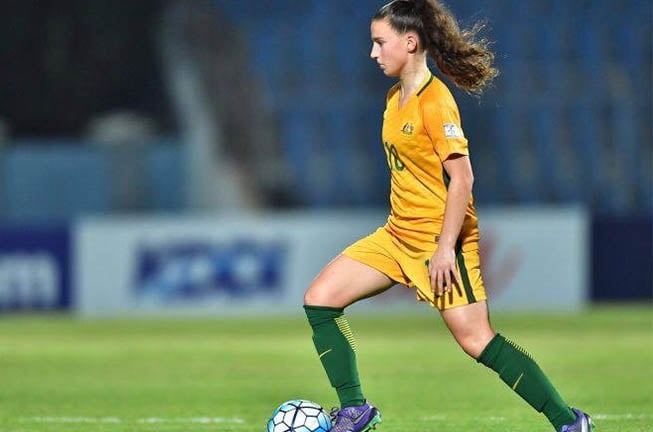 The opportunity saw Sofia, at just 13 years of age, playing with senior women between the ages of 18 and 30. Sofia attended the national championships with the Victorian state team, and it was there that she was noticed by talent scouts from the national team. She was selected to join the Junior Matildas, with the under-17's team representing Australia at international competitions.
Sofia flew out to Vietnam with the Junior Matildas to compete in the Asian Cup qualifiers, where she would go onto become the top goal scorer. Her performance landed her a place at the Asian Cup/World Cup qualifiers with the Junior Matildas, held in Thailand.
It was on the international stage at the qualifiers in Thailand that Sofia enjoyed the best moment of her soccer career so far. Her team were playing in their last group stage match, and they were losing. In the sixtieth minute, the scores were sitting at 2-1. Their team scored, equalising the match with ten minutes left on the clock. In the dying minutes of the match, Sofia positioned herself to receive the ball in the corner and scored the match-winning goal.
"My emotions in that moment were indescribable," she says. "It ignited my passion, and I remember sprinting over to my teammates to celebrate with them. Nothing ever beats the feeling of representing your country, it is always an absolute honour and scoring the winning goal was a dream come true and a perfect way to end that tournament. It'll be an experience and memory that I'll never forget."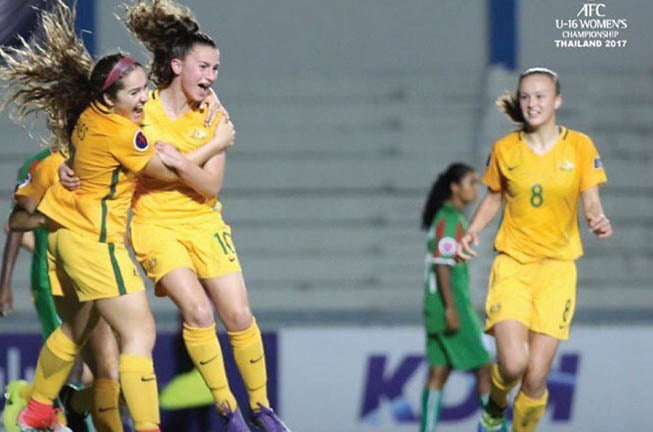 While it's hard to top scoring the winning goal for Australia on the international stage, Sofia says another career highlight comes close. At fifteen, she accepted a professional contract with Melbourne City Football Club.
She has also been a member of the Young Matildas, Australia's national under-20's women's soccer team, with whom she traveled to Lebanon to compete in the Asian Cup qualifiers.
The soccer coach and the 'taxi driver'
There are two people who Sofia describes as her biggest supporters. One is her father, who from a very young age, spent countless hours at the local park teaching Sofia the soccer basics and helping her to refine her skills.
"Ultimately, he has made me the player I am today," she says. "To this day, we still go to my local park to do a training session together."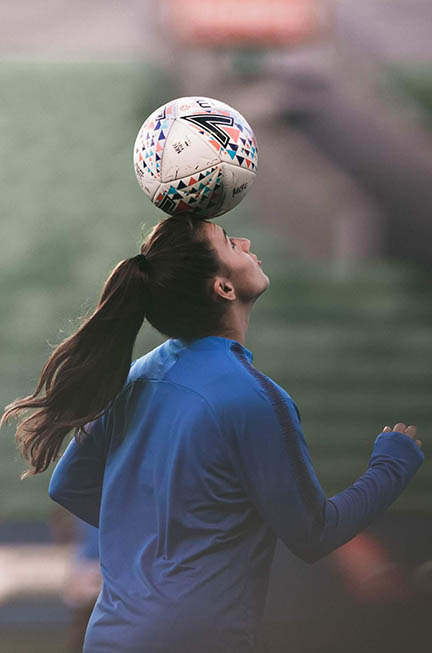 The other supporter cheering on the side-line was her mother.
"Within a week, I would have anywhere between four to six training sessions with my team," Sofia says. "And my mother would be my 'taxi driver'. She would wait countless hours every night for me to finish and drive me back home, regardless of the conditions. Whether it was nightmare peak traffic or rainy days, she never failed to get me to every one of my training sessions, without a complaint.
"Now that I have my license, I am able to drive myself to all my trainings sessions, which finally has given her a break! Now that I'm older, I have also come to appreciate even more all the sacrifices that her and my whole family have made to assist me throughout my soccer journey. I would not have been able to achieve what I have without their support."
Preparing for life after sport
Sofia's family were her biggest supporters when it came to her University ambitions as well, at-the-ready to celebrate her successes and motivate her to do her best.
"From a young age my parents instilled in me the importance of education and having a good balance between my soccer commitments and studies, which made me want to always do my best and excel in my studies," she says.
Sofia remembers the moment she found out she'd received an offer from La Trobe to study physiotherapy in 2021.
"I was very anxious the night before as I was aware of how competitive it is to get into a physiotherapy course, especially at La Trobe, so I was trying not to get my hopes up. However, when the email arrived, I was ecstatic and straight away ran to inform my parents."
It was a rewarding moment for the now-first year University student, who had experienced a challenging final year of high school.
"In 2020 when the pandemic hit, I was navigating the pressures of year 12, and I suffered a serious knee injury to my ACL. It was very challenging for me."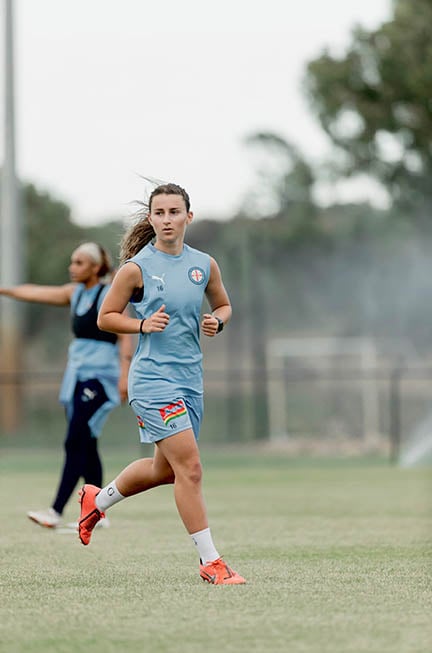 Yet, there was a slight silver lining for Sofia, in that she wasn't missing out on too much soccer due to her injuries as games were called off due to the pandemic. This allowed her time to recover, and the time she would have previously dedicated to training sessions was instead spent focusing on her VCE studies.
Sofia also had two surgeries to remedy her ACL injury during 2020. Physiotherapists from her club, Melbourne City, worked with Sofia on her knee rehabilitation and it was during this time that she became interested in pursuing a degree in physiotherapy.
"For the whole 12 months of my rehab, I came to appreciate their job and how they have an ability to improve an individual's health. I thought that physiotherapy could be an occupation that enables me to intertwine my passion towards physical health and helping others."
Because of Melbourne City's partnership with La Trobe, Sofia got to experience the University's new world-class Sports Park facilities, which are also the new home of the Matildas.
"While using La Trobe's facilities, I was very impressed with the campus and the University," she says. "Therefore, when I decided I wanted to study physiotherapy, La Trobe was the first University that came to mind due to my exposure to the campus already."
As a professional athlete, Sofia has already gained a lot of experience that relates to her degree. Though, that doesn't mean she'll necessarily become a physio that primarily treats sports-related injuries.
"At the moment neurological physiotherapy has piqued my interest," she says. "I believe that a major advantage of becoming a physiotherapist is the variety of settings in which you can work. I am really looking forward to developing my skills and then eventually choosing an area that interests me the most."
Being a 'first year' during a pandemic
Though most of her classes have been online so far, Sofia feels like she has been able to get involved in University life during her first semester of study.
"I have really enjoyed studying at La Trobe so far. The staff, clubs and various programs available have already made me feel a part of the La Trobe University community.
Sofia was even able to undertake an observational physiotherapy placement as part of her course during the semester.
"I was given the opportunity to visit a variety of settings where physios work which was a great experience. I was not expecting to have this exposure so early into the degree and I found it was an invaluable experience that has made me more passionate and excited to continue my degree."
Sofia has been supported in her studies by the La Trobe Elite Athlete Program (LEAP).
"LEAP has been amazing in supporting me with juggling my soccer commitments and studies. At the beginning of the first semester, I had a training session every day of the week and they helped me find alternatives and assisted me in changing my university timetable to ensure I can make my training sessions and my classes."
LEAP has also introduced a strength and conditioning program that gives athletes the opportunity to work with expert coaches in state-of-the-art facilities.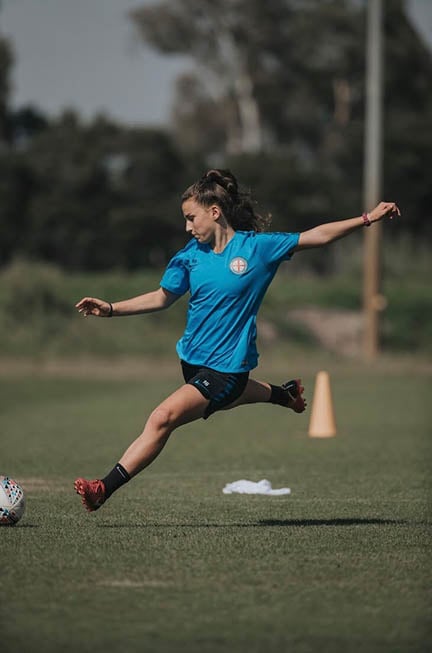 "This enables us athletes to have access to facilities and coaches to ensure we are able to keep up our high standard of training whilst being on campus studying," says Sofia.
She is looking forward to experiencing campus in the coming years and exploring all that University life has to offer and knows her degree will stand her in good stead no matter what her future brings.
Sofia's ultimate long-term goal for soccer is to play in a World Cup, and also to play in Europe.
"Whilst pursuing my soccer dreams, I want to complete my physiotherapy degree and enter that career pathway when I think my soccer journey has reached its end. Right now, I am happy with juggling both my studies and soccer and taking each year as it comes, as with sport you never know when a breakthrough moment or a life-changing opportunity may arise.
"I always wanted to ensure that I was prepared for the time when soccer would come to an end, as we all know, being a professional athlete is never a job you can have for a long period of time. Therefore, having a physiotherapy degree ensures that I am equipped for my life after soccer."