La Trobe Sustainability is proud to announce that The Reusable Revolution is gaining momentum, with the recent addition of Grafali's Coffee Roaster and Fusion to the program.
83% of all food and drink retailers on the Melbourne (Bundoora) Campus now offer reusable crockery. Thank you to Caffeine Café, Fuel Juice Bar, Bachelor of Coffee, House of Cards, Café Spice, Mamak Rice & Noodle, Grafali Coffee Roaster and Fusion.
We have also introduced reusable cutlery (forks and spoons) to further uplift your reusable dining experience! 
Our impact:
Since the launch of the reusable crockery program two months ago, we have made significant progress in reducing the number of single-use items being used and discarded in landfill. To date, we have:
Saved over 7,800 pieces of single-use items from going to landfill by using reusable crockery
Washed over 320 loads and over 4,400 pieces of crockery at the Dishwash Hub
Together we have saved over 8.8 kgs of plastics, 60 kgs of timber and reduced 99.29 kg of carbon dioxide from going into the atmosphere by simply using our reusable cups!
What else can I do to participate in the Reusable Revolution?
As we continue to forge ahead in our mission to reduce waste on campus, we want you to join us in the Reusable Revolution.
Choose to reuse and carry reusable containers, coffee cups and cutlery
Choose a reusable water bottle and refill at many of our water refill stations
Enjoying making an impact? Help us promote it!
We are thrilled to see the positive impact that the Reusable Revolution is having on our community, and we encourage everyone to get involved. If you are enjoying the program, please help us spread the word and promote it to others.
If you are a student or staff at La Trobe, next time you are having a coffee or meal suggest to your friends or colleagues to choose reusables. It's a better dining experience and saves single-use items from going into landfill. Support us as we continue demonstrating the power of collective action in tackling the global issue of waste management.
Love this program! How do I get reusable crockery at my next event?
We are currently working to develop a system where you can request reusables at your next event for a small fee! Stay tuned.
The Reusable Revolution is going strong, and we are excited to see what we can achieve together. Let's continue to make a positive impact on our environment, one reusable item at a time.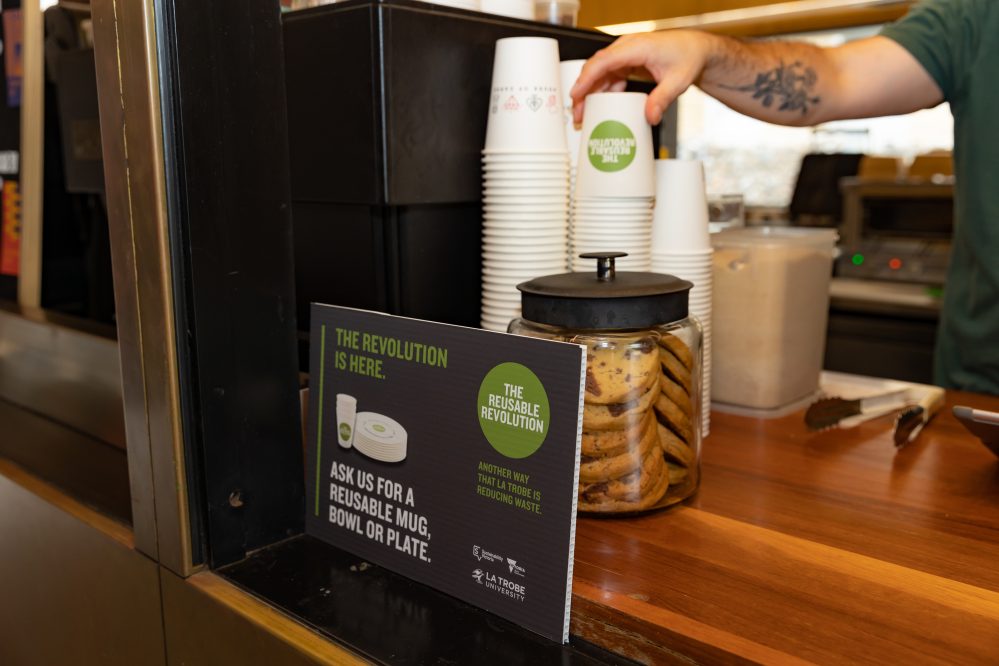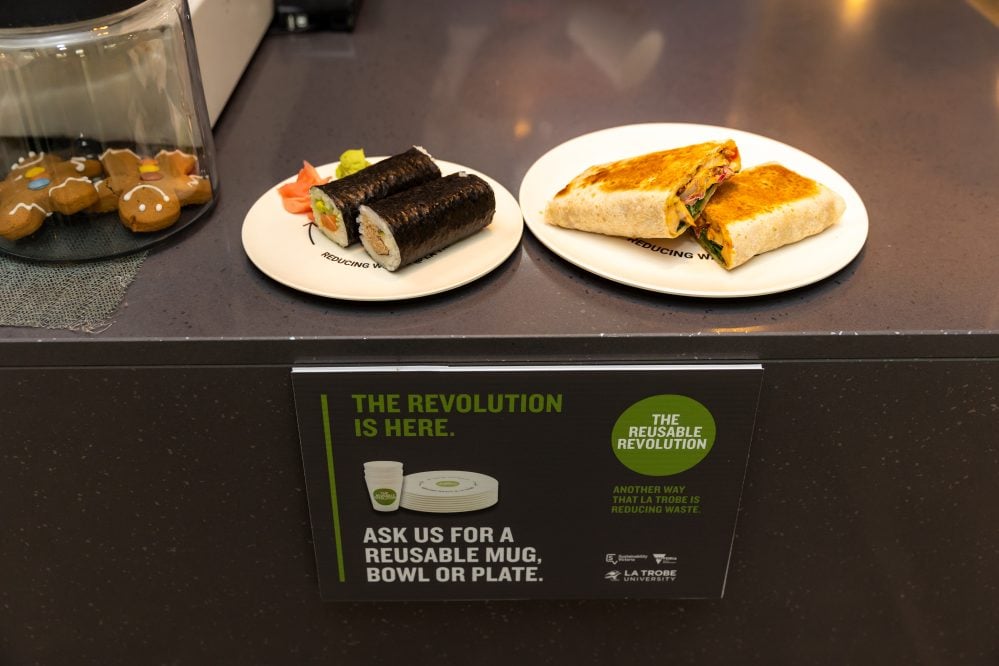 See these amazing Reusable Revolution cups, plates, bowls and cutlery around?
If you see The Reusable Revolution crockery lying around, please bring them back to the collection trolleys located around the Agora. It is important to keep these in the Agora so they can be washed and returned to our retailers as we continue our transition to a more circular economy.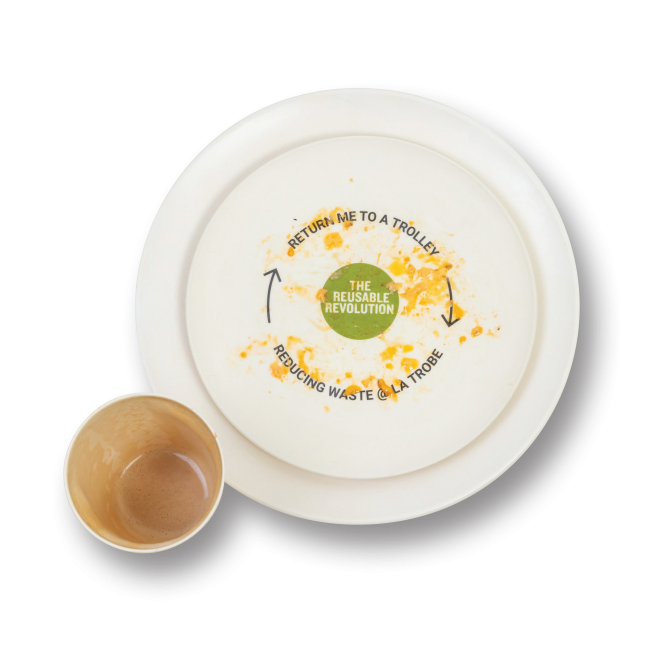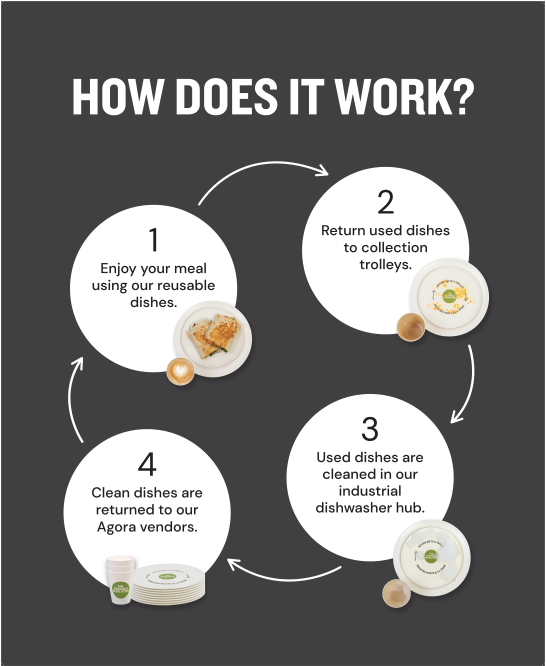 Why aren't all retailers using this service?
The option to participate in The Reusable Revolution was offered to all retailers at the Melbourne (Bundoora) Campus. The Sustainability team are continuing to engage with all retailers and encourage participation.
How does The Reusable Revolution work?
Choose to reuse: ask for reusable crockery when you order your meal from one of our participating retailers (Caffeine Café, Fuel Juice Bar, Bachelor of Coffee, House of Cards, Café Spice, Mamak Rice & Noodle and Grafali Coffee Roaster).
Place your dishes on trolleys: once you've finished your meal, place your dishes onto dedicated collection trolleys available around the Agora. Trolleys are located at the four corners of the Agora, and also in the Agora Theatre building.
Dishes are cleaned: your dishes will be taken to the dish wash hub to be cleaned.
The revolution continues: the clean dishes are returned to our Agora retailers.
Takeaway packaging will still be available from all Agora retailers