Friends Maddy, Michelle and Manjot met during their first year of University at La Trobe. All had made the exciting leap after graduating from high school, moving away from home to pursue a future in physiotherapy.
They converged at La Trobe's Albury-Wodonga Campus, where they studied a Bachelor of Health Sciences together. After a year in Albury-Wodonga, following their course plan, they shifted to Bendigo Campus to complete their Master of Physiotherapy Practice. It was there that they met Tom, and the four became inseparable.
Manjot, Maddy, Tom and Michelle all made the most of campus life, attending events and getting to know their classmates and teachers. After each completing a Bachelor of Health Sciences and Master of Physiotherapy Practice, the four graduates began careers in the industry.
Though their careers have taken different paths, they remain as close as ever. MyLaTrobe caught up with the physio graduates to find out what they're up to six years after graduating.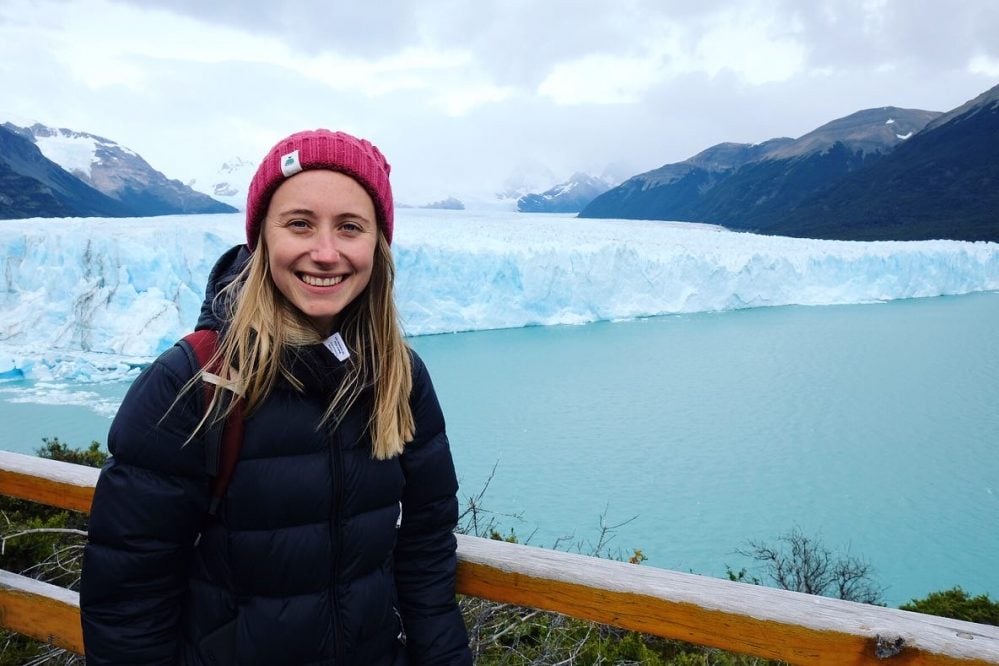 Maddy McCarthy
The most rewarding part of Madelaine (Maddy) McCarthy's job is seeing her patients who've suffered a stroke or neurological condition achieve their goals. She's particularly proud when watching the young people she works with make progress.
"The moment they get back to taking a few steps walking again is an amazing feeling and very rewarding to know that you're making such a difference to someone's life," she says.
For the past 12 months, Maddy has been working in home-based rehabilitation with Monash Health. Most mornings Maddy, would jump in the car and head out to visit patients, treating them at home. Most of her patients were neurological in nature, but could be of any diagnosis. If she wasn't out on the road seeing patients, Maddy was in the office meeting with colleagues.
"The best high's on a daily basis came from working with patients to achieve their goals and return to functioning, as well as working in a team of therapists and being so well supported," she says.
While the highs kept Maddy motivated, the lows could be challenging.
"At the opposite end of the spectrum, it wasn't always easy to have hard conversations with patients when they weren't achieving their rehab goals and their outlook wasn't looking great," she says. "It could also be challenging trying to meet discharge demands from the hospital and coordinating workloads."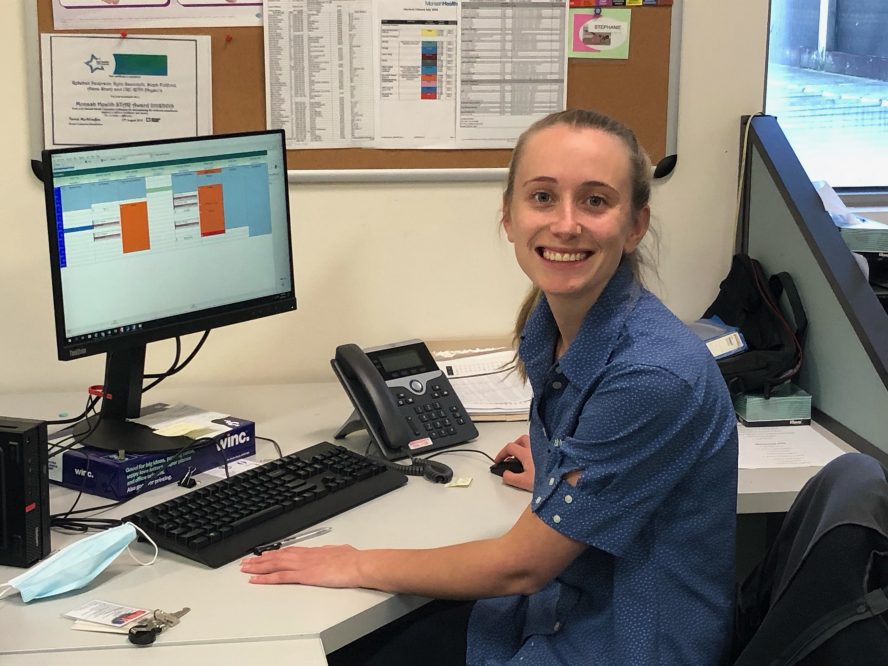 Maddy has long been interested in sports and health, and a few injuries on the sporting field in her youth landed Maddy in the physiotherapist's office.
"Initially I wanted to study physiotherapy as it aligned with my interests, and I thought it would be a great profession to get into with lots of variety," she says. "Five years later, I have rarely (almost never) treated sports injuries!"
She wouldn't have it any other way, though.
"When I was a student, I didn't expect there to be such variety of physiotherapy outside of private practice and I am very thankful there has been, as it turns out the sporting scene wasn't really an interest of mine after all."
"I really enjoyed having a small cohort in Bendigo and meeting some amazing people – plus plenty of great social events!"

Madelaine McCarthy
Placement opportunities throughout her degree opened Maddy's eyes to opportunities in the hospital sector, one she's spent most of her time working in ever since. She was surprised by the different directions her degree could take her, something she hadn't realised earlier.
"Most of our cohort would agree that they didn't expect there to be three very different areas of physio: neuro, cardio and musculoskeletal," she says. "I know neuro and cardio can be quite challenging and many students do not expect that the majority of placements will actually be in a hospital setting. Thankfully for me, I have found an area that I really enjoy (neuro) and that I initially didn't expect from the course."
Maddy's first job after graduation was in a private hospital. She then moved into the public health sector, preferring to pursue her interests by working across areas of neurological rehabilitation. She's also currently completing a Master of Clinical Rehabilitation (Neurological Physiotherapy) via distance to improve her clinical and research skills.
Recently, Maddy made the move to regional Victoria to work in inpatient rehabilitation at Barwon Health's McKellar Centre in Geelong.
"I'm loving spending more time on the coast, hiking, working, studying and catching some sport on weekends," she says.
Professionally, Maddy will continue to build her professional expertise, working with various rehab patients but particularly those within the neurological population. She hopes to progress her career in the public hospital sector and take on additional leadership roles in the future.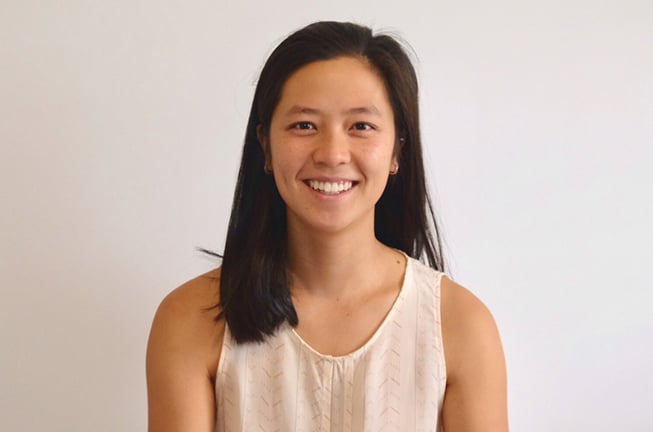 Michelle Lam
Like Maddy, Michelle Lam was a sporty kid who liked the idea of pursuing a career in rehabilitation and injury recovery.
"Initially, I thought that the only place you could find a physiotherapist was in a private practice and I was so determined to experience that as a graduate," she says.
Yet, Michelle's career has been much more varied than she could have imagined.
"Not only have I worked privately, but I have also worked in community clinics, aged-care homes and workplace organisations," she says.
Though her career hasn't necessarily involved working day-in-day-out with athletes, Michelle worked with one champion in particular who made an equal impact on her.
"One of the clients I'll never forget was a champion snooker player in her youth before she suffered a stroke," she says. "She ended up being hemiplegic, where one side of her body became weaker and her pool table hadn't been touched in years as a result. In therapy, I got her to bring in her pool cue (stick) and we ended up practicing various forms of reaching, balance and set shots on the treatment table. It was awesome. She never played anywhere near the same level again, but she never had to walk past the pool table with the sense that it could never be used again either. She ended up giving me one of her cues as a thank you and I eventually learnt how to play."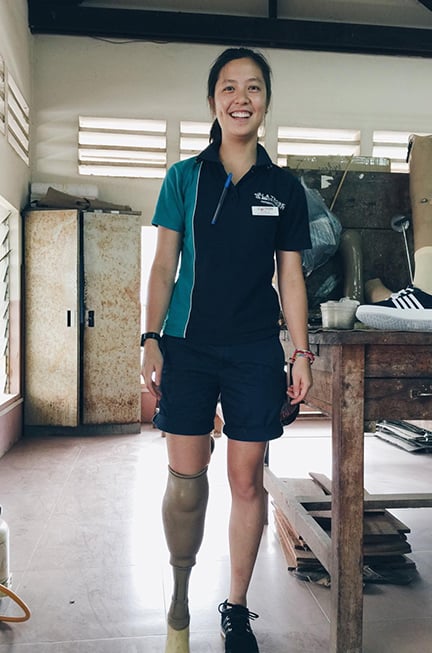 Michelle had the opportunity at La Trobe to make a difference while studying too. During fourth year, Michelle travelled with Maddy and a group of La Trobe students to Cambodia to undertake a five week placement at the Veterans International rehab clinic in Phnom Penh. There they worked in pediatrics with patients with cerebral palsy and Torticollis. Though it was challenging, with Michelle and Maddy unable to speak or understand Khmer, their supervisor stepped up to translate and provide guidance. It was an eye-opening and meaningful experience for the pair.
Stepping outside your comfort zone to learn about other's experiences is something Michelle would recommend to current physio students.
"Networking is really important. It's something I think I'm still learning but it's serving me well.
"I felt quite close with a lot of my classmates at La Trobe and the teachers were always approachable. I think a learning environment where you get to know those people over a few years really helps your confidence in learning."
Michelle now works as an occupational rehabilitation consultant with a company called IPAR.
Most of her work involves assisting people to coordinate their return back to work after sustaining a workplace injury.
"There's also elements of injury prevention at work and ergonomics which I really enjoy," she says. "I knew I wanted to start off with clinical work after graduation but over those first couple of years working I ended up treating a lot of patients with occupational injuries and that's what has led me down the path of occupational physiotherapy. I like the idea that you're not only helping the individual, but you're getting to know their employers and how injuries can impact a business."
Michelle's average day usually includes dialing into Case Conferences with general practitioners and physiotherapists to discuss her client's progress, treatment recommendations and any workplace modifications which might aid in an earlier return to work.
"I'll also head out on site to a client's workplace for an ergonomic assessment or to get a better understanding of their job. In between all that there's always plenty of emails and phone calls to keep me busy."
One of the most rewarding aspects of Michelle's career has been realising just how versatile her skillset is and how her degree has allowed her to work in such diverse settings.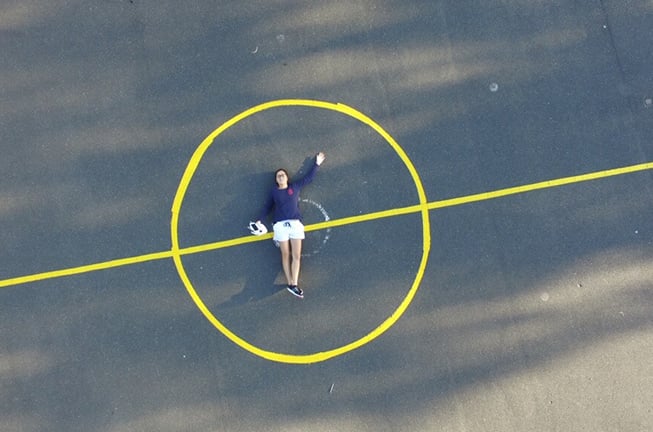 When she's not working, Michelle can be found learning to surf, rock climbing or flying her drone around taking photos. She's also completing her Graduate Certificate in Occupational Health, Safety and Ergonomics at La Trobe.
"I feel my certificate compliments my physiotherapy experience and where I see myself heading down the track. I'd love to be in a position where I can use my physiotherapy skills to help organisations to reduce the risk and impact of injuries at work."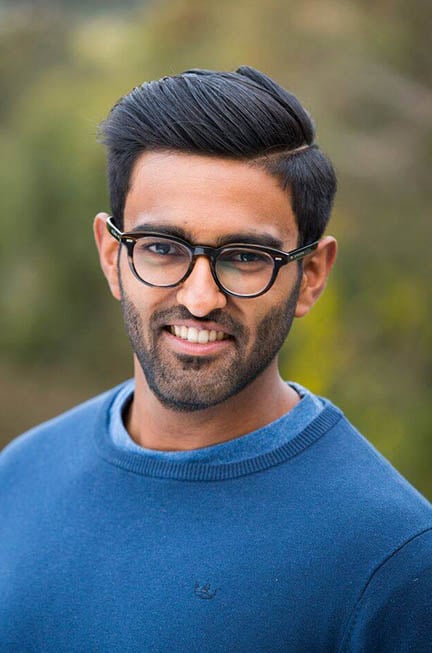 Manjot Jassal
By day, Manjot Jassal is a rehabilitation consultant, assisting injured clients to recover and return to work. By night, he's a successful Melbourne-based baker, cooking up brownies, slices and other creations for his side-hustle Manjot's Baking. On top of these differing pursuits, Manjot can be found in the gym, helping Australian Powerlifting athletes to achieve their goals as the team's physiotherapist.
Manjot's average work day is challenge, as he juggles all three passions. He usually starts the day training at the gym, getting in some powerlifting and general fitness. Then, it's back to his house to work from home during business hours, communicating with rehabilitation clients on the phone, via email or in-person to assist with their injury management.
"Working as a rehabilitation consultant, whilst also managing a busy baking business, is definitely time consuming," he says. "I will often bake products for the business during my lunch breaks and it's not unusual to be taking phone calls whilst whipping up a tray of brownies."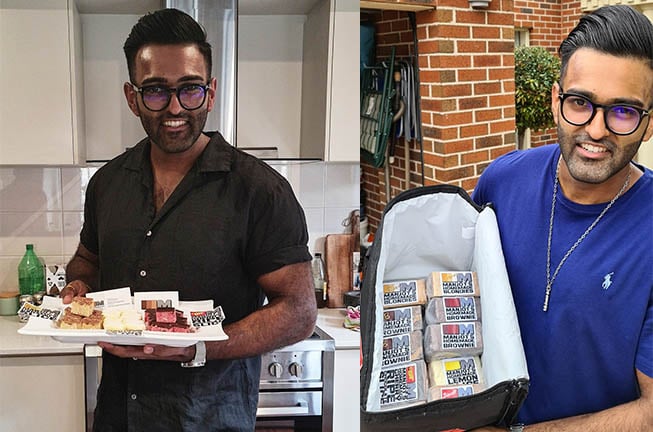 After hours, Manjot spends his evenings in the kitchen baking, slicing and labelling products, as well as managing deliveries and posting to his business' social media accounts. Prior to the pandemic, he'd also spend time planning his next trip overseas to work with Australian powerlifting athletes competing abroad.
Manjot currently works in the occupational rehabilitation space as a consultant for Generation Health. Prior to this he worked for five years within a private practice in Altona Meadows called Symmetry Physiotherapy. Concurrently for three years, he also worked within an occupational physiotherapy role. All three roles, Manjot says, have been very rewarding.
"Working as a rehabilitation consultant, I know that I am providing value to an injured worker by assisting with their injury management," he says. "Often, injured workers are new to the entire injury management world and have no idea what is involved with insurance companies or claims. My role as a rehabilitation consultant allows me to dissipate some of the fears or unknowns that may be experienced by the worker and allow for a more efficacious outcome when it comes to long term improvement."
Like Maddy and Michelle, Manjot's first interest in physiotherapy was piqued by injuries on the sporting field, while playing rugby for Melbourne High School.
He decided to pursue the idea and when he began his degree at La Trobe, like many of his classmates, Manjot was surprised by the various streams of physiotherapy practice.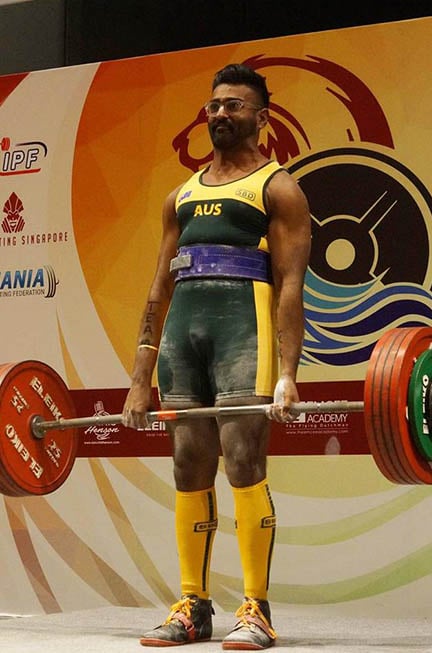 "I was not expecting physiotherapy to have such a broad scope of practice, not only from musculoskeletal injury management but also from involvement within hospital settings working with people with neurological or cardiovascular injuries."
After graduating from La Trobe in 2015, Manjot began his physiotherapy career within private practice in a reputable physiotherapy business. There, under the guidance of qualified and experienced physiotherapists, he built his clinical expertise.
"Entering the world of private practice physiotherapy had elements that couldn't be learned until you are working within the role," he says. "Coming to learn the intricacies of working within a private practice have taught me invaluable skills about communication, rapport building, effective treatment interventions and business growth and development."
Transferrable 'soft skills' have been key to Manjot's success throughout his career.
"I'd say to current physio students, if you are aiming to work within a private practice clinic, your clinical skills are important, however people and communication skills are arguably more important. "Go in with an open mind with where you want to work, the world is your oyster and there are PLENTY of opportunities out there."
"I look back fondly on the people I was friends with at La Trobe, both from within my course and other courses as well. Many of my close friends right now are from Uni days!"

Manjot Jassal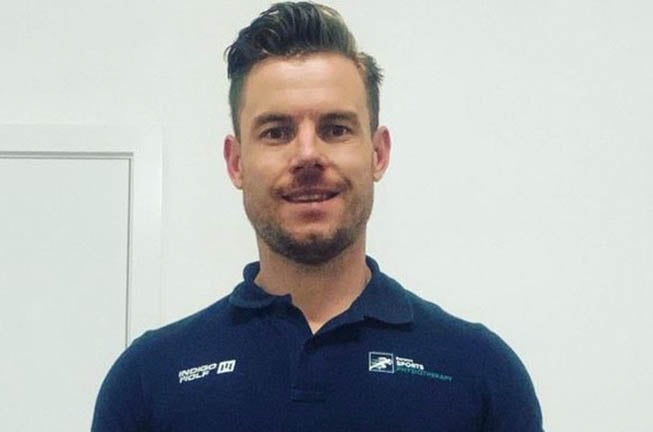 Tom Anderson
Thomas (Tom) Anderson didn't expect one of the most rewarding moments of his career would arise in a Swan Hill café car park. He was buying his usual morning coffee, when a familiar face wound down their car window and thanked Tom for saving their life.
Just weeks earlier, this same person had presented at the Mallee physiotherapy clinic where Tom worked with severe pain in their middle back.
"They were adamant that some massage would resolve their problem, but my assessment suggested there was something more serious going on," he says.
Despite their reservations, Tom managed to convince them to attend the hospital's emergency department. There, they were subsequently diagnosed with a pulmonary embolism, a potentially fatal condition in which blood clots form in the blood vessels within the lungs.
The patient received treatment and was back on their feet again weeks later waving Tom down to tell him what had happened.
"I'm grateful that my training allowed me to detect that something was amiss and I could formulate an appropriate response," he says.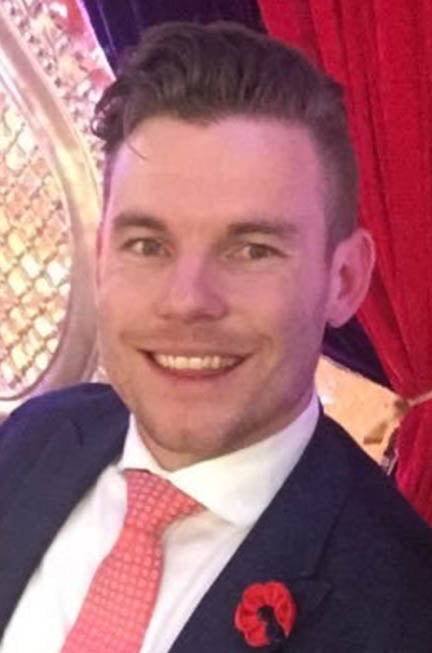 After graduating from La Trobe, Tom moved from Bendigo to Swan Hill and began working at Mallee Physio, which also services the small towns of Kerang and Boort. He grew up in the area, so being able to have a positive impact in his community meant a lot to him.
"I chose to work regionally as I've always lived in rural Australia," he says. "I love the lifestyle that rural practice offers, as well as the breadth of practice. Given the limited number of clinicians in rural areas, you have to be a 'Jack of all trades' which was an attractive prospect to me."
Tom is passionate about addressing the health inequities that exist in Australia.
"People living outside of metropolitan areas tend to have greater difficulty accessing appropriate healthcare services and, on average, experience ill-health at greater rates than those living in major cities," he says. "I hope to be a part of changing this long-term."
Tom chose to pursue the musculoskeletal area of physiotherapy after completing his degree. He enjoys the variety that comes from working within a private setting, with people from different backgrounds who are experiencing a wide array of conditions.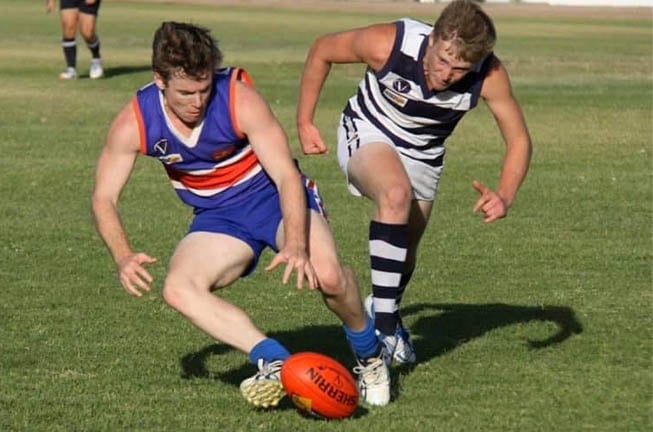 Like Maddy, Michelle and Manjot, Tom had a keen interest in sport which originally influenced him to study physiotherapy.
"Now that I'm working I've actually found I enjoy working more with people outside of athletic populations," he says. "But a career in physiotherapy is definitely everything I hoped for. Every day is extremely different and you never know what will walk through the door next!"
One of the best aspects of Tom's work is helping people to regain their quality of life.
"I've worked with many people with debilitating pain and injuries, many of which thought they'd never return to the things they enjoyed most in life. Helping people regain the capacity to do the things they love is truly the best part of my job."
He encourages La Trobe students pursuing a career in physiotherapy to spend time working on their 'soft skills' as well as the practical techniques required for the job.
"Your most powerful tool as a clinician is your ability to effectively communicate with your patients and colleagues," he says.
"I loved the Bendigo campus! Small classes meant I got to know my peers and teachers extremely well. I left my degree with some lifelong friends and excellent professional relationships."

Thomas Anderson
Tom added another qualification to his repertoire in 2018, completing an online Graduate Certificate of Musculoskeletal Physiotherapy at La Trobe.
Recognising the high demand for medical professionals in rural Australia, in 2019 Tom decided to change direction and take the leap into medicine.
"My passion for rural healthcare, which was fostered during my time at La Trobe, inspired me to act on the challenges faced by health services in rural and remote Australia," he says.
He hopes to combine his passion for physiotherapy and medicine by becoming a Sports and Exercise Medicine Physician.
"I decided to make the move into the medical profession as, during my time as a physio working in rural Australia, I saw the difficulties people faced when accessing medical care. It's not uncommon in rural areas to wait weeks to see a GP and it's often the case that you'll be seen by a locum clinician, which isn't ideal when it comes to continuity of care.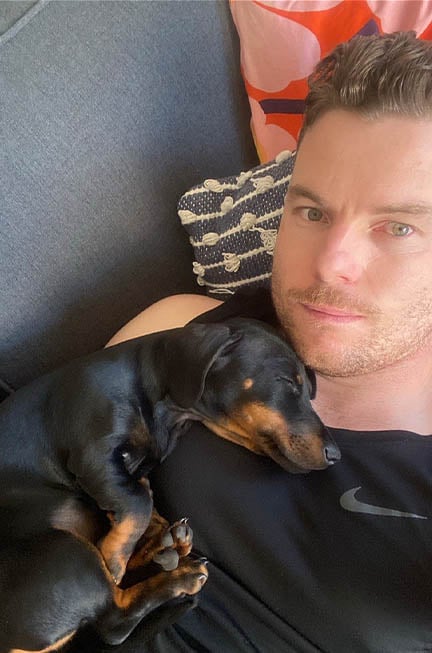 "When working as a physio it became clear to me that people were desperate for medical professionals who are willing to work and live in rural Australia long-term, clinicians that understand the unique challenges that living outside of a major city can present for one's health and clinicians who are willing to be advocates and improve the health status of their local community."
Studying in Geelong, Tom began working part-time as a physiotherapist at Barwon Sports Physio in Belmont, as well as Offshore Physio in Torquay. His caseload typically involves rehabilitating patients with acute musculoskeletal injuries, chronic pain and recent orthopaedic surgery, as well as running exercise-based rehabilitation classes.
Tom is able to maintain his studies, benefit from the flexibility of working part-time as a physio and still find time to play golf (badly, he adds), hang out with friends and his fiance and spend time with his dogs Sonny and Nigel.