Written by La Trobe Albury-Wodonga student Durga Rimal.
When I was 8 years old and my brother 11, we used to go to the riverbank every day after school to collect stones and break them so that we could afford the pens and pencils we needed for school.
I was born in Bhutan in 1986. But when I was 5, my family had to flee the country because of the One Nation policy, which forced people who spoke the Nepali language and followed the Nepali culture to leave the country and go to a refugee camp in Nepal.
Thinking about my childhood really makes me emotional. Every part of life was full of starvation and hunger. Our family was given 4.3 kilograms of rice per person to last 15 days. I suffered from malnutrition and a lot of children died.
My dad was a carpenter and he eventually found a little work in the local areas outside of the camp. Later, when I was around 12, I started making furniture with him, and selling it to others in the camp.
School in the camp was free up to Year 10, but if you wanted to do Year 11 and 12, you had to pay for it. So, when I was 15, I travelled to a place 500km away to lift rocks which were used for road-building. It was this back-breaking work that earned me enough money to continue my education.
Because education in the refugee camp was comparatively good quality, many of us found work as teachers in private schools of Nepal. I actually worked as a primary school teacher while I finished my Year 12 and later worked as a secondary teacher while I continued my Bachelor of Arts by distance learning. But even though we were allowed to do this work, we were still considered stateless, and had to report back to the camp every few months.
When I was 22, my family applied to resettle in Australia, so we would have better opportunities. I decided to get married before I left. It was an arranged marriage and I got married a month after meeting my wife. Luckily my mum chose well!
We were very lucky, because although a lot of people waited many years, we only waited one year to be approved to come to Australia. When I found out, I was quite excited. At that time, my wife was seven months pregnant.
When we arrived in Albury airport, there were almost 200 people, both Australians and other refugees who had already settled there, to welcome us like we were special guests. An Australian woman put a scarf around my neck and welcomed me like we do in our culture. It was lovely, and a really remarkable moment in my life.
Two months later, we had a beautiful daughter. It had been my dream for a long time to have a daughter. Back in Nepal and Bhutan, they don't prioritise girls. But I dreamed of having a daughter and proving to her that she could do anything, just like a son.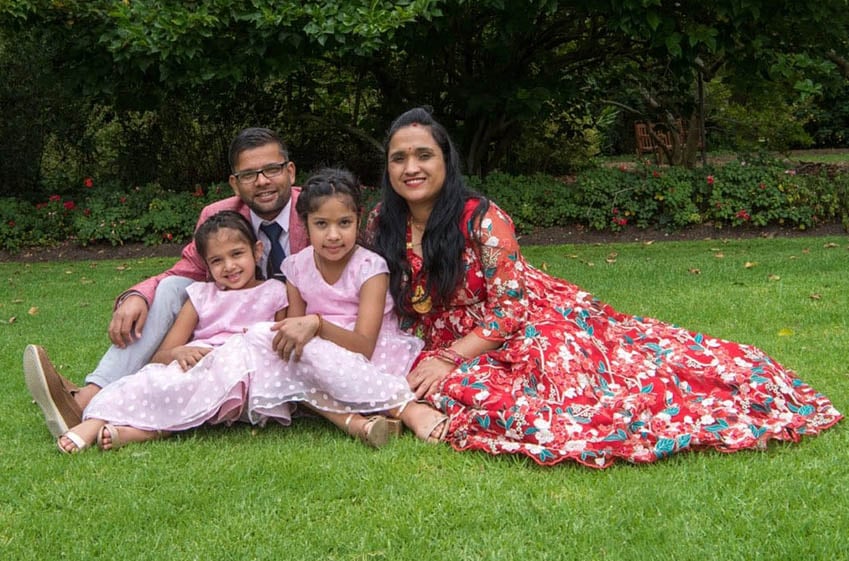 At that time, most Bhutanese refugees here were working in blue collar jobs, but I wanted something different. I studied English for a few months, and thought next about trying to get into Uni. But one of my teachers told me that I would not be capable because of my English. That really broke my heart, but I never gave up.
I first did Certificate courses in Home and Community Care and Aged Care, and found work as a Nursing Assistant. Then I thought about a degree in Nursing, but although I took a bridging course, my application wasn't successful. After that, I did Certificate IV in Disability. In the same year, we had our second daughter. She was our luck. God could have given us a son or a daughter but we were very lucky to have another girl.
I next decided to do a Diploma in Community Service as a pathway into Uni, alongside leadership training. And I'm now in my final year of my Bachelor of Human Services and Master of Social Work at La Trobe University's Albury-Wodonga Campus.
Coming from Refugee background – I had nothing except education as a tool to escape so I chose to continue my University journey in Australia. I did this to inspire and be a role model for my two young daughters, and to tell them that education is very powerful tool to shape your life. Nothing in this life is guaranteed, we need to challenge ourselves to achieve the success.
Albury-Wodonga is a small regional twin city with very welcoming diverse communities alongside peaceful and greenery environment surrounded by hills and mountains. The majority of people living here in Albury-Wodonga are very caring, helpful and supportive of each other. I can link my childhood memories of being born in farming family in rural village of Himalaya country-Bhutan and compare it with Albury-Wodonga. This has helped me and my community to heal from Post Traumatic Stress Disorder (PTSD) in some ways.
Having a friendly and family-like environment is one bonus of studying at La Trobe. I chose to study at this campus because it has offered in-person courses and a small tight-knit community with small class sizes. The University here has supported me in so many ways, many of which others may take for granted. It has provided me with safe learning environment. The library staff are amazing. The opportunities are distributed equally regardless of any ethical, cultural or other backgrounds. I haven't faced any kind of discrimination from campus management, lecturers and fellow students. And I always feel this sense of belonging in a respectful and welcoming environment.
In 2019, I was named the winner of the 2019 City of Wodonga Prize for Outstanding Contribution to Equity, Diversity and Inclusivity in Albury-Wodonga Region. Recently, I took up the opportunity to undertake a research project with La Trobe lecturer Dr. Sallie Yea to study the working situation of migrant workers in Albury-Wodonga and the impact of COVID-19.
Learning the English language in adulthood is very challenging as takes more time to understand the content and then discuss ideas with English speaking students. In class, my tutors have helped me to broaden my understanding of the content. Overall, I've been able to find flexibility with my study to allow me to balance my responsibilities and support my family, parents, extended families, friends and community expectations alongside obligation to work to provide for the family.
In addition to my studies, I'm also working full-time with the Australian Red Cross assisting migrants and refugees in their settlement journey and recently accepted a position as a Case Manager. I feel like I've come full circle since arriving in Australia as a refugee 10 years ago.
For 7 years, I have worked as a Disability Support Worker, and my wife is also studying and working in the disability sector.
Apart from all these roles, I am passionate in preserving and promoting my Nepali language, culture and literature. I have written and published two books, as well as coordinated and edited books in Nepali languages including more than 300 writers across globe.
I have also volunteered for many years, with Saint Vincent de Paul, and within my own community, designing and coordinating social, cultural and sports events.
I am passionate about working with vulnerable people. It's something that's meant a lot to me since my childhood, as I have lived experience of suffering and starvation each day of my life for more than 20 years. I want to share hope with others that they can improve their health and wellbeing through different social work activities. Overall, I want to give back to the community.
In my leisure time, I encourage my daughters to participate in social and recreational activities. Last year during Refugee Week, my eldest daughter wrote and recited a poem about her journey from Nepal to Australia when she was in her mum's belly. It was beautiful!
Sometimes a journey seems easy and joyful
Other times it seems difficult
But I have a reason to write
To me, journey is a history of fight





My parents knocking at every journey of hardship
This journey of feeling away from their country
Their journey of being locked in a refugee camp
This journey has taught me to light a lamp
A lamp of bravery and the wise





Through my journey to an unknown land, I was flying before I was born
My mum was crying on the plane and my dad was holding her
I was playing in my mum's belly, that's the time I started my journey





A journey to an unknown land
A journey to safety and security 
Before I was born
Thank you. 



- Rowena Rimal, age 9
This country has given me a lot of opportunity and hope and now it is my time to give back. My message to anyone is to keep dreaming and try hard and you will succeed. In my educational journey, I didn't take the freeway – I took the slow country road! But if you don't get it one way, you will find another.